Heritage Designation for St. Giles a Bad Idea for the Neighbourhood
New Vision United Church carries on the life of St. Giles United Church. New Vision believes heritage designation for the former St. Giles building is a bad idea for our neighbourhood.
By Rev Ian Sloan
Published July 05, 2018
Re: St. Giles Church Threatened With Demolition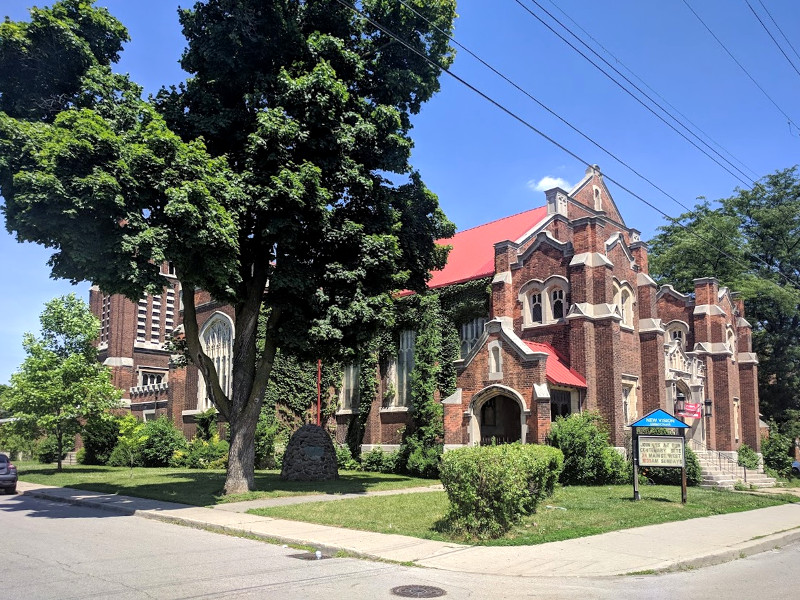 St. Giles Church, Main Street East and Holton Avenue South (RTH file photo)
New Vision United Church is coming back into the neighbourhood of the former St. Giles United Church. Over the last four years, the former St. Giles congregation and former Centenary congregation (24 Main Street West) have been developing and nurturing a vision of a new presence in the lower city. That's us, New Vision. We think of the time we have spent as consolidation, discernment, getting going.
As a faith community we have limited resources. We also have a huge commitment to heritage. Our faith is passed on from generation to generation. It hurts us that the things we cherish and help us to practice our faith like our buildings and their contents are beyond our capacity to maintain. At the same time, new opportunities and calls to community service and care are before us.
New Vision has dedicated itself to a mission of social cohesion - of finding ways to create relationships that are reciprocal, mutual, and life-giving between those who experience and are oppressed by the dominant culture's fears and those who live in safety and privilege within the dominant culture.
We seek to be a safe community for the LGBTQ2S community, we seek to live in the uncomfortable place on the margins, where oppressions include systemic racism, ableism, misogyny, in order to expand the influence of grace in those margins and develop new productivity, self-worth and love.
New Vision United Church carries on the work of the former St. Giles United Church. Rather than New Vision (St. Giles) having left the community, it is far more accurate to say that the neighbourhood community left St. Giles. Declining participation rates there made obsolete the economic model that supported buildings like 85 Holton Avenue South.
While it is painful to have to point beyond the local community and local impact to help illustrate this, the dilemmas New Vision has faced and is facing with the former St. Giles United Church are being played out across Canada.
The congregation of New Vision United Church cares deeply about the outcomes on the lands at 85 Holton Avenue South. It has worked exhaustively to determine a feasible future for them. After four years of intensive soul-searching and research, it concluded that the current building is not a good community fit anymore for the lands.
New Vision took the difficult step, though right step, to apply for a demolition permit for the building. It did this knowing that the City requirements to issue a demolition permit include a review by the City Planning Department's Heritage Planner.
Because New Vision values its heritage - Christian communities like New Vision have been around for something like 400 years in Canada - we are not surprised that the Heritage Planner would feel the building had heritage designation attributes. Yet we and the Hamilton Municipal Heritage Committee do not see eye to eye on a heritage designation. The problem lies in the Ontario Heritage Act.
Property owners of places of worship such as New Vision know how insensitive the Ontario Heritage Act is to the practitioners of religious faith. I am aware of at least once congregation in Hamilton hamstrung by the Act. They have a building that they cannot make accessible. The heritage designation overrides their manifest interest as a Christian faith community. Their hands are tied.
In general, the Heritage Designation processes, by which property owners are required to submit every initiative with respect to any part of the building that carries the heritage designation, is lengthy, costly, and from the many examples I have heard of, arbitrary.
A municipal heritage committee has no accountability regarding the costs of preserving the features they decide are to be designated. Grants which may be available with heritage designation are woefully inadequate. Faith communities consequently find themselves tied to these buildings like indentured servants - directed by the state as to what they can and can't do in practicing their faith.
Perhaps in an age when Christian communities of faith dominated the social order, a Heritage Act that tells the people who own and operate these buildings what they can and can't do might have had some validity. But New Vision does not dominate the social order any more than Christianity does now, and the issue at hand has become one of the protection of faith practitioners' human rights as a basis for a tolerant and civil society. New Vision wants the community to know all this.
The Ontario Heritage Act provides nine categories for evaluation of cultural heritage significance of any building. A municipal heritage committee needs only to identify a building as falling into one of the nine categories for the building to be considered by them worthy of heritage designation.
The result of this "glass bowl" approach to buildings when they are owned by church-going people is that every one of their buildings can be considered heritage. Churches have been at the centre of a social order that is passing and gone. It is understandable that we humans would try to create museums to remind us of that social order.
If everything is heritage, however, then nothing is. With limited resources, churches have to throw their hands up. The economic models that supported these buildings are gone. There are few resources to maintain them. They are very expensive. The consequence for the community is that no one wins. So a good decision about the future of a building like 85 Holton Avenue South comes down to a decision based on more criteria than the Ontario Heritage Act allows municipal heritage committees to consider.
This is the process of decision-making New Vision initiated when it applied for a demolition permit for 85 Holton Avenue South. We are convinced there is some better use for these lands, and to get there, we rightfully have to go through the community discernment work concerning what is best.
We have invited that by applying for the demolition permit. To be clear, we have invited that consultation with the community from the position of our faith convictions. This building is not a fit anymore with the owners' vision, and we own it out of our religious convictions. We expect the community to respect this.
One of those convictions is that such a place of worship like St. Giles should not be adapted to luxury condos. This is about the only alternative use available that might be feasible. New Vision has looked into this, and seen that even this is a marginal possibility given all the factors involved.
New Vision has not sold the building and the lands. A heritage designation might force us to. In this case, a developer might indeed assert as part of a purchase and sale that they were going to build luxury condos and preserve the exterior of the building.
After the sale, they may do a proper building audit, and crunch the numbers, only to find that it is not feasible, and come forward with a plan that reduces the heritage element to a mere gesture. New Vision would be deeply offended by that. But before even that, New Vision finds the prospect of luxury condos abhorrent to its religious vision.
Hence, its application for a demolition permit, as the first step in its engagement with the community about the next use of these significant lands in the heart of a neighbourhood we hold dear to our heart. One has only to read five-generation member Dan Peace's thoughts and feelings in the recent Jeff Mahoney column in the Hamilton Spectator to learn that.
It is still early days. No developer is going seriously to enter into dialogue and negotiation with us until we have had the heritage designation issue resolved. Our vision for the lands is purpose-built rental housing in the mid-market range. Mid-market rental housing is in a crisis in Hamilton and in Ward 3. The need is significant. So that is where we begin our conversations with the community.
I conclude by observing that, if we choose to retain any elements of the building at present on the lands at 85 Holton, it will be out of our convictions about how to symbolize to the community the freedom and love that building has expressed. We will do that because of who we are. No municipal heritage committee can tell us what we need to do to live out these elements of our faith.
New needs that can be met through new developments on these lands at 85 Holton are in front of us. We are excited by the prospects and possibilities, and look forward to engaging with the community about them.
Post a Comment
You must be logged in to comment.