St. Giles Church Threatened With Demolition
New Vision Church want to demolish the historic church at Main and Holton, while City staff and the Municipal Heritage Committee recommend Heritage designation.
By Adrienne Havercroft
Published July 03, 2018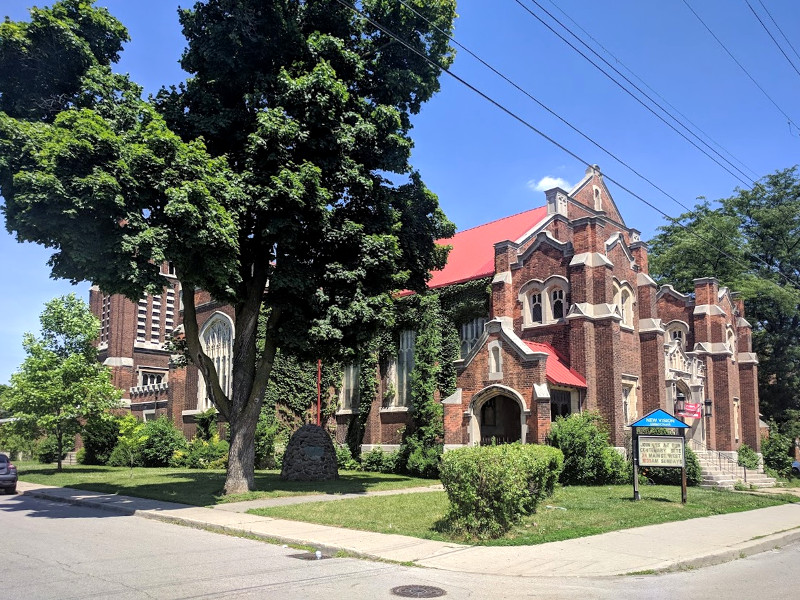 St. Giles Church, Main Street East and Holton Avenue South (RTH file photo)
A sign went up last week on 85 Holton Avenue South, formerly known as St. Giles church. "100 years of History, contents of the church up for auction at TimewellAuctions.com."
There are 528 items listed there, including over 40 stained-glass windows, interior and exterior light fixtures and doors, as well as many other prominent architectural features.
For residents of Holton Avenue and surrounding areas, myself included, that banner was a jarring way to discover that this beautiful building, the gem of our neighbourbood, is being broken down and sold off piecemeal to the highest bidder right before our eyes.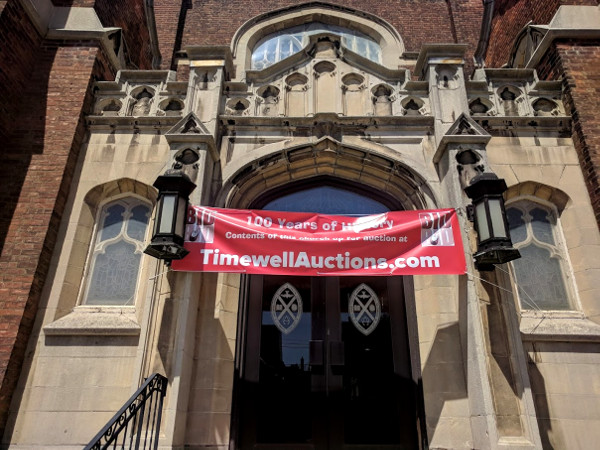 Front door with auction banner (RTH file photo)
Demolition Permit Application
New Vision Church, the owners of 85 Holton, applied for a demolition permit on April 17, 2018. Currently, the building is listed under the "Inventory of Building of Architectural and/or Historic Interest", but is not formally designated under the Ontario Heritage Act.
As a listed property, there is an automatic 60-day stay for demolition permits issued, which theoretically gives municipalities and the public an opportunity to seek a formal heritage designation for the building.
This process is currently underway for the building formerly known as St. Giles. At the June 21, 2018 Heritage Committee meeting, a City staff report (item 7.2 in the agenda) recommended the property for a heritage designation to the Heritage Committee.
The staff report argued that the the church meets eight of nine criteria for heritage designation under the Heritage Act. As a result, the Heritage committee unanimously voted to recommend designation.
Procedurally, this recommendation will be brought before the Planning Committee for review on their upcoming July 10, 2018 meeting. Should Planning agree with Heritage, it would then go to City council for ratification on July 13.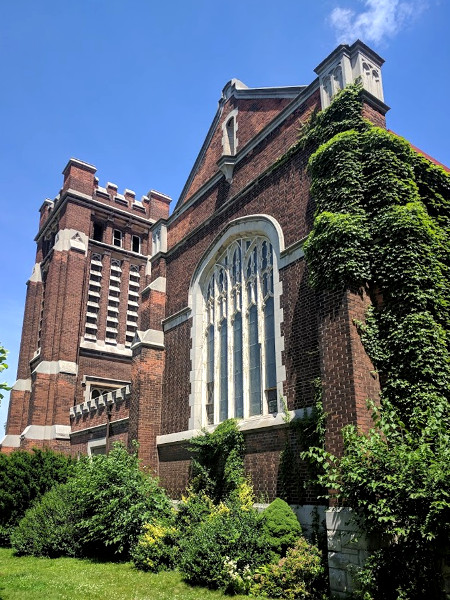 West transept and tower (RTH file photo)
Heritage Designation a Political Process
Considering solely the merits of the building, securing a heritage designation for the building formerly known as St. Giles would seem like a slam dunk. But in fact, there are a few key reasons this application is unlikely to succeed.
This is because the current owners strongly desires demolition, and Ward 3 Councillor Matthew Green says he supports the will of New Vision Church. In my conversations with Councillor Green, he made it clear that his loyalty is to the community of New Vision, rather than the bricks and mortar that currently stand at 85 Holton Ave.
At the June 21 heritage meeting, several members of New Vision church attempted to dissuade the Heritage Committee from recommending the property for designation. They claimed that the building was in need of costly repairs and that the expenses associated with maintaining it are too burdensome for their congregation.
They also emphasized that their community's main priority was to preserve and renovate their current meeting place at 24 Main West.
According to the Heritage city staff member I spoke with, securing a heritage designation for a building where the owners oppose it is "rare" - and even more so when those owners are supported by the Ward councillor. And yet without it, the church formerly known as St. Giles will likely soon be history.
Furthermore, as a non-residential site, the property is not subject to demolition control, meaning that the owners do not have to have a plan for the future of the site in order for demolition to be granted.
This is significant because at this time, New Vision Church has no concrete plans for future of 85 Holton. No planning approvals have been sought or granted, and no architect or developers are currently involved with the project.
In theory, the building could be demolished and the lot could sit a vacant for years before anything new is built.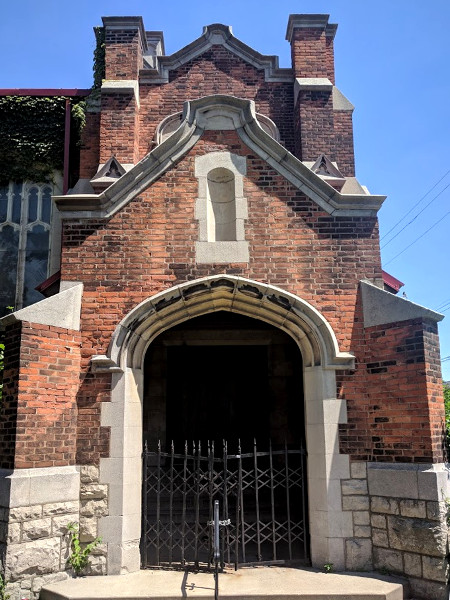 Side door (RTH file photo)
Heritage Designation Ensures Procedural Checks and Balances
A heritage designation does not, in and of itself, prevent a building from being altered or even demolished altogether. What it does is subject heritage buildings to a formal, third-party review process. Demolition or partial demolition permits may be granted to property owners should they successfully claim that they have no alternative (as is currently being claimed in this case).
The intention behind heritage designation is not to freeze a building in time, but to ensure there are procedural checks and balances in place to preserve its most significant features where possible.
For example, a partial demolition permit allows for certain parts of the building of be completely rebuilt and repurposed, while things like facades (or other elements with particular heritage value) are maintained.
These "adaptive reuse" projects are becoming a popular alternative to full demolition of historic sites, as they provide a means for older, decaying buildings to be retrofitted while still preserving their historic value to to the community.
While adaptive reuse projects for heritage buildings can be more costly than new builds, studies prove that the value they provide both to owners and the community provide a worthwhile return on investment.
I cannot speculate as to what the ultimate best use of 85 Holton Avenue might be, although there are many examples of adaptive re-use projects that have retrofitted similar buildings with great success.
The point is that there is much precedent for these projects, and many ways to repurpose older buildings so that their historical elements are preserved while also maintaining their functionality so that they can continue to benefit the community at large.
A heritage designation does not have to relegate older buildings to become nothing more than decaying relics of the past, but exists to ensure their stories and significance are preserved for future generations to enjoy.
My hope is that between today and July 13, Ward 3 residents, heritage advocates, and anyone who would likewise feel that the loss of this historic property would be a tremendous loss to our Hamilton community at large, to use whatever means they have at their disposal to advocate for its designation under the Ontario Heritage Act, before it's too late.
Post a Comment
You must be logged in to comment.