Police Link Locke Riot to Anarchist Bookfair
Hamilton Police say they have evidence linking the riot last Saturday night to the event at Westdale Secondary School.
By Ryan McGreal
Published March 06, 2018
In a new press release, Hamilton Police state that they have evidence linking Saturday night's riot on Locke Street with the Hamilton Anarchist Bookfair that took place on Saturday and Sunday.
Police have now received evidence linking the Anarchist Book Fair at Westdale Secondary School on March 3-4, 2018, to the events that took place on the evening of March 3, 2018.
The Anarchist Bookfair is an annual book sale promoted by The Tower, an anarchist organization on Cannon Street, that has been held for the past several years at Westdale Secondary School.
The press release also confirms the route that the rioters took: they started at Durand Park, walked south on Bay Street to Aberdeen Avenue, walked west on Aberdeen to Locke Street South, and walked north on Locke to Tuckett Street, where they dispersed as police arrived.

Map: Route of Locke Street riot (Image Credit: Hamilton Police)
Police encourage anyone who has information about the incident to come forward. Witnesses can contact Detective Jamie Simpson at 905-546-3816 or share information anonymously via Crime Stoppers at 1-800-222-8477.
'Snitching'
Not everyone wants witnesses to talk to the police. A Facebook user connected to The Tower has posted a statement urging people who know about the attack against "snitching":
Just a friendly reminder about snitching. Sharing information about people on the internet can have serious consequences for them and cooperating with the police is unacceptable, even if you might disagree with an action taken. Remind your friends to avoid loose talk and think about confronting those who encourage snitching. Please share this and stay safe.
The same user posted a promotional video for the Bookfair two weeks ago that features footage of black-clad protesters throwing things, launching fireworks and damaging property, eerily similar to the activities of the Saturday night rioters. (It was ironically set to the "Reading Rainbow" theme song.)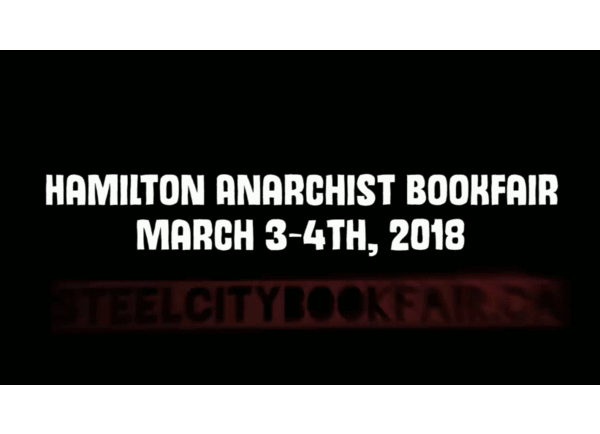 Selected stills from the Hamilton Anarchist Bookfair promotional video
At the same time, an anonymous post on Anarchist News and North Shore Counter-Info takes responsibility for the attack in an angry rant that tries to rationalize resisting capitalism by attacking small, independent businesses.
On Saturday night, I met up with a group of people in the Durand neighbourhood, strolled along Aberdeen and up some of the side streets attacking the luxury cars and mansions we found there, making noise with a portable sound system and loads of fireworks. The march then turned down Locke and attacked as many yuppie businesses as we could before deciding to disperse. [...]

F[---] the rich. F[---] capitalists (even the ones who sell high-end baked goods). And to all of you who want to complain about violence, remember that the only reason these parasites get to keep their hands clean is because most often their attacks just look like business as usual.
Making Lemonade
Meanwhile, the owners of Donut Monster, a small family business that is also a living wage employer that was hit especially hard during the riot, decided to "Make Lemonade" out of having most of their windows smashed by designing a new lemonade glaze donuts with glass-like shards of lemon candy.
All of the proceeds from sales of this donut will be donated to Indwell, a non-profit Hamilton organization building and maintaining high-quality supported affordable housing.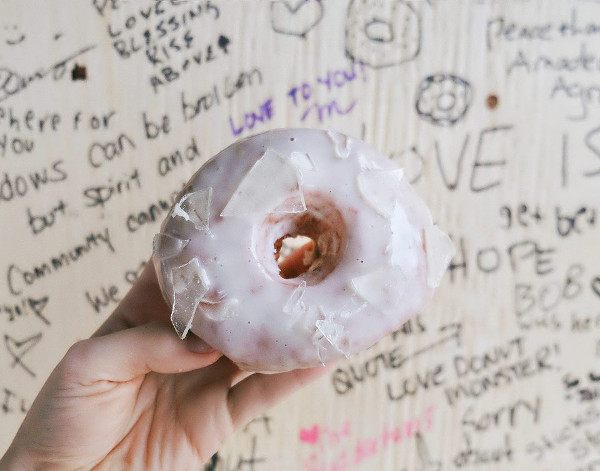 'Make Lemonade' donut (Image Credit: Donut Monster)
Post a Comment
You must be logged in to comment.