Gang of Vandals Attacks Locke Street
30 black-clad, masked vandals smashed windows and lit firecrackers in a path of property destruction down Locke Street.
By Ryan McGreal
Published March 05, 2018
On Saturday night around 9:30 - 10:00 PM, a group of vandals marched down Locke Street South, throwing rocks through windows and igniting firecrackers. According to several eyewitness reports, there were around 30 people in the group, dressed in black with their faces masked and carrying a banner that read "We are the Ungovernable" and included the Anarchist symbol of a red capital A with a circle around it.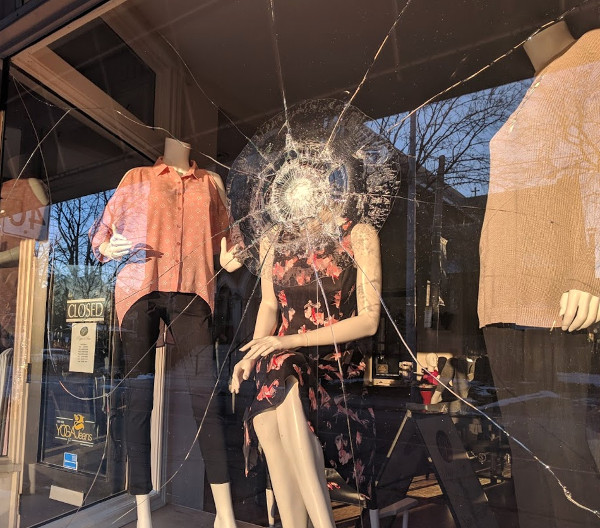 Smashed window at Pippa & Prue
The group started in Durand neighbourhood and walked west on Aberdeen to Locke, where they turned north and escalated their property destruction, smashing store windows at eight businesses on Locke: Pippa & Prue, The Beverly, Donut Monster, Bitten, Locke Street Meats, Condo Culture, Neo Hairstyling, and Cima Enoteca.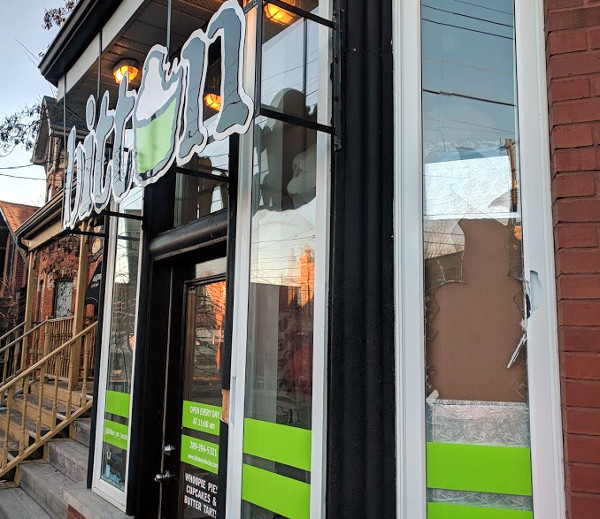 Smashed windows at Bitten
The vandals also smashed several automobile windows and egged a number of businesses, including Earth to Table Bread Bar.
Donut Monster was hit particularly hard, with nearly all of its windows destroyed. Donut Monster just opened its retail location at Locke and Charlton Avenue West this year after previously operating a wholesale business out of the non-profit Kitchen Collective Co-Op, which its owners co-founded.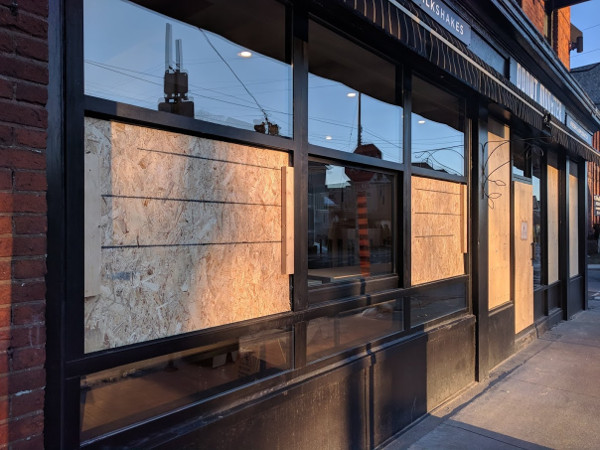 Smashed windows at Donut Monster
The vandals marched down Locke while several of the establishments were still open. Restaurant customers hid under tables as the mob passed, ducking for safety as rocks smashed through windows and fireworks exploded. Fortunately, there do not appear to have been any injuries.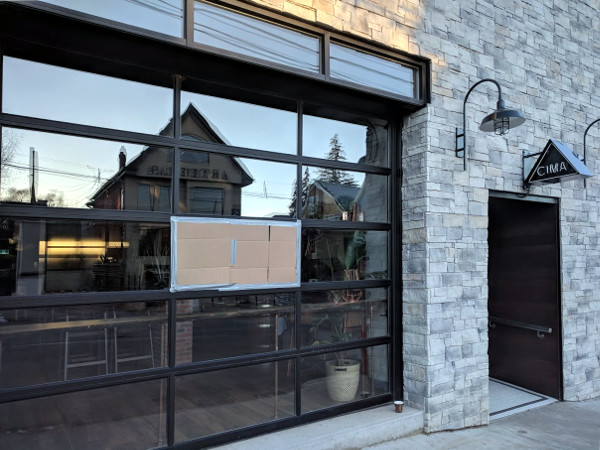 Smashed windows at Cima
Hamilton Police were called at approximately 10:00 PM and almost 30 officers arrived on Locke Street, whereupon the vandals dispersed and managed to escape being caught.
None of the vandals have been caught, and it is not yet clear what organization, if any, is behind the destructive march.
Police are asking for any information that might lead to an arrest. If you witnessed anything, please contact Detective Jamie Simpson at 905-546-3816. Alternately, you can report a tip anonymously via Crime Stoppers at 1-800-222-8477.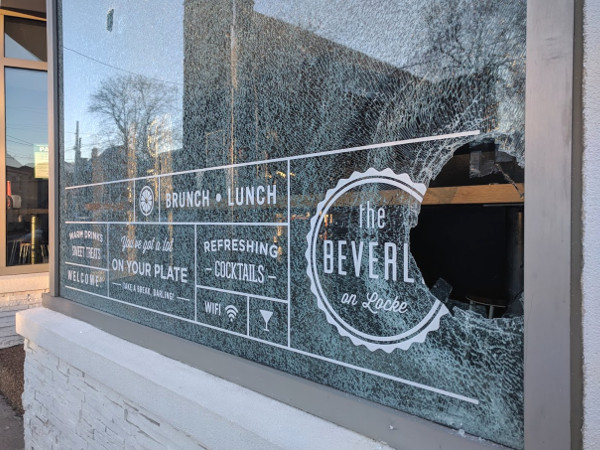 Smashed window at The Beverly
Love Locke Day
If the attack was meant to undermine support for the small business owners on Locke Street, it backfired badly. On Sunday, the street was thick with supporters who came to see what happened and to express loyalty and encouragement.
Ward 1 Councillor Aidan Johnson and Hamilton Centre MPP Andrea Horwath were also on Locke Street, decrying the attacks and calling for solidarity in the face of this violence.
On Sunday, Donut Monster opened late after cleaning up the glass, and the boarded-up windows quickly filled with messages of love, support and solidarity as a huge crowd lined up around the block to support them.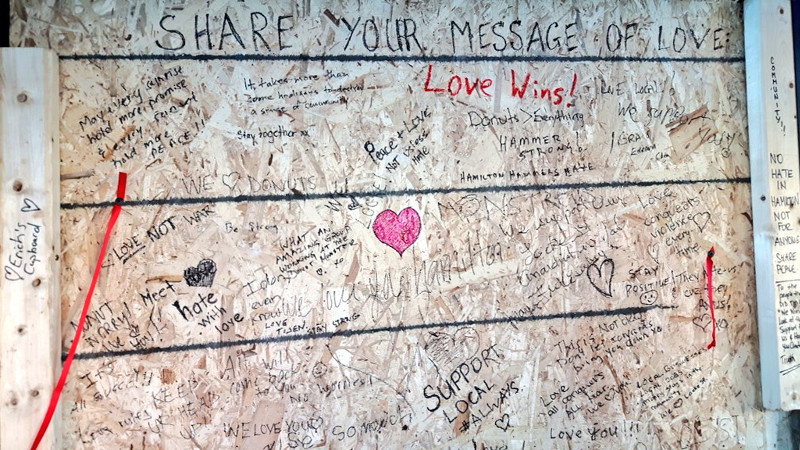 Messages of Love at Donut Monster (Image Credit: @alyssaglai/Twitter)
Ironically, many of the businesses that most need support were still closed yesterday as they tried to clean up the damage. The community is already planning a "Love Locke Day" for this coming Saturday, March 10 to support the businesses.
Anarchist Bookfair
The incident coincided with the annual Hamilton Anarchist Bookfair, which was held on Saturday and Sunday at Westdale Secondary School.
A promotional video for the Bookfair that circulated in the weeks before the event depicted scenes of black-clad, masked protesters marching down streets and destroying property, set ironically to the tune of the old PBS TV show "Reading Rainbow".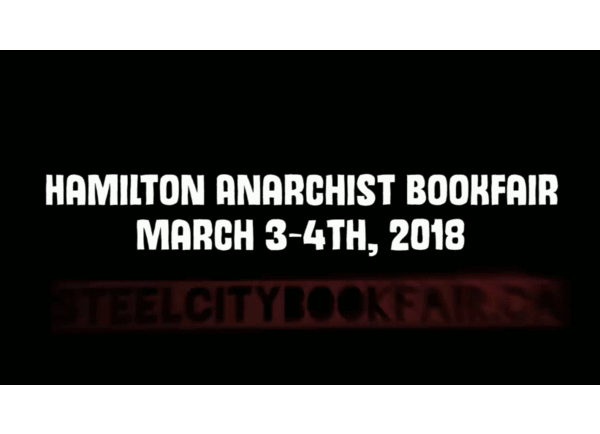 Selected stills from the Hamilton Anarchist Bookfair promotional video
There is no evidence to suggest that the organizers of the Bookfair were behind the attacks, or whether the vandals are based in Hamilton or came in from somewhere else, but the timing is unsettling and police are investigating whether there are any links.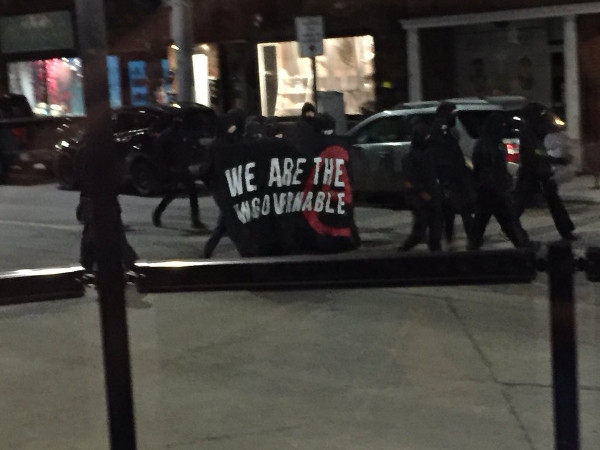 Vandals carry 'We Are The Ungovernable' banner (Image Credit: @OliverioCarmela/Twitter)
Possible Trend
The attack against small, independently-owned businesses recalls a series of similar acts of vandalism against local businesses in 2017 that were promoted by "The Hamilton Institute", a local anarchist outfit.
This summer, we took a few small actions to remind the profiteers and boosters of gentrification that their presence in our neighbourhoods is unwelcome. Between June and August 2017, we carried out a series of simple attacks against businesses and entities that seek that seek to attract rich people and investors, encouraging the kinds of rapid rent increases that have already displaced thousands of people.
Specifically, the anonymous author took credit for breaking windows at Butcher and the Vegan and The Heather on Barton Street near James, and for gluing the locks and spray-painting the facades of Co-Motion and Judy Marsales Realty in Westdale.
The Institute gained a bit of notoriety in 2015 after plastering a manifesto around downtown Hamilton that targetted the economic redevelopment of James Street North and Locke Street.
Calling economic development an "attack", the manifesto goes on to reject all efforts to improve accessibility and inclusion for employment, housing and transportation in Hamilton, claiming that such actions merely render capitalist exploitation more palatable:
To simply support public transit in the absence of a meaningful attack on the economic system is to support the economic system and to strive for its improvement.
Instead of organizational capacity-building and civic engagement to broaden access to resources, the Institute advocates "a purely negative response" that encompasses "a total refusal of the entire urbanist project and all its details".
According to this view, artists and independent business owners are the foot-soldiers of capitalist exploitation and hence fair targets for abuse.
It is not clear whether the people behind Saturday's rampage were connected to these previous attacks against businesses around James Street North and Barton Street. However, the pattern seems to be similar, albeit on a larger scale.
Likewise, the "Ungovernable" label has been seen before. Banners with the same message were also unfurled during a peaceful March 2014 protest in Hamilton against police brutality.
Post a Comment
You must be logged in to comment.