After Locke, Reckoning with the Slow Crisis of Inequality and Marginalization
Do we care as much about injured, marginalized and displaced people as we care about damaged property?
By David Crosbie
Published March 06, 2018
A torrent of social media Saturday evening documented what looked like protesters making their way down the bustling, restaurant-laden strip of Locke Street between Aberdeen and Main.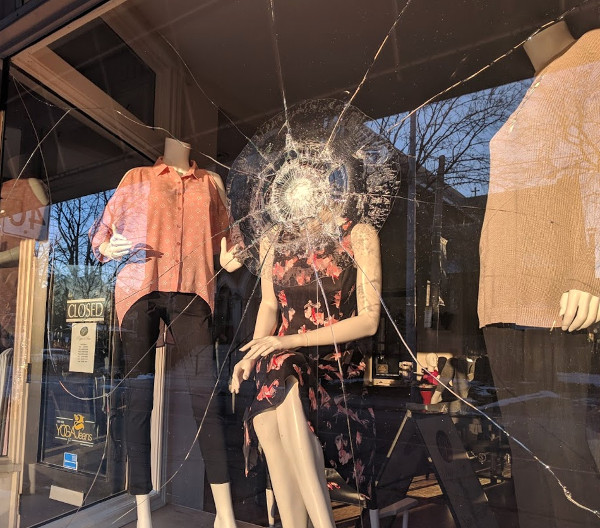 Smashed window on Locke Street (RTH file photo)
The group of about 30 were clad in black and carried a banner declaring themselves "ungovernable," engaging in petty tactics of intimidation, shooting fireworks and breaking the windows of local business and parked cars. Nobody was injured.
In response, Hamilton Police dispatched roughly 30 officers from "all three patrol divisions, the ACTION team, the emergency response unit and the K9 unit." Dozens of police cruisers flooded the neighbourhood in search of the vandals in a show of retaliatory might.
This procession of police cruisers was duly documented online, and when the glass settled and it became clear what had happened, the overwhelming chorus was one of support for the affected businesses and the Locke Street BIA in general.
Police Inspector Paul Hamilton said that in his 28 years with the Hamilton Police, he had never seen anything like this.
The ward councillor, the mayor, and the riding's member of provincial parliament were all on scene to make a show of solidarity by supporting local businesses. Vows were made to eat all day or all week at restaurants on the strip, declarations of "standing with Locke" asserted.
The language in the wake of this vandalism, estimated at incurring $100,000 in damage, was one of communion, of standing together and overcoming. One could be forgiven for mistaking this for the fallout of a mass shooting. But, again, nobody was injured.
If this had happened along Kenilworth Avenue, would Hamilton have rallied to support The Great Wall? Olympus? Diana's? What if this had happened on Barton? On Fennell?
If a business were bought by a real estate conglomerate and summarily shuttered, would there be rallies?
If your fellow Hamiltonians lived in fear in illegally-zoned storefront apartments, would there be immediate action to relieve their plight?
If a citizen of this ambitious, unstoppable city was evicted from their home to make way for luxury condos, would two levels of government make a public show of support? Would 30 police officers be dispatched?
Are there lineups every Sunday morning to help those who struggle to feed and clothe their families?
I do not intend to lessen the impact of these events on those businesses and their employees. I am ashamed of those who resort to violence for no discernible purpose, without respect for those who must work regardless of their politics.
But I am even more ashamed that this city seems to care more about damage to its property than it does injury to its citizens.
Post a Comment
You must be logged in to comment.