Lister Block: Writing on the Wall
Lister Block hangs in the balance; can any possible outcome please enough people to resolve the conflict over its fate?
By Ryan McGreal
Published July 05, 2006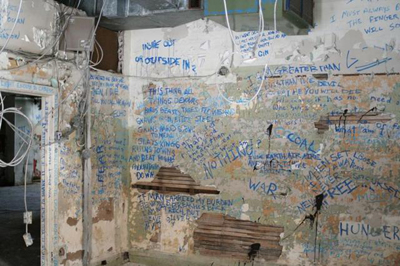 Writing on the wall inside Lister Block (Photo Credit: Joe Ceretti)
With its fate in the hands of the Ontario Ministry of Culture and a proposed meeting of stakeholders to find a "compromise" (I'm not sure how to find a compromise between demolishing a building and not demolishing it - perhaps they'll agree to demolish just half), here's a haunting photo from inside the derelict Lister Block.
Local photographer Joe Ceretti, whose work has recently been improving the look of RTH articles, took a photo of the Lister in May and was disheartened by what he found.
He also created a "vintage" postcard of the Lister in a tribute to the heartbreaking (browse around it to see what I mean) Vintage Postcards of Hamilton website: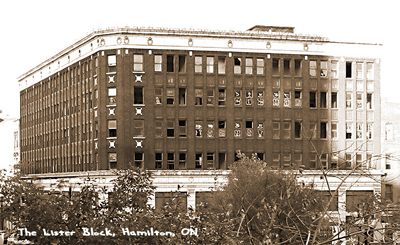 Lister Block Modern Postcard (Photo Credit: Joe Ceretti)
Post a Comment
You must be logged in to comment.