New Stone Church Parking Makes Bike Lanes Less Safe
In the new design near Upper Paradise, the bike lane widths have been narrowed from five feet to four, and the westbound bike lane now runs right through the 'door zone' of any cars parked on the curbside.
By Ryan McGreal
Published October 10, 2017
The Hamilton Mountain is not exactly a cycling paradise. Bike infrastructure on upper city streets is low-quality, sporadic at best and poorly connected. One of the few relatively bright spots is the more-or-less continuous painted bike lanes on Stone Church Road between Paramount Drive (east of the big box plaza at Winterberry Drive) and the traffic circle at Omni Boulevard, a bit west of Upper Paradise.
The Stone Church bike lanes are not physically protected, and they tend to peter out through intersections - exactly where they're needed the most! - but at least they provide a reasonably direct, dedicated line of public access across the south mountain.
However, new curbside parking on Stone Church Road just east of Upper Paradise has made the existing bike lanes on Stone Church less safe.

Bike lane veers to the left of new curbside parking on north side of Stone Church east of Upper Paradise
The added curbside parking, which was installed in response to pressure from Ward 8 Councillor Terry Whitehead, means the bike lane widths have been narrowed from around five feet to around four feet, and the westbound (north side) bike lane runs directly through the "door zone" of any vehicles parked along the curbside.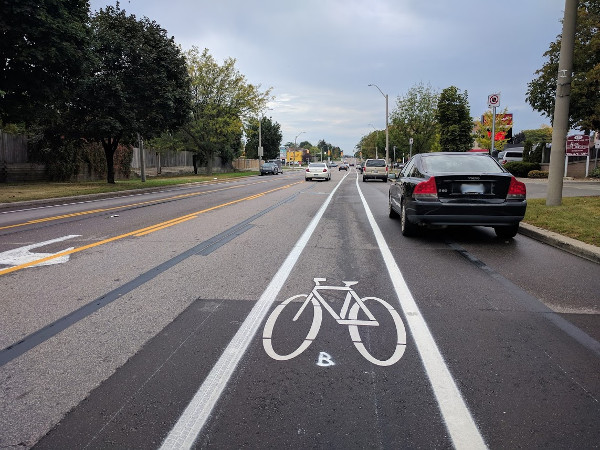 Narrower bike lane is right in the 'door zone' of parked cars
Meanwhile, because the bike lanes are defined by white paint and have no physical protection, they are still being blocked by vehicles whose drivers are illegally using them as additional parking.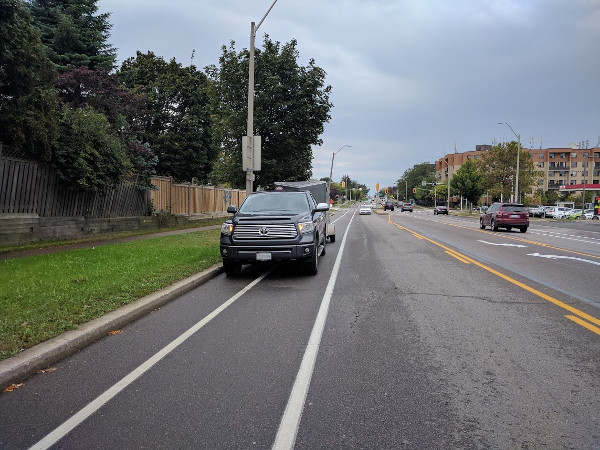 Because bike lane is not protected, drivers continue to use it for parking
Background
Stone Church provides a general template for traffic calming on what might otherwise be a four-lane arterial: one lane in each direction with a centre turn lane and bike lanes on each side. It's a model that active transportation advocate Jeff Speck recommends as an easy, effective way to make streets safer and more inclusive.
It's a good model for minor arterial streets carrying 15-20,000 cars a day that strikes a compromise balance between smooth vehicle traffic flow and safety for all road users by allocating some space for active transportation and reducing the opportunity for dangerous speeding (including high-speed passing).
Cities that implement this model consistently find that vehicle traffic continues to flow smoothly while the number of serious collisions goes down. The City has implemented it on Stone Church, Lawrence Road, part of West 5th Street, and part of Wilson Street in Ancaster.
When a group of southwest Hamilton residents called for something like this form of traffic calming on Aberdeen Avenue, it inadvertently thrust the design on Stone Church into the crosshairs of Councillor Whitehead, who is dogmatically opposed to any change to a lower city street that might conceivably add a minute to the cut-through commute times of his west mountain constituents.
In response to the call for traffic calming on Aberdeen, Whitehead escalated his cute war against safer streets with a proposed blanket moratorium on new traffic calming projects across the entire lower city until after the light rail transit (LRT) line is finished construction in 2023 or 2024.
Sidenote: Council never actually voted on that proposed moratorium, yet it seems to have unofficially become the bylaw of the land anyway. When the latest push by Ward 1 Councillor Aidan Johnson and Ward 2 Councillor Jason Farr to improve safety on Queen Street ran aground, Ancaster Councillor Lloyd Ferguson made reference to an agreement not to "fiddle" with arterial roads. As a result of this unofficial policy, Queen remains absurdly dangerous.
Risk of a Good Example
In response to the call for Aberdeen to get a similar treatment to Stone Church, which runs through the west mountain, Whitehead went on the offensive against the design of Stone Church. He began to claim falsely that Stone Church was switched from four lanes to two - it has always been just one lane in each direction.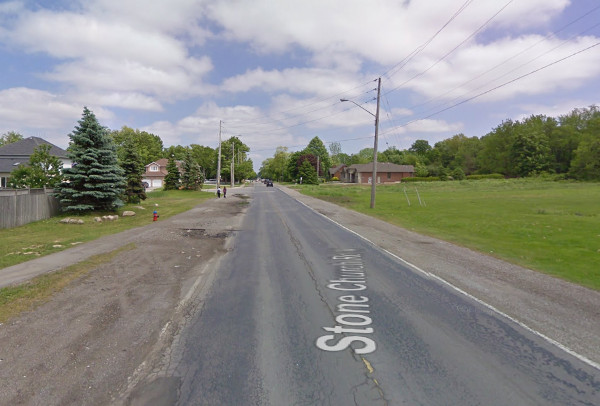 Stone Church in June 2009, before bike lanes and a centre turn lane were added (Image Credit: Google Street View)
He also claimed that the driving lane reduction that never happened somehow caused the number of traffic collisions to increase, a claim for which City staff produced no evidence when asked.
In February 2016, Whitehead changed his justification for targeting the Stone Church bike lanes, insisting that the road space was needed to provide curbside parking near Upper Paradise to service local businesses, all of which already have off-street parking lots.
Staff determined that while some parking lots operate at 75-80 percent capacity during peak times, other lots exceed their capacity, forcing customers to queue on the street outside the parking lot waiting to pull in, or else park in the lot of one store and walk to another. Thus the stage was set for a showdown between the addition of parking and the retention of the bike lanes.
Staff Compromise
It didn't quite work. Last October, staff came back with a report recommending the addition of nine metered curbside parking spots on the north side of Stone Church east of Upper Paradise, plus another nine spots on Upper Paradise.
Staff determined that there was room to add the parking spots by narrowing the other lanes, meaning the bike lanes did not need to be removed altogether.
(The report item 8.1 in the agenda for the October 31, 2016 Public Works Committee meeting but I can't link directly to the report for the usual reason.)
However, in the new design the bike lane widths have been narrowed from five feet to four, and the westbound bike lane now runs right through the "door zone" of any cars parked on the curbside, whereas it previously ran next to a grass median.
The curbside parking spots are installed now, and the result is that while the bike lanes have not been eliminated, they have been made less safe and less usable.
Post a Comment
You must be logged in to comment.