Review: Canadada: Take Two
Released in time to commemorate the 150th anniversary of the Constitution Act, this album tugs on the messy cultural threads that collectively make up the Canadian tapestry.
By Ryan McGreal
Published June 26, 2017
Margaret Lindsay Holton is a talented and hard-working multimedia artist whose acquaintance I have had the great pleasure of making through her generous contributions to public awareness and appreciation of the arts in the Greater Hamilton area.
In my capacity as RTH editor, I have had the honour and privilege of publishing a number of her profiles of artists and artisans doing fascinating and extraordinary work. With her sharp artist's eye, combined with a keen ear for a compelling story, she has discovered and shared studies of accomplishment in such varied fields as archaeology, illustration, lutherie, bone etching, maple tapping, poetry, library science, metalworking, photography, slam poetry - even kite-flying and knot-tying.
Holton is a born storyteller, and her own rich and still-growing oeuvre of artistic accomplishments encompasses painting, photography, novels, poetry, cinematography, incisive social commentary and even typeface design. Her recent film The Frozen Goose was an atmospheric, emotionally arresting period piece that integrates Holton's many skills in framing, composition, narration, pacing and character development to explore what it means to be Canadian in a world shaped by large and implacable forces.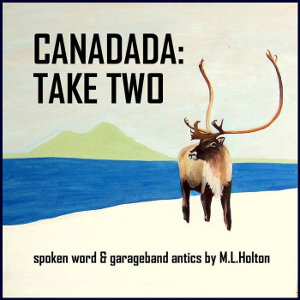 Canadada: Take Two
For her latest project, Holton has composed, performed and produced a compilation of spoken word - mostly poetry - and accompanying music, entitled Canadada: Take Two.
You can listen to the album and buy a copy here.
Released in time to commemorate the 150th anniversary of the Constitution Act, this album tugs on the messy cultural threads that collectively make up the Canadian tapestry. To my ear, the poems are the real stars of the album, with the music there to provide accompaniment and contrast. Holton has a calm, measured and earnest speaking voice - an important consideration when narrating - and the poems themselves are lovely.
Composed of rich, luxuriant language, delightful wordplay, haunting imagery, smooth cadence and regal bearing, the poems - 16 in all, plus a spoken-word intro - explore what it means to be Canadian.
"Susanna Moodie at Rest" felt like the missing coda to Atwood's classic collection The Journals of Susanna Moodie - itself an attempt to understand what a still earlier Canadian colonist and settler must have felt while experiencing this vast country.
During the crisp, evocative "Barn Dance" I could clearly visualize the moment - a fiddler's arm raised, a slanted ray of evening sun glancing from dusty rafters, stomping feet and emotional release.
Given the fraught cultural context of the Canada 150 event with members of Canada's First Nations communities calling ever more urgently for long-delayed recognition and justice, I felt shivers listening to "The Inuit In Me speaks to the White".
In "Terra Filma", the complexities of sexual politics are unpacked in just a few brief, well-chosen words. It pairs really well with "Name Calling", which zooms down into the fray and features such shiver-inducing lines as "you wrestle with me in the hollow of your mind."
My head kept circling around an amazing couplet in "The Decorative Peasant": "My own beating heart heaves harmoniously, alternating panic with patience, adjusting to nuances of mechanic and organic insurgence" - just wonderful!
The music, in turn, is artfully composed and spirited and brings a playful, clever modern interpretation to the poems, which feel more traditional in structure and language. The songs mix and match musical styles and tropes, contrasting the at-times serious tone of the poems with levity and whimsy.
My only concern about the music is that at times it struggles against the limitations of the medium in which she performed it, the music creation program Garageband. Some of the pieces come across like demos of songs that deserve the treatment of a full band to realize their potential.
The musical pieces that work the best are those that embrace the strengths of the form, like "Canadada" and "Pond Life", which have a more ambient vibe and thrive in the milieu of synthesizers. I also particularly enjoyed the anxiety and frisson of "Name Calling", with the tense interplay between chipper major-chord piano stabs, industrial buzzsaw riffs and eighties action soundtrack horns.
Holton was born and raised on a sheep farm on the Niagara Escarpment in north Burlington. She left home at age 17 to travel, and studied English literature and philosophy at University of Toronto before embarking on the life of an artist.
In discussing the album, Holton wrote to RTH, "Canada is going through an amazing and somewhat urgent transitional period. To my mind, there's an undercurrent and incessant call-out to all cultural workers" - a call she has enthusiastically answered with this compilation.
Post a Comment
You must be logged in to comment.