The Burden to Prevent Needless Traffic Fatalities
When Council delays action on pedestrian safety, Council is accepting the burden of needless, preventable deaths.
By Adrian Duyzer
Published June 06, 2017
I recognize that it isn't possible to create a perfectly safe city, and that no matter what Council does, accidents - and, unfortunately, accidental deaths - will occur here. I also know that Council takes their responsibility as stewards of our city seriously, and that includes an approach to road usage that balances economic activity, safety, the convenience of road users, and so on.
As such, I would not hold a Councillor personally responsible for every unfortunate accident that occurs on our city's streets.
However, where Council does hold an elevated level of responsibility is where residents and frequently the City's own staff have identified dangerous situations, and Council does not act swiftly on this information.
Where this is especially troubling - and where it raises a great deal of ire in the community - is when Council doesn't act on this information until after someone dies!
I just read in the Hamilton Spectator that changes are coming to the road in Waterdown where poor Jasmin Hanif was killed.
Changes are coming. With all due respect to Flamborough Councillor Judi Partridge, these changes are far, far too late for this poor family.
However, they are not too late for the many families whose loved ones are still alive and intact, but who face risks every day on the many local streets that remain unsafe.
Council knows what streets these are. They discussed one of them this week, Queen Street South.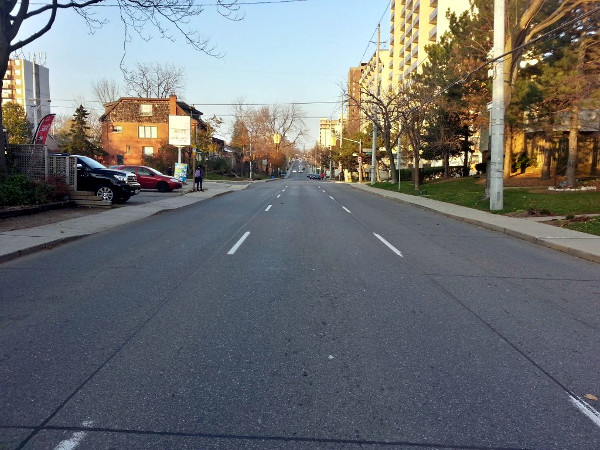 Queen Street South between green waves during afternoon rush hour (RTH file photo)
Again, with all due respect to Ancaster Councillor Lloyd Ferguson (and I truly do respect him, particularly for his leadership on the LRT file), this street is unnecessarily dangerous - always fast-moving, overbuilt, and with a woeful lack of safe crossings - and not just for the people who live along it, but also for the many residents who live near it.
I live three blocks away, on a quiet street one block long which we picked for its safety and peacefulness, but my children must cross Queen Street every day to get to school.
Or consider Scenic Drive, in Ward 8 Councillor Terry Whitehead's ward, a street is incredibly popular with pedestrians who must navigate the street without the benefit of sidewalks!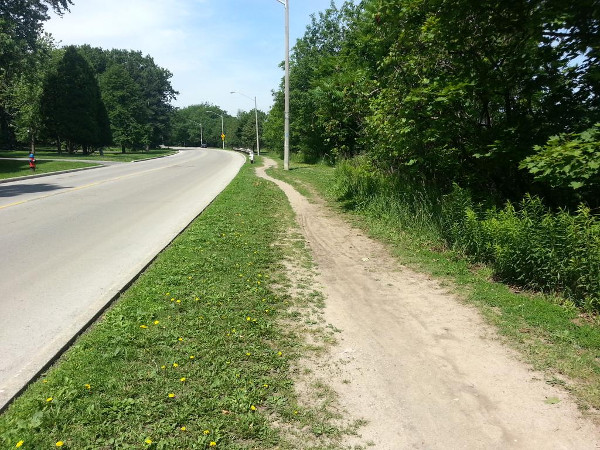 Desire path on Scenic Drive (RTH file photo)
The houses along that street are lined with signs that residents have put up, pleading with motorists to slow down.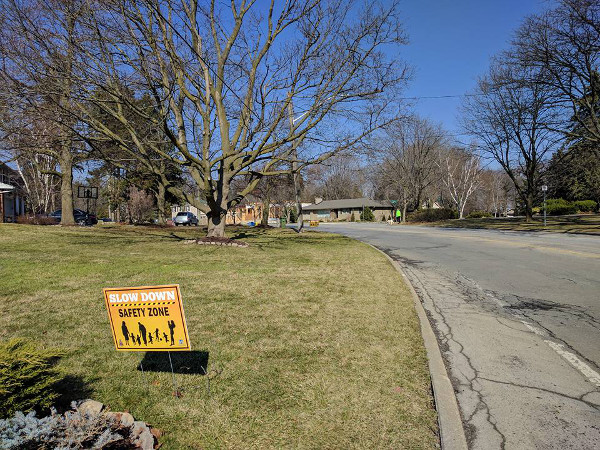 SLOW DOWN - SAFETY ZONE sign on Scenic Drive (RTH file photo)
This is a city-wide issue. It's also uncontroversial: as we all know, requests for pedestrian safety improvements have spiked and are steadily growing.
This is an urgent issue that requires swift, bold action, because as we have seen yet again, when Council delays on pedestrian safety, Council accepts the burden of needless deaths.
That is a heavy burden indeed.
Post a Comment
You must be logged in to comment.