Let's go Dutch part VII: Stop Killing Children!
In The Netherlands, the kind of rat-running that killed Jasmin Hanif has been systematically eliminated from almost every residential street in the entire country.
By Kevin Love
Published June 01, 2017
On May 16, Jasmin Hanif was crushed and killed by a car driver in Waterdown. She was 10 years old. The car driver was a rat-running "cut through" car driver who had no business driving a car in front of Jasmin's home on Evans Road.
To quote from the Hamilton Spectator article:
Evans, in particular, is a traffic problem because it sits on the edge of Waterdown and often becomes a thoroughfare for drivers speeding between Dundas Street and Parkside Drive...

Travelling through Waterdown is not part of the EDR (emergency detour route). Drivers are supposed to take Highway 6, across Highway 5 and then back down to Highway 52.

However, Martin White, the city's manager of traffic operations and engineering, said the city can't control where people drive.
The problem with Martin White's comment is that the City of Hamilton most certainly can and does control where car drivers drive. Rat-running car driving has been successfully eliminated from many Hamilton streets, and could also have been eliminated from Evans Road. The City of Hamilton chose not to do so.
On Roxborough Avenue near Queen Mary Elementary School, there is one example of a street from which the City of Hamilton has eliminated rat-running car drivers. This is what is called a "traffic filter" as it filters out motor vehicle traffic while allowing pedestrian and cycling traffic to pass.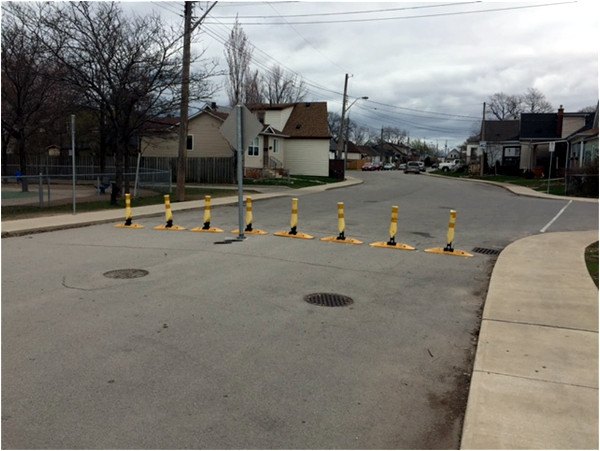 Roxborough Avenue near Queen Mary Elementary School
This exact same treatment could have been applied to Evans Road, where it would have saved the life of ten-year-old Jasmin Hanif.
In The Netherlands, rat-running has been systematically eliminated from almost every residential street in the entire country. This is part of the Sustainable Safety [PDF] program for street safety.
Here is an article and video that describe how this works. Key quote from the article: "Residential streets in The Netherlands rarely work as through roads for cars, even if they were originally designed to do so."
In the 1970s, roads in The Netherlands had the same disease of car domination that Hamilton suffers from today. As the country recovered from WWII, more and more cars made Dutch streets less and less safe. In 1972, a total of 3,264 people were killed in traffic crashes. In 1973, no less than 450 road deaths were of children.
1973 was also the year in which the child advocacy group "Stop de Kindermoord" (Stop the Child Murder) was formed.
This group and many other advocates were successful in launching a second traffic revolution in The Netherlands. The first revolution was when cars took over Dutch streets. The second revolution was when people took them back.
The result has been a steadily declining death toll in spite of a steadily increasing population.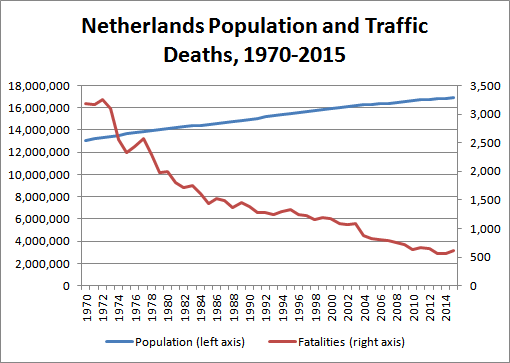 Chart: Netherlands Population and Traffic Deaths, 1970-2015 (Data sources: OECD Road Accidents, Netherlands Central Bureau of Statistics)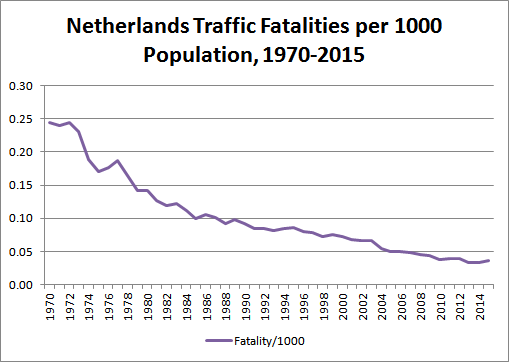 Chart: Netherlands Traffic Fatalities per 1000 Population, 1970-2015 (Data sources: OECD Road Accidents, Netherlands Central Bureau of Statistics)
Note that from 1972 to 2010, the Dutch population increased from 13 million to 16.5 million.
Of the 640 traffic crash deaths in the year 2010, exactly nine (9) were of children under the age of 16 years.
This is in spite of the fact that the average age at which Dutch children travel unaccompanied to school is 8.6 years old.
If Jasmin Hanif lived in The Netherlands, she would almost surely be alive today - alive because Dutch cities do not tolerate the rat-running car driving that killed her.
The City of Hamilton has the capability of eliminating rat-running, and has chosen to do so next to Queen Mary School. Unfortunately, the City of Hamilton also made a choice to tolerate rat-running on Evans Road. A choice that resulted in the death of Jasmin Hanif.
Until the City of Hamilton chooses to exercise its power to follow the Dutch example of systematically eliminating rat-running, children such as Jasmin are going to continue to die.
So let's stop killing children. Let's eliminate rat-running car drivers on residential streets. Every Dutch city has done just that. We can too!
Post a Comment
You must be logged in to comment.