Crawl Into the Building
Architecture Crawl is back next Friday, featuring five exciting venues: The Boiler Room and the Foundry at Cannon Knitting Mills, the Empire Times Rooftop, and the Co-Motion Studio and Rooftop Patio.
By Kevin Somers
Published June 02, 2017
This article has been updated.
Two years ago, I wrote about the Ontario Association of Architects (OAA) conference in Hamilton. The theme for the conference was Urban Renewal. This was from their website:
The spirit of inventiveness and determination is reshaping cities across North America and around the world. As incubators for new ideas to renew, rebuild and redefine a city, Hamilton is a prototype. Currently transitioning from a manufacturing steel town to a vibrant arts and livable community, it's an exemplary location to host the OAA's annual conference on Urban Renewal.

There is an overall energy in the city that is fervently seeking urban change. Over the past few years, Hamilton has attracted more commercial and industrial new developments than any other city in Canada and has established a unique identity with its comprehensive Health Sciences Centre. It is at the forefront of a booming real estate market, encompassing historic building fabric and interesting new developments. Come and be a part of the transformation, see renewal in action. Get a glimpse into the possibilities of community, collaboration and leadership; witness the value of architecture and architects, as our world continues to reshape and reinvent itself. Now is the moment.
The event was a great success; a terrific night in The Hammer.
Splendid news: Arch Crawl is back. There's no OAA conference this time, just locals throwing a big party in the name of architecture: nary a more worthy cause.
Architecture is the most important, impacting, universally experienced form of human expression. Without air, water, food, and shelter, we die. A small percentage of people passing the music hall, or art gallery, enter, but everyone sees the buildings and, consciously or not, we're impacted by everything our eyes meet.
Nothing substantiates the evolving ingenuity of humanity more than a beautiful, well built, purposeful building. From caves to the Taj Mahal, we've come a long way.
We don't just look at buildings, we live in them, we work in them, we are born and die in them. From inside buildings, we see the world. A beautiful building can change everything.
We teach children to reduce, reuse, recycle and there's no finer example than a great building being repurposed. There's great value in it, too. The Witton Lofts have favourably impacted the neighbourhood.
A building imagined, created, then occupied by people, takes on their collective essence. A building in which we spend time is part of our life's fabric. A building has character: some more than others. With its rich industrial past, Hamilton has a lot of "character buildings," as Harry Stinson calls them, dying for another chance.
Hamilton architect Rick Lintack, who I wrote about back in 2006, is one of the architects of Arch Crawl 2.0. He explained, "This crawl is for Hamiltonians. We want locals to experience and enjoy what's be built in the city. The venues are places people don't normally see or get into. And, you can walk or ride a bike, easily, to all of them."
From their poster: "This event will take place at 5 architecturally unique, previously inaccessible venues in the downtown core, each featuring performances by notable local musicians, exhibitions and hors d'oeuvres by local restaurants. All venues are centrally located and within comfortable walking, biking or cabbing distance.
"The five venues you will be able to visit are: The Boiler Room @ Cannon Knitting Mills-Beasley - 134 Mary St (open until 1 AM), Empire Times Rooftop - 41 King William Street Suite 401 (open until 11 PM), 10-14 James St North (open until 11 PM), Co-motion Studio + Rooftop Patio - 115 King St E (open until 11 PM), and The Foundry @ Cannon Knitting Mills-Beasley - 134 Mary St (open until 1 AM).
"The musical acts that will be spread across these various venues include: Jennifer Budd, Jacob Moon, Golden Horseshoe Revival, The Vaudevillian, Wheat Fields, The Medicine Hat, The Irish Kitchen Party & Guests, and Cowboy Quartet"
This year's event features rooftop fun, as well as merriment in two old, abandoned buildings on the cusp of major makeovers.
It's hard to believe, but Hamilton's most prominent corner, King and James, is home to a building that has been tragically neglected and often vacant. Things are about to change for 10, 12, and 14 James North, however, and it is sure to have a great impact on the area.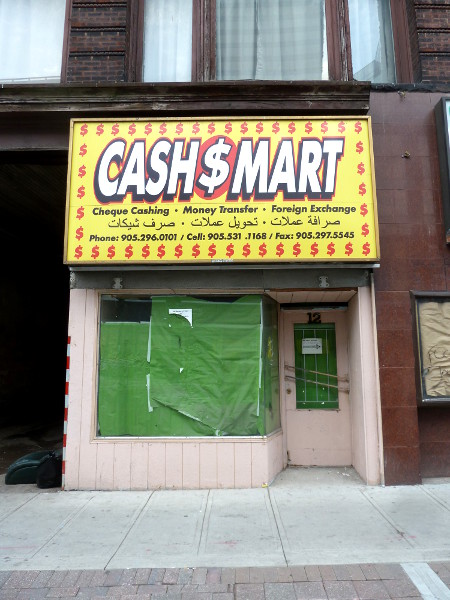 12 James North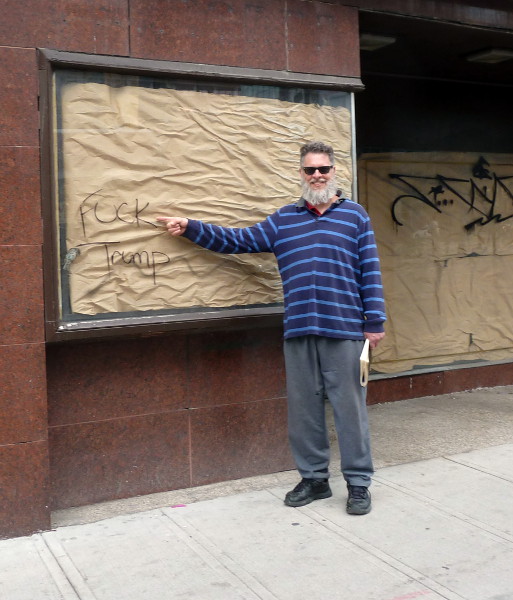 What does that say? There are too many freaks downtown.
Fourteen James is separated from the other two addresses by an alley, known by some as Hamilton's biggest urinal.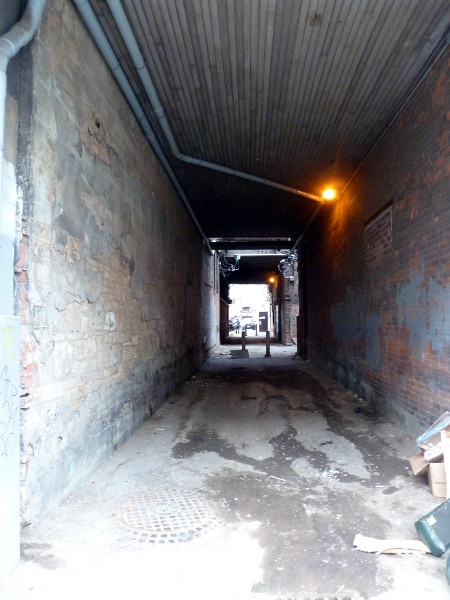 Smells like pee.
The developers of the three addresses, Core Urban, have purchased the alley from the city and will be filling it in; tying the buildings together by punching holes in the walls. The alley, which will be part of a lobby, will host an elevator, and a staircase. Here's what's coming:
Smells like progress.
I asked if the alley was a difficult acquisition. Kristel Bulthuis, of Core Urban, said, "No. We have a good reputation for bringing back buildings. The city sees that. They've been great to work with because it's win / win."
Parts of the buildings have been vacant for "up to four decades." There'll be a restaurant and commercial spaces, when the project is finished. There's work to do be, however.

The Arch Crawls' party room at 14 James North, as is.
When working on an old building, there is an endless succession of discoveries; opportunities or setbacks. When removing the dropped ceiling from 14 James, the crew discovered a series of 20 foot plaster domes.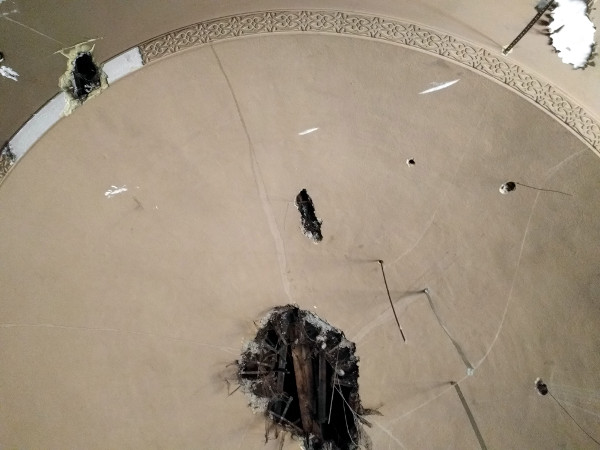 Groovy, eh.
Suddenly, a restoration project involving skilled tradespeople is in order. It's an added cost and complication, but the results are sure to be spectacular.
The anchor building for the Arch Crawl is The Cannon Knitting Mills, soon to be known as the Beaseley Park Lofts, at 134 Mary Street.
Harry Stinson, the developer for the project, said, "It's more of a complex than a building. Over a long time, about a dozen structures were cobbled together. There's no coherence."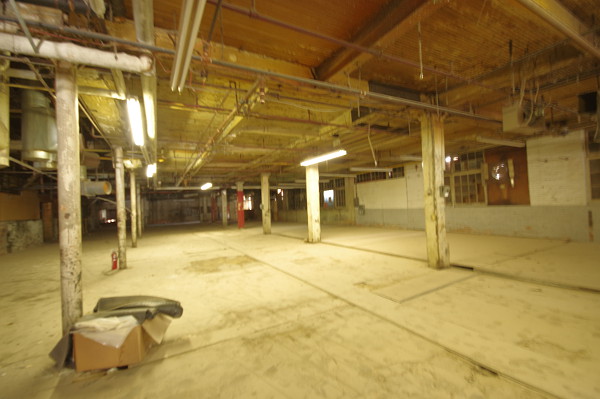 Another Arch Crawl venue in its raw form.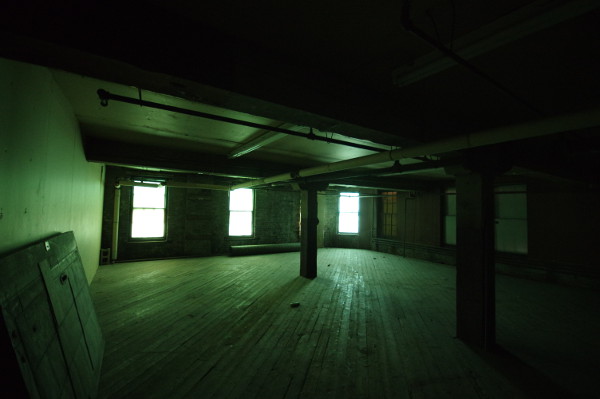 If you lived here, you'd be at home.
Occupying an entire downtown block, the complex is massive and plans for the derelict buildings are equally magnanimous.
Through vast spaces, into its bowels, and onto the roof, Harry gave us an extended tour of the giant project, which will host 116 condominium units, a 30 unit boutique hotel, restaurant, event space, concert hall, music studio, distillery, gym, and concierge.
The complex is still barebones and it was fascinating as Harry shared his vision for the place and his experiences in developing character buildings. I felt like Charlie Bucket trailing Willie Wonka through his beloved chocolate factory.
The units are selling fast. Stinson noted that most buyers are from the area, Burlington, Oakville, and Ancaster, rather than Toronto, which was previously the case. "People like character," he said. A concierge, front desk, and security are also appealing.
There will be a two-storey addition. The fourth and fifth floors were "harder to sell," until roof access was provided to prospective clients. We took funky staircases to two roofs.

Stairway to Heaven?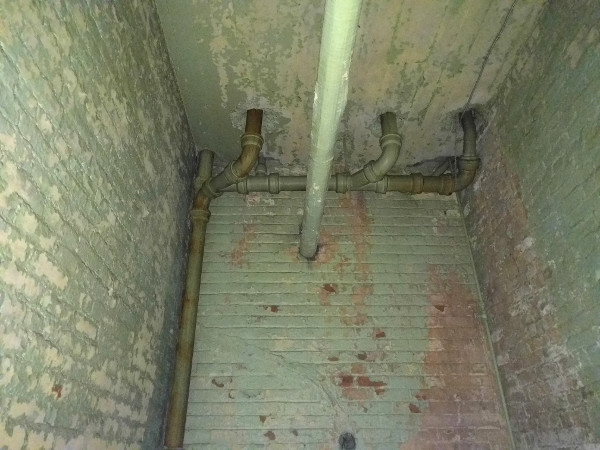 Olde school plumbing, bro.
The views were spectacular and the new construction units will have walk-out terraces. Sold.
I asked if they preferred building around an existing structure or a new build. Without hesitation, Rick, the architect, said, "Build around what's there."
Harry had a different opinion. "As a builder, new construction is much easier." Banks and financiers prefer new, because there are no surprises. "One of a kind buildings are 'too risky,'" he said. "Every single unit is different. You have to think. Site supervision is critical." Finding skilled people who can and will work on buildings, like the Beasely Park Lofts, can also be problematic.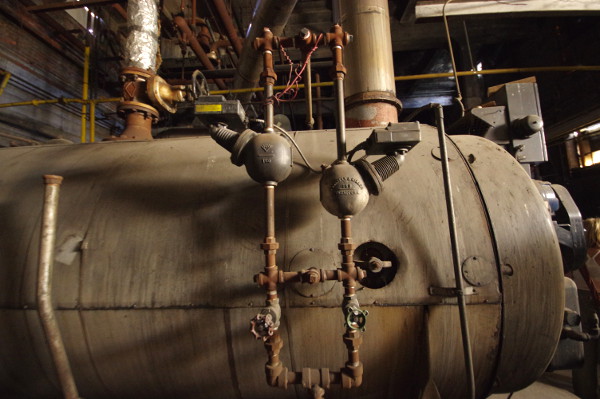 Things like this have to be moved or built around.
While the project is challenging, Stinson hopes to "make a mark; create a building people will remember. I think it will make an enormous difference to downtown. It will be a genuinely public building. Every week, thousands of non-residents will visit."
Obviously, a lot of employment will be generated by the renovations and construction of the complex, but once it's completed, there will be, according to Stinson, "well over 100 jobs in the building. Food service is very labour intensive. There'll be a concert hall and music studio. Artists will be able to record here or broadcast live."
There are plans for a large open courtyard with a glass roof. "You need scale to make a social impact," Stinson said. "It will be a place to see and be seen."
When I asked Harry which building or project this was similar to, he said, "The Candy Factory." The Candy Factory, developed by Stinson, in the nineties, is a Toronto success story. Toronto Life called the project "one of the ten most important events in Toronto history."
Harry explained he was in real estate, at the time, and many clients wanted character lofts, but there were very few. There was a demand for eclectic, creative living space, so in the spirit of Willie Wonka, Harry turned an old candy factory into The Candy Factory.
Barbara Hall, who was mayor at the time, was instrumental in changing city bylaws to facilitate projects like the Candy Factory. The impact on the area has been immeasurable.
Rick and Harry are hopeful that similar changes are coming to Hamilton regulations soon.
Speaking of The Beasely Park Lofts, Stinson said, "People love character. After a visit, they want one (a unit). As well, adaptive reuse helps preserve heritage buildings. You must find a dynamic, practical use for a building or it is unsustainable."
Architecture Crawl 2.0 is Friday, June 9, 2017 from 7:00 PM to 1:00 AM. "Badge pick-up and event sign-in will be at the Cannon Knitting Mill location starting at 6:30 PM.
Once you have your badge, you will be able to enter any venue at any time for the remainder of the evening. The after-party is at the Cannon Knitting Mill from 11:00 PM to 1:00 AM (included in ticket price)."
Where is the foundation for Hamilton's renewal? Where's the structure, the bones, the muscle, the work ethic, the invention, the vision, the past, the present, the future, the spirit? It's in the buildings.
Crawl into a few, have a few, enjoy the experience, and see what's building in buildings.
---
Update: this article originally stated that 10-14 James North is at Main and James. It is actually at King and James. RTH regrets the error. You can jump to the changed paragraph. H/t to RTH reader Streeter for catching the error.
Post a Comment
You must be logged in to comment.