Alleys of Hamilton: Downtown to Hamilton General Hospital
Kevin Love will be leading a Jane's Ride on May 7, 2016, 1:00 PM showing how you can ride from downtown Hamilton to the General Hospital on a network of alleyways.
By Kevin Love
Published March 18, 2016
One little-known fact is that it is possible to ride all the way from downtown Hamilton to Hamilton General Hospital using Hamilton's system of alleys. On Saturday May 7, 2016, I will be leading a Jane's Ride which will do just that.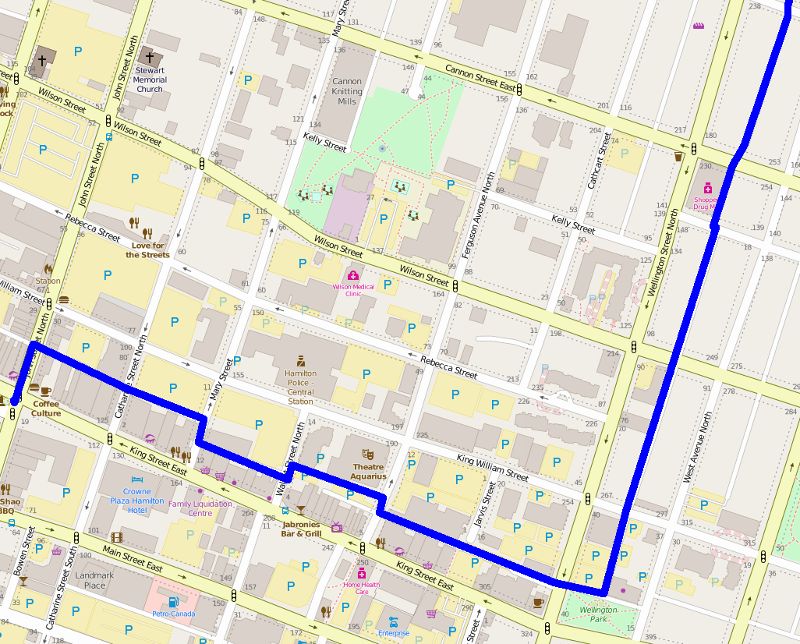 Part of the alleyway route from Gore Park to Hamilton General Hospital (Route overlaid on OpenStreetMap)
We will start at 1:00 in Gore Park next to the SoBi Station by the statue of Queen Victoria. The ride takes place rain or shine. After all, my boss expects me to show up at work no matter what the weather is doing.
For those who have never seen me before, I am 203 cm (6'8") tall. Or you can see a photo of me leading a Janes Ride in 2012.
Naming the Alleys
The City of Hamilton currently disrespects its alleys by not naming them. I have given them names because otherwise it is rather difficult to describe the route.
I call "Downtown Alley" the east-west alley that is north of King Street. Downtown Alley starts west of John Street and goes to Emerald Street in the east.

"Wellington Park Alley" is the name I give to the north-south alley that starts at Downtown Alley at Wellington Park and that extends north to Evans Street.

"Hospital Alley" is what I will call the north-south alley that starts opposite the main entrance to Hamilton General Hospital between West and Victoria avenues, and ends north of King William Street.

Because it is one of Hamilton's longest alleys, "Grand Alley" is the name I give to the alley that starts at Birge Street east of Victoria Avenue and that goes all the way south to Downtown Alley.
Jane's Ride Route
From Gore Park, we will enter Downtown Alley at John Street.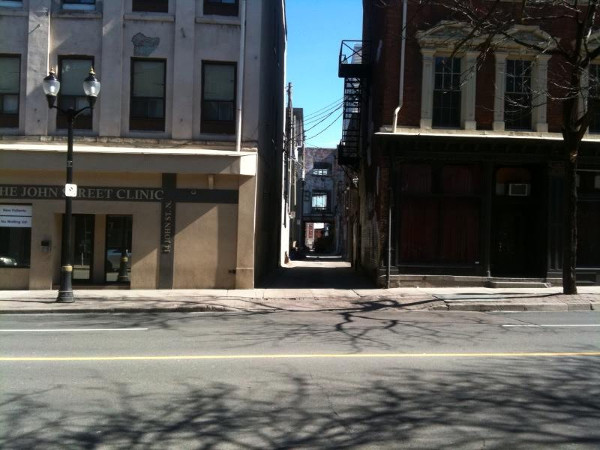 Entrance to Downtown Alley at John Street.
A key feature is the mural in Downtown Alley opposite 107 King Street: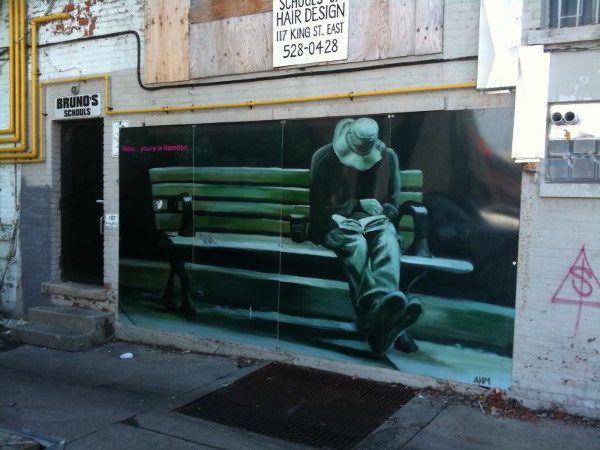 Mural in Downtown Alley
At Downtown Alley and Ferguson, we see cycling-specific infrastructure. Specifically, signs allowing cyclists to make left turns that are forbidden to motor vehicle operators.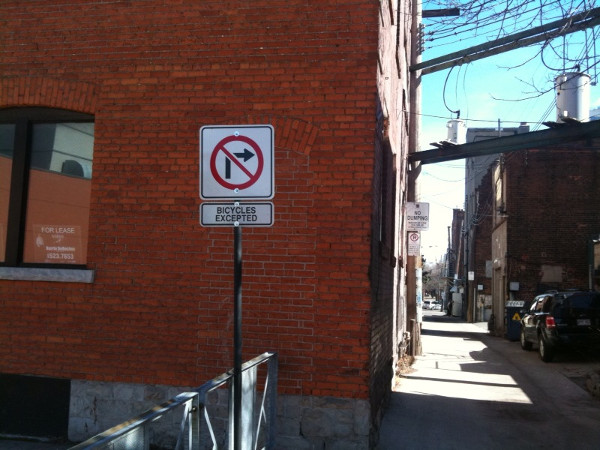 Cycling infrastructure at Ferguson
At Wellington Park, we will turn left into Wellington Park Alley and travel north to Evans Street. Note that Evans Street itself is a large alley that has been given a name and alley housing.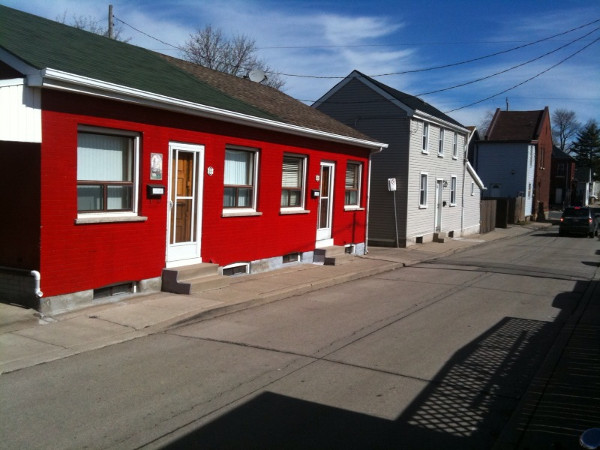 Alley housing on Evans Street
We will turn right on Evans Street and one block later turn left onto Hospital Alley. Then we will travel north on Hospital Alley to Hamilton General Hospital.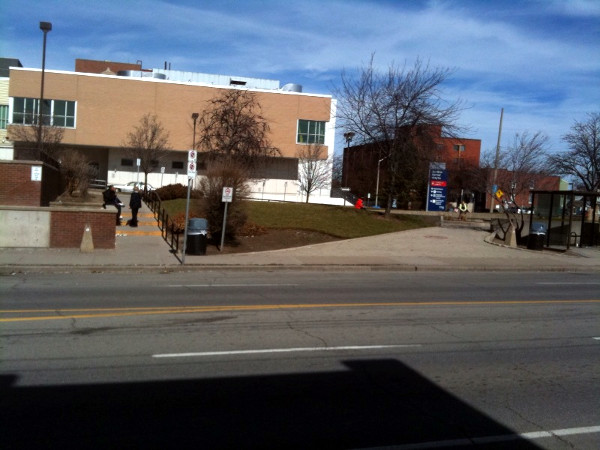 Hamilton General Hospital main entrance as seen from beginning of Hospital Alley
Next, we will travel north on the Victoria bike lanes to Birge Street and the beginning of Grand Alley.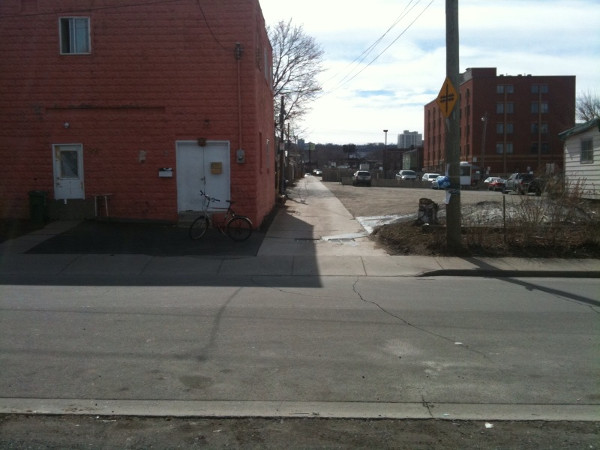 Beginning of Grand Alley at Birge Street
The south end of Grand Alley features a fascinating alley/alley intersection where Grand Alley meets Downtown Alley. We will then follow Downtown Alley back to Gore Park.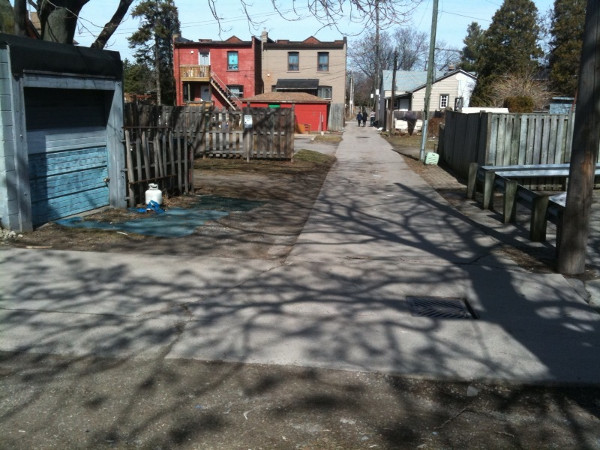 Intersection of Grand Alley and Downtown Alley
What to Bring
Bring a sensible city bicycle or rent a Hamilton Bike Share (SoBi) bike in Gore Park.
Please wear whatever casual clothes you are most comfortable in. If rain is forecast, bring a rain jacket.
What not to bring: please leave at home body armour, helmets or anything else that makes cycling look weird or dangerous.
The ride will take approximately 1 hour and 15 minutes. Looking forward to seeing you there!
Post a Comment
You must be logged in to comment.