Hydro Rate Cut a Missed Opportunity for Grown-Up Policy Discussion
Electricity pricing has become yet another wedge to drive between different parts of the province while the economic system that leaves so many people vulnerable to rising electricity prices in the first place persists mostly unchallenged.
By Ryan McGreal
Published March 02, 2017
The Ontario Government has just announced that it will cut electricity rates by 25 percent this year through a combination of three changes: moving the hydro subsidy out of the so-called Global Adjustment hydro surcharge and onto the provincial tax base; amortizing the capital costs of the power system over a longer period; and removing the 8 percent provincial portion of the HST from the total.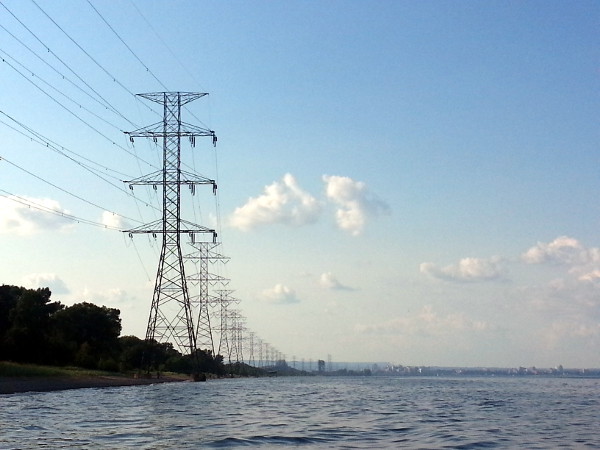 Hydro towers along Hamilton waterfront (RTH file photo)
This dramatic course correction comes in response to an availability cascade - a chain reaction of heightened awareness and escalating outrage - over Ontario's electricity prices. This availability cascade is at least partially politically motivated, as the Liberal Party's political opponents claim (falsely, it turns out) that our hydro rates are "the worst in North America".
There are lots of reasons why many people are struggling financially these days, but electricity prices are currently top of mind in the public discourse so they have been getting the blame for everything, further feeding into and propagating the cascade of collective outrage.
Ontario's current electricity prices are somewhat higher than the North American average, and they have certainly gone up significantly over the past decade, but are by no means extreme outliers.
Global Adjustment
The underlying cause of the price increases in recent years is hotly debated among economists, industry analysts and political pundits. Making things more difficult is the fact that the increases are buried in the so-called Global Adjustment (GA), a surcharge above the spot price per kWh that covers maintenance, refurbishment and new investment in the system.
Of the GA, only a small proportion is for wind and solar. A portion is to cover tax credits for green investments and recycling fees for discarded appliances. The biggest proportion [PDF] is for natural gas and nuclear, mainly for the cost of refurbishing Ontario's nuclear reactors.
There's an important debate to be had over whether it makes sense to invest $12 billion to refurbish nuclear power generators that already have some of the highest electricity generation costs (if you include the lifecycle costs of the reactors). Could we instead buy surplus hydroelectric power from Quebec at a much lower price and pass those savings to consumers?
These are important political decisions, and the Ontario Liberals should be held to account for refusing to consider cheaper alternatives to propping up Darlington and Pickering at exorbitant cost.
Unfortunately, egged on by ideological and partisan opponents to clean energy, most of the outrage has been misdirected against the existing wind and solar contracts, which have a relatively high cost per kwh but represent a pretty tiny share of the power generation mix.
Amid the daily reality of global warming and with wind and solar generation prices tumbling worldwide, we should be investing more into renewables, not less.
Another feature of the GA system that outrages a lot of people is that when Ontario sells surplus power to other jurisdictions, it does so at the spot price per kWh, not at the full price with GA included.
This seems intuitively unfair to Ontario consumers, although it's simply a matter of securing additional revenue when the grid produces more power than the Ontario market needs.
Scapegoat for Neoliberalism
More generally, focusing on electricity prices is a fantastic distraction from the effects of three decades of neoliberal economic policy, which has produced stagnant median incomes, a steady erosion of unionization rates, labour market insecurity and so on.
It's also a distraction from the structure of a housing market that has produced extremely high home prices and high rents, with investment in affordable housing downloaded to municipal governments that don't have the tax base to meet that responsibility.
But electricity pricing has become yet another wedge to drive between different parts of the province while the economic system that leaves so many people vulnerable to rising electricity prices in the first place persists mostly unchallenged.
The new policy will reduce electricity prices by moving some of the cost of electricity off the hydro bill and onto the tax base, and by moving some of the cost off current ratepayers and onto future ratepayers. It will assist some low-income Ontarians who really need the help, while also giving nice discounts to other Ontarians who really don't need the help.
It will also dampen the price signals that should be incentivizing Ontarians to reduce our net energy consumption by investing in conservation and locally-generated renewable power. An imagined future of solar rooftops across the province has just moved a bit farther into the distance.
Grown-up Conversation
Ontarians as a whole seem to be incapable of having grown-up conversations about certain topics when it comes time to talk about what we want and how to pay for it. (See, for example, the feeding frenzy when Metrolinx dared to broach the subject of congestion pricing to help pay for regional transit expansion.)
Looking back over the past 30 years, it's clear that electricity pricing is one of those topics. We refuse to confront the truth about how much it actually costs to generate and distribute electricity, compared to how much we are willing to spend on it.
Like the narrator from the classic Jane's Addiction song, we want something and we don't want to pay for it. Instead, we demand to be pandered to, and any party that wants to remain in power must ultimately agree to pander.
The Liberals foolishly tried linking the price of electricity to the cost of electricity. The result was an avalanche of fury that swept all the promising news about the province - decent GDP growth, steadily falling deficits, significant new investment in regional transportation - right off the agenda.
So I don't particularly blame them for giving the people what we demand. This is a democracy, after all. It's just a shame that none of the parties - not even the NDP - could set aside the politicking long enough to open up a broader discussion about why nearly all the gains of the past ten years have accrued to the extremely wealthy while median incomes continue to stagnate.
Post a Comment
You must be logged in to comment.