An Ignoble End
After neglecting the Lister Block for seven years, LIUNA now expects to be exempted from the city's own policy documents and rewarded with a $30 million sweetheart deal.
By Matt Jelly
Published May 26, 2006
LIUNA, the owner of the Lister Block, has requested a demolition permit from the city, and City Council wil decide on this on June 12 during a special meeting at 3:00 PM.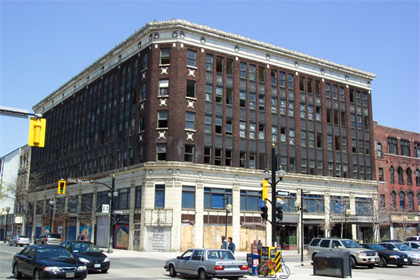 Lister Block
I've been following this story for years, and it's a long one. A lot of the details are confusing, for sure. I understand the confusion people have over this - LIUNA has played a pretty smart chess game with announcements over the year - but when you tie it together there are a lot of gaps.
The proposed deal, as I understand it, goes as follows: The city (if they agree to the current proposal) will lease out office space from LIUNA for a 15 year period, for $30 million, in a rebuilt Lister Block.
Simple enough, it seems. I think most people agree the status quo (a prominent, derelict building in the downtown core) isn't an option. Everyone can agree that it would be good to see something happen at that corner.
That's the only valid argument I've heard in favour of LIUNA's proposal: it replaces what most people see as an eyesore with a new building. Okay.
However, there are some problems with this logic, and some concerning questions about how this proposal should work for the citizens of Hamilton.
Usually, when the city is in need of something (anything from office supplies to office space) it tenders a contract. Different suppliers compete for a bid, and usually the cheapest option is taken, unless there are obvious reasons to spend more.
Right now, plenty of office space is available in the core. Eight floors are vacant in the Stelco Tower, as well as vacated floors in the Standard Life tower, formerly used by the Federal Government before 55 Bay was built, as well as several other facilities which should suit the city just fine.
The office vacancy rate in the downtown core is estimated at around 25-35 percent. So, downtown Hamilton is not a market in need of new office space, and since there's such little demand for this space, if the city wanted to lease space (especially for as long a period as 15 years), they should have no trouble finding space for about a third of the cost that they'll be paying LIUNA.
The city didn't tender this contract with LIUNA - it was a special deal apparently initially worked out between the Mayor's office and LIUNA. Many people remember the concept sketch from last May - this was unveiled before any deal was actually discussed by the public or by the Councillors who represent us.
What other developer can you name that receives a $30 million handout from the city after sitting on a property and not maintaining it for seven years?
LIUNA has been complaining that heritage advocates in town oppose the demolition of the Lister Block, going even further to accuse members of the city's own Municipal Heritage Committee (also referred to as LACAC) of inappropriately working against the development. LIUNA is almost taking a tone that it's unpatriotic to the city to oppose the deal.
The City had Lister designated as a heritage building in 1995 to avoid exactly this kind of situation - a developer coming in and knocking down an old building because it's cheaper to rebuild than to preserve.
LIUNA knew that the Lister was a heritage building when they bought it. They shouldn't be surprised or impatient when people oppose its demolition, especially the citizen's committees at City Hall who are mandated to scrutinize these things!
In a letter to council, LIUNA president Joe Mancinelli made it seem as though heritage advocates were just being purists about this, and really don't have the right to comment about a building which isn't theirs.
In fact, LACAC does indeed have a say in this. Any demolition of a heritage building is supposed to go through this committee to make sure everything is in order. Surprising no one, LACAC recently voted 12-1 to oppose LIUNA's plan.
The city has an official plan, a policy document that is supposed to guide decisions made by Council. Our official plan recognizes built heritage as a priority, and contains requirements for how we deal with such heritage buildings. In the Municipal Heritage committee's estimation, the deal presented by LIUNA doesn't satisfy these requirements.
The committee goes on to point out that the plan also doesn't satisfy the Downtown Secondary Plan, the part of the city's official plan that specifically outlines how we redevelop downtown.
These plans were officially adopted by the city. Councillors are obviously allowed to deviate from these plans when necessary, but the LIUNA plan is on many fronts at odds with the city's own policies, as well as with the policies outlined by the Ontario Heritage Act.
The Municipal Heritage Committee also based this decision on a peer review of the "heritage impact assessment" supplied to the committee by LIUNA, which has been discounted by those peer reviewers as incomplete and systemically inaccurate.
People who want to see something happen with this building will often point to the state of the building as it stands now: broken windows, open entrances, and the stink on hot days. It's obvious that to get this downtown moving again, the Lister can't sit like it is now for much longer. Something has to be done.
I made a presentation to City Council two years ago, urging them to enforce property standards by-laws. Sections 5.2 to 9.2 of the property standards by-law are very clear about how an owner is expected to take care of vacant buildings. Owners of properties aren't supposed to leave windows open or entrances unsecured. Check out how many by-law violations you can observe just by standing on the street.
The city apparently hasn't tried to enforce these by-laws on LIUNA or on a lot of the buildings downtown, even after several citizens have identified these violations.
What everyone needs to remember is that LIUNA is largely responsible for the condition of the Lister Block. For the past seven years it's belonged to them. Every time there's a fire, every time a trespasser does damage to the property, every time a pigeon drops a load inside that building, that's all the fault of the owner, and in part, the City of Hamilton for ignoring its own official plans and failing to enforce its own laws.
We have a huge problem with absentee property owners in the downtown core. Some of them are out-of-town property speculators who buy up properties and sit on them until the market gets better and they can flip the property for more than they paid for it.
The city has had trouble enforcing property standards by-laws on these owners for decades, because it's so widespread through the downtown core. For the people in charge of bylaw enforcement at city hall, I'm sure it's almost impossible to start. I'm guessing this is another city department that doesn't get nearly enough funding to do its job properly.
What worries me about the city subsidizing this development is the signal it sends to every other owner of derelict properties in the core. If they sit on it long enough, it becomes such a nuisance that it's no longer a private owner's problem; it becomes a very visible public problem, and the city is pressured to give away taxpayers dollars to fix things.
This shouldn't be the way we approach this problem, which has persisted throughout the decades without any real solution.
The decision that City Council has to make is whether or not to issue a demolition permit. This decision will be pivotal; it defines how we approach bringing the downtown back to life. Do we work with what's here, respect the history and the fabric of downtown, or do we bulldoze over that history and that fabric when they get in the way of the bottom line?
What concerns many of the heritage advocates in this city is that we have a beautiful heritage building in the downtown core that could be restored as one of the most interesting historical spaces in the city. For decades long the Lister Block was the heart of the downtown core, long before Jackson Square, Copps Coliseum or Hamilton Place were built.
Some people are recommending a full heart transplant, whereas others are simply suggesting that that heart needs to be resuscitated.
The building can't sit as it is, that's for sure, but the city should be taking real leadership on this. If taxpayers have to pay $30 million, we should be asking for a lot back from LIUNA: that they respect the historical significance of the property, and give us a building that we can all use, that we can all be a part of again.
LIUNA may own the Lister Block on paper, but that doesn't automatically give them a license to do what they will with it. There are rules on the books, and they haven't been following most of them. Hamilton and its citizens also have a certain ownership of the building, in spirit. It's in our history books, and perhaps after June 12, it won't exist anywhere else.
I would urge people to contact their Councillors and ask questions about this deal, and please tell them how you feel about it.
(For more information about the Lister Block, visit Architecture Hamilton's Save the Lister page. Matt Jelly will be on the speaker's list at the June 12 Council meeting. He will also be discussing the issue on The Opinionators, Cable 14 on Sunday, May 28 at Noon.)
Post a Comment
You must be logged in to comment.