Herkimer, Charlton Bike Lanes Balance Local and City-Wide Needs
A tone-deaf editorial in the Mountain News accuses the lower city of not paying enough attention to how the Herkimer and Charlton bike lanes will impact cut-through traffic.
By Ryan McGreal
Published September 30, 2016
A cringeworthy editorial on the Herkimer and Charlton bike lanes in the Hamilton Mountain News gets its basic facts wrong and draws a mean-spirited, Bizarro-World conclusion about how Hamilton can move forward as a more integrated city.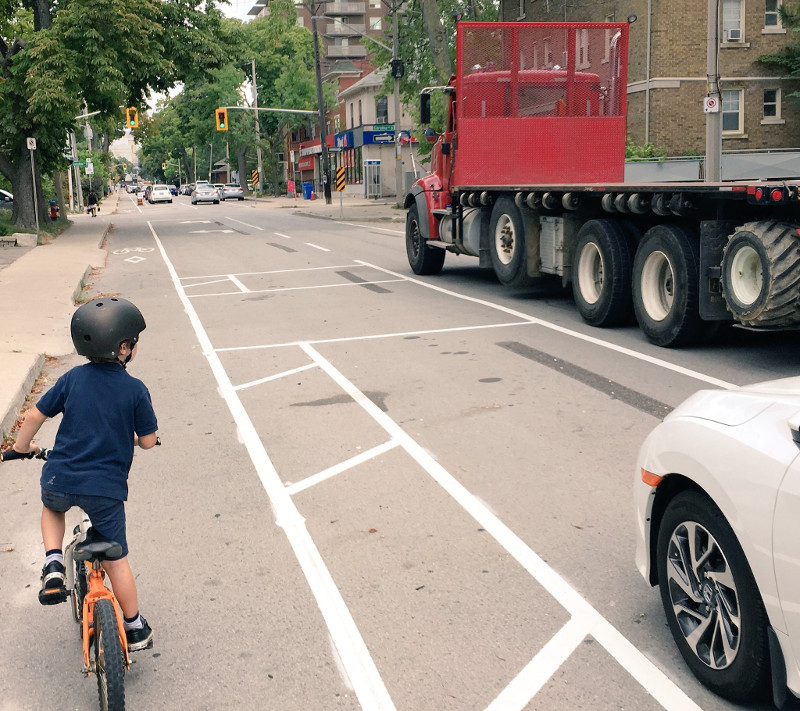 A child rides in the protected bike lane on Herkimer while a transport truck drives past (Image Credit: Tom Flood)
The opening sentence refers to "the configuration of two main streets in the lower city", and a subsequent sentence describes Herkimer and Charlton as "major transportation corridors for residents from the Mountain travelling to their jobs or other activities into the downtown core."
This is wrong. Herkimer and Charlton are classified [PDF] under the Urban Hamilton Official Plan as local collectors, primarily residential streets where local use and through traffic are balanced.
According to the City's Classification of City Streets [PDF], a collector should be designed to enable "traffic movement and land access [are] of equal importance".
Herkimer and Charlton are not "main streets" or "major transportation corridors". This is even reflected in combined traffic volumes of around 16,000 vehicles a day across both streets.
City-Wide Approval
Next, the editorial accuses "staff, downtown councillors and residents" of implementing these bike lanes without the rest of the city. In fact, these bike lanes are part of the Cycling Master Plan, which was approved by City Council as a whole.
That Council includes a certain west mountain councillor who has been stoking resentment and shamelessly repeating false claims, many of which made it into this editorial.
One of those false claims is that the new design "has created a safety problem for emergency vehicles". In fact, St. Joseph's Healthcare has confirmed that the bike lanes do not create a problem for emergency vehicles.
The editorial also describes "a line up for eager commuters especially during peak hours." In fact, traffic congestion has not increased significantly since the bike lanes were installed.
The main traffic impact has been to reduce dangerous speeding, which the City recorded reaching 80-90 km/h on a daily basis before staff reconfigured the streets to be more safe and inclusive - or as the editorial puts it, "adopt the trendy complete streets transportation plan".
Prioritizing Cut-Through Driving
Perhaps most tone-deaf is the assumption running through the editorial that the main impact of these bike lanes has been to inconvenience mountain residents using these streets as a route to somewhere else.
It is made clear that the convenience of those people should take precedence over making these streets safer - not just for people who live and work on and around them, but for all road users, including the cut-through commuters this editorial claims to speak for.
The editorial accuses "inner city officials" of "myopia" in failing to "take into consideration the impact it will have on the rest of the city" and even takes a potshot at the "pompous digerati" for supporting what the editorial disdainfully calls "funneling money and resources into the core".
Let's be perfectly clear: This project was designed and implemented with paint and signs. It is hardly a case of "funneling money and resources" - especially compared to the exorbitant cost of suburban road-building and road-widening projects that are approved and funded without a whisper of complaint from anyone.
Furthermore: after the redesign, 82 percent of the roadway right-of-way on these streets is allocated to driving and parking automobiles - including additional daytime parking for some of those commuters the editorial claims to speak for - while just 18 percent is allocated to cycling.
That is hardly an excessive or unreasonable rebalancing of the street to accommodate active, healthy, non-polluting transportation - transportation, incidentally, that anyone in the city is allowed to use, including people who currently see their city from an exclusive windshield perspective.
False Alternative
Hamilton is certainly an interconnected city - no one understands this better than the people who have been living with the daily trauma of the lower city's legacy of multi-lane, one-way thoroughfares - but a city cannot thrive if its composite neighbourhoods are not thriving, and a healthy neighbourhood needs safe, inclusive public space.
The editorial frames this as a showdown between inclusive streets and cut-through traffic, but that is a classic false alternative.
It is possible to balance both uses of the street, and the Herkimer/Charlton redesigns were carefully designed over a two-year period to do just that. (Indeed, even after the redesign the streets still overwhelmingly cater to cars and driving.)
A bit less sanctimony, a bit less snark, a bit more empathy and a far more rigorous commitment to fact-checking its convenient assertions would go a long way toward justifying this editorial board's haughy pronouncements about being "diverse" and "interconnected".
Post a Comment
You must be logged in to comment.