City Opens First New Pedestrian Crossover (PXO)
The new PXO at Limeridge Road East and the Escarpment Rail Trail is the first of more than thirty to be installed before the end of 2017.
By Ryan McGreal
Published September 19, 2016
This article has been updated.
The City of Hamilton just officially opened its first new Pedestrian Crossover (PXO) at the intersection of Limeridge Road East and the Escarpment Rail Trail.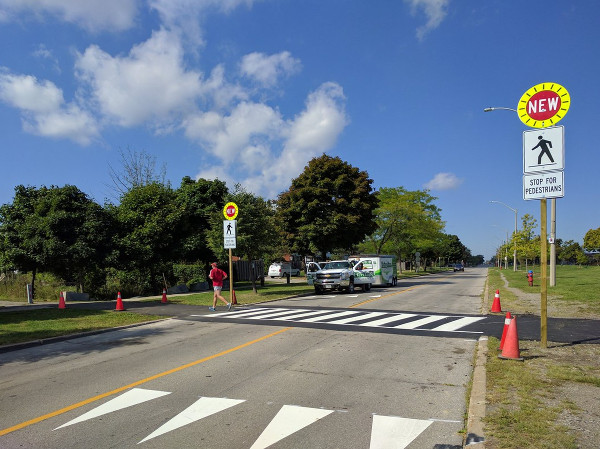 Pedestrian Crossover at Limeridge Road East and Escarpment Rail Trail
A PXO is a type of crosswalk that provides a controlled street crossing in which pedestrians have the right of way. PXOs are distinct from other types of controlled crossings: crosswalks at signalized intersections, crosswalks at intersections with stop signs, and designated school crossings with a crossing guard present.
Under a new Ontario law, when a pedestrian is crossing at a PXO, drivers and cyclists must stop for the pedestrian and wait until the pedestrian has completely crossed the roadway before proceeding through the intersection.
The City of Hamilton has produced a short video explaining the new rules:
I'm especially excited about the new street sign at the PXO:

New traffic sign: Stop For Pedestrians
A few years ago, City staff were seriously considering putting up signs at pedestrian crossovers that read: "Caution - Vehicles Not Required to Stop".
In part, the change has to do with the Ontario Government updating the Ontario Traffic Manual, specifically Book 15 [PDF], which covers Pedestrian Crossing Facilities and now includes a new set of tools municipalities can use for PXOs.
The new signage directing drivers and cyclists to stop for pedestrians is a new provincial standard and will be in place in municipalities across Ontario.
However, the push for new PXOs in Hamilton also reflects our Public Works Department's new commitment to safer, more inclusive streets after many years of neglecting the needs of pedestrians for safe transportation infrastructure.
New PXO Designs
The City of Hamilton stopped using the old-style PXOs several years ago, citing a 2007 study from Toronto which found that the old PXOs conferred a false sense of security on pedestrians and had a poor safety record.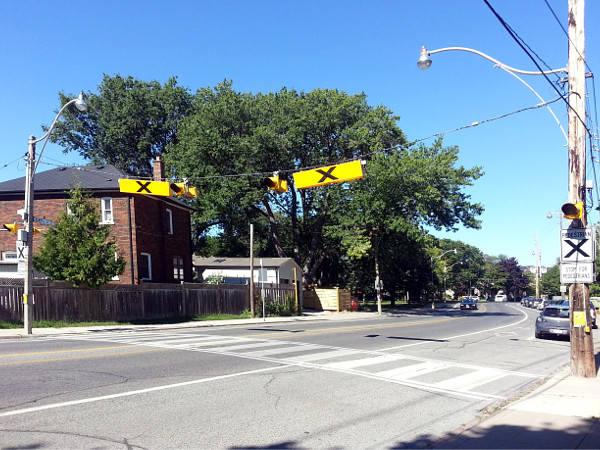 Old-fashioned PXO at Orchard Park in Toronto (RTH file photo)
The new PXO designs are intended to address the safety issues with the old PXOs.
Depending on the local context, a PXO might also have a push-button to activate flashing amber beacons or overhead hanging signs.
The section of Limeridge Road East where this first PXO has been installed is very low in automobile traffic - something on the order of around 2,000 cars a day or less - so the design just has the pavement markings, ladder crosswalk and Stop For Pedestrians sign.
First of Many
This is the first of over 30 PXOs the city plans to install by the end of summer, 2017.
Here is a map and list of PXO locations, created from the list of planned PXO installations on the City's Pedestrian Crossovers page: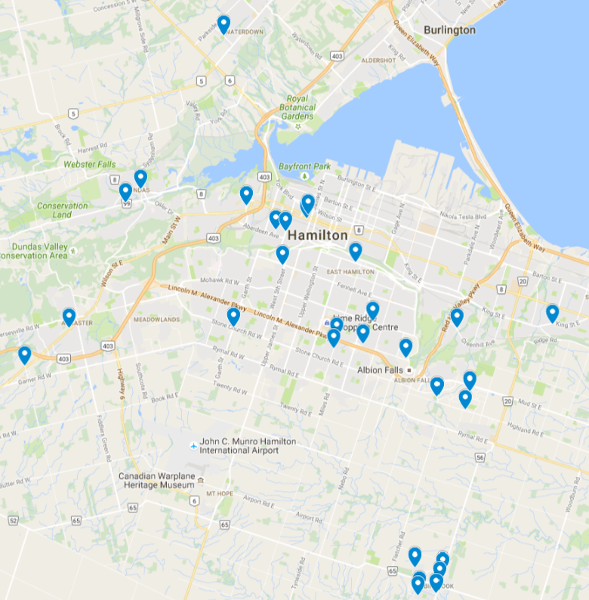 PXOs planned for 2016-7 (Image Credit: Google Maps)
According to the City, another 10-12 PXOs will be installed before the end of this year, followed by 20 or more next year.
Staff will be preparing another list of locations to be installed between the fall of 2017 and the summer of 2018.
This is a welcome change from the news back in April that the City only planned to install three or five PXOs this year.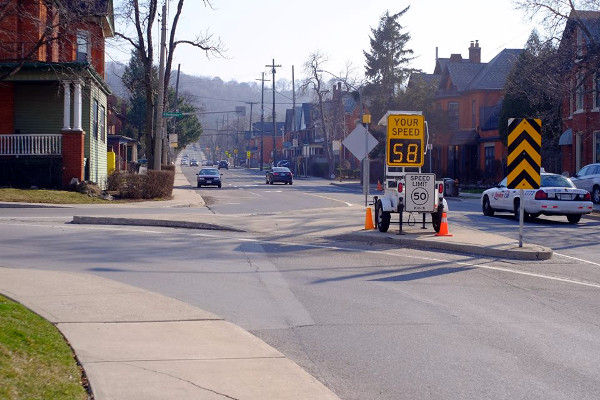 Mobile speed radar at Herkimer and Queen, one of the PXO locations, in April of this year (RTH file photo)
---
Update: This article originally stated that the list of 20 PXO locations for 2017 would be installed by the end of the year. City staff have clarified these locations are set to be installed by the end of summer 2017. Another list of locations is being developed that will be installed between fall 2017 and summer 2018. You can jump to the changed paragraph.
Post a Comment
You must be logged in to comment.