Save Some Outrage for Law-Breaking Driving
Overwhelmingly, road fatalities are caused by drivers, not cyclists or pedestrians.
By Ian Borsuk
Published September 01, 2016
One only needs to read the online comments for any article or social media post about cycling to see some variation of the sentiment that too many cyclists break the law - not stopping for stop signs, riding on sidewalks, and so on - as a means of arguing against investing in additional cycling infrastructure.

A bicycle did not knock over this Hydro pole on Fennell Avenue (RTH file photo)
It is important to point out that nearly all laws that apply specifically to cyclists have the explicit purpose of increasing the safety of the cyclist (such as ensuring proper lights are equipped).
The laws applying to drivers, however, not only increase the safety of the driver and their passengers, but also other drivers, as well as cyclists and pedestrians.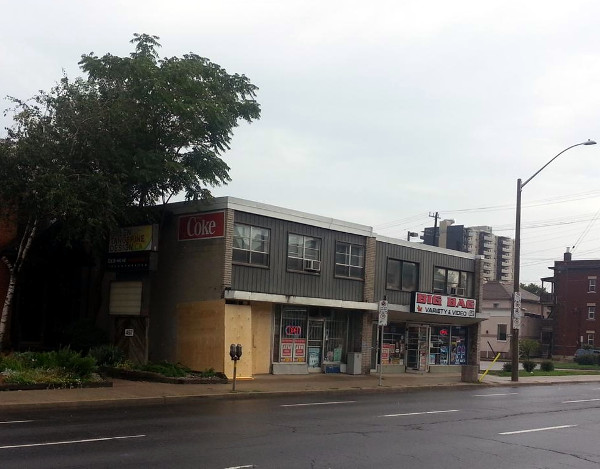 A bicycle did not crash into the front of this building on Main Street East (RTH file photo)
Due to this scope, it's clear that it is imperative for drivers to obey the rules of the road, and I would recommend to anyone who is peeved at cyclists breaking rules that they should rather put their efforts toward advocating for drivers to obey the rules of the road.
Overwhelmingly, road fatalities are caused by drivers, not cyclists or pedestrians. To help with this effort, with some input from others, I have a list of commonly-broken rules that apply to drivers to share with you.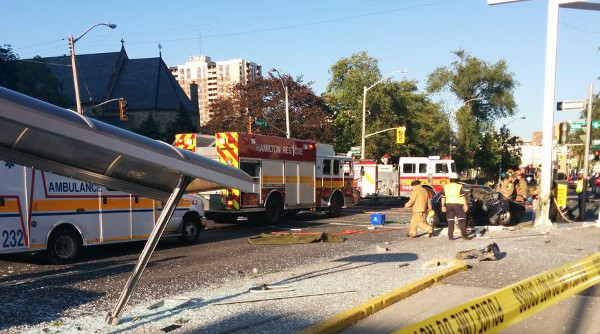 A bicycle did not destroy this bus shelter on Main Street East (RTH file photo)
Put Down Your Phone
Distracted driving is prohibited. Drivers are not to use phones unless they are hands-free (built into the car, voice activated) or securely attached to the inside of the car.
This is a widely understood and known law, yet distracted driving is on its way to being responsible for nearly twice as many road fatalities as impaired driving.
Obey the Speed Limit
Going over the posted speed limit is against the law.
This one is also widely known and understood, yet is possibly the most commonly-broken road law. Police everywhere set up specific operations to catch people in the act of doing so.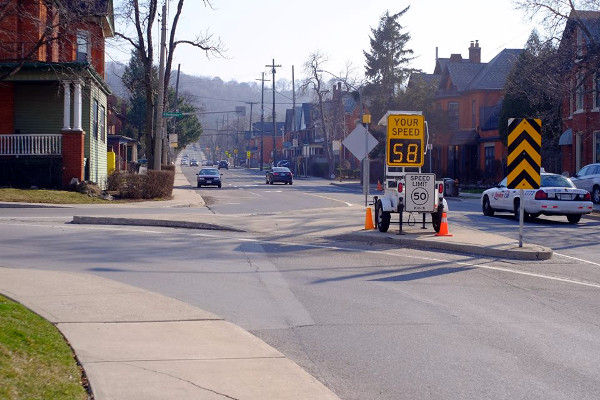 A speeding bicycle did not trigger this speed radar on Queen Street (RTH file photo)
As explained in a recent RTH article, vehicle speed has a major impact on the distance a vehicle requires to come a full stop which has a major impact on the safety for other road users and pedestrians.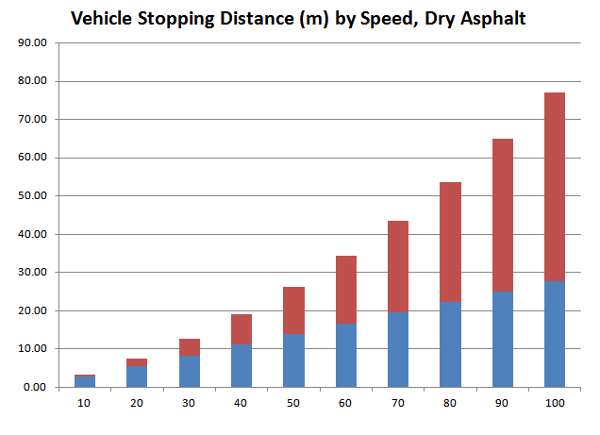 Chart: Vehicle Stopping Distance by Speed, Dry Asphalt
Signal Your Turns and Lane Changes
Cars are required to use, and have, full functioning turning signals when turning or changing lanes.
Yet a shocking amount of the time, people driving make turns and change lanes without using this basic, built in function for all cars.
Leave 1 Metre When Passing Cyclists
Drivers are required to give cyclists at least a metre of space when passing them on the road.

1 metre (3 feet) is a safe passing distance
As a daily cyclist, I personally see this law broken every time I go out on the road. This is a relatively new law, but widely promoted so there's no lack of knowledge about it.
Some cyclists have gotten so serious about ensuring they're given their legally mandated space on the road that they've attached a meter of pool noodle to the side of their bike.
I recently witnessed a social media exchange on the topic of this law. A self-described driver lamented over cyclists performing Idaho Stops (which save energy and time for cyclists) as they put lives at risk when they do so.
When that driver was reminded that drivers break rules as well, including this one, they then claimed that waiting to safely pass a cyclist delays their trip and holds up traffic.
The implicit point here being that a driver in a hurry should be allowed to put a cyclist at risk, but a cyclist in a hurry should not be able to determine their own safety.
Yield at a Pedestrian Crossover
At a pedestrian crossover (PXO), drivers are required by law to wait for pedestrians to cross the full width of the road before proceeding.
This law is relatively new, but it is incredibly important for drivers to obey it. It's worth noting that this law does not apply to all intersections currently (they must be marked), but it's a good and safe habit for drivers to get into if they are serious about preventing unneeded injury to pedestrians.
Hamilton is set to begin installing these PXOs this year and has already received hundreds of requests for more, so be ready to let pedestrians get right across the street when you encounter one.
Double Standard
These are just a few commonly broken rules that apply to drivers, yet are a good starting point for making our roads safer.
It would be ridiculous to point to these commonly-broken driving laws as an argument against building more car infrastructure.
Likewise, it's simply not fair that discussions about increasing cycling infrastructure should be consistently met with complaints about law-breaking cyclists.
Post a Comment
You must be logged in to comment.