Yes, Brampton is Still a Cautionary Tale
The city that turned down Provincial LRT funding has delayed any possible rapid transit by several years - and still has no guarantee of funding.
By Ryan McGreal
Published August 24, 2016
In the 15 months since the Province confirmed full capital funding for Hamilton's light rail transit (LRT) line, a small, fragmentary, reactionary anti-LRT group has coalesced around a retail business on King Street West.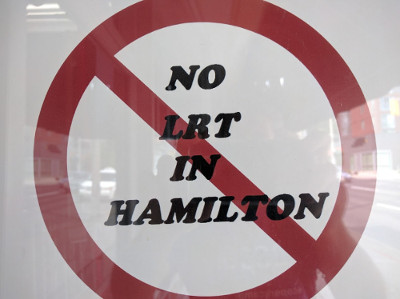 'No LRT in Hamilton' with a red circle and diagonal line around it - so, Yes LRT in Hamilton?
This anti-LRT campaign has been characterized mainly by boorish posturing (multiple unsolicited spam emails to other business owners and illegal posters that are almost immediately torn down), truly shameless fearmongering (including an outrageous attempt to compare LRT with the Lac-Megantic heavy rail disaster) and of course a ridiculous barrage of blatant misinformation.
One of the more pernicious anti-LRT dodges is the false claim that if City Council changes its mind and rejects LRT, Hamilton will be allowed to spend the confirmed $1 billion capital funding on something else instead.
Let's be absolutely clear about this: no, we won't. The Province has clearly stated that if Council rejects the LRT plan, the $1 billion will be released back into the Metrolinx GTHA Rapid Transit fund to be spent on the next priority projects awaiting funding.
To be sure, we could conceivably develop a new rapid transit plan and submit it to the Province for funding consideration. However, it takes years to develop a rapid transit plan to the point where it's ready for the Province to evaluate it.
Unlike the Hamilton LRT plan, which was identified in the Metrolinx Regional Transportation Plan as a top priority, a different plan would have to be evaluated against the Province's regional transportation mandate to see if it even fits. It would not be a top priority like the current plan.
And that's not even to mention the fact that the Province would likely be very reluctant to stick their necks out with another funding commitment after we strung them along for nearly a decade, only to turn down their offer to fund the project we had repeatedly asked them to commit to!
But Brampton
The lastest iteration of this false claim is the suggestion that Brampton can just submit a new rapid transit plan after that city's Council voted to turn down Provincial funding to extend the Hurontario-Main LRT into downtown Brampton.
According to an email obtained by RTH from Chris Duyvestyn, Director of Transportation Special Projects in the Planning and Infrastructure Services Department at the City of Brampton, it will take three years to complete an Environmental Assessment (EA) study to compare the two alternate LRT routes still under consideration.
The [Brampton LRT line] will stretch from the Gateway Terminal at Steeles Avenue and Hurontario Street to the Brampton GO station in Downtown Brampton. Brampton Council recently approved the preparation of a Terms of Reference to undertake an environmental assessment (EA) study to assess two alternative LRT routes (Kennedy Rd and McLaughlin Rd). This is expected to take approximately three years to complete once a consultant is retained.

Upon completion and approval of the EA study, and subject to future funding from the Provincial and/or Federal governments, the City will be in a position to proceed with the design and construction of a preferred route endorsed by Council. [emphasis added]
So it will be at least three years before Brampton can even submit a request for funding for an alternate LRT line, and there is no guarantee or promise that funding will be approved. As The Toronto Star reported:
Brampton can't count on hanging on to the money that the province had allocated as its share of the Hurontario-Main LRT, says Transportation Minister Steven Del Duca.

"It is disappointing," he told reporters at a conference on Tuesday of that city's decision not to accept the province's offer of an LRT that would run down Main St. to the Brampton GO station.

The money will be reinvested in transportation infrastructure, said Del Duca. But where it goes depends on an analysis of priority transit projects by provincial transportation agency Metrolinx.

"We will proceed with the plan to build the LRT from the Port Credit GO station to Steeles and the balance of the funding in question will flow back into the (province's) Moving Ontario Forward plan to be invested in priority transit projects in the region, which in theory could be a project or more than one project in Brampton but is not necessarily going to be Brampton," he said.
Another email obtained by RTH from Mr. Duyvestyn notes that the EA study will have to be funded by the City of Brampton.
Recall that the City of Hamilton received $3 million from the Province to complete its EA study on the B-Line LRT plan. It is not likely that we would receive more money to do a different EA study after rejecting funding for the plan we developed with the previous EA study money.
And in case the anti-LRT folks try to claim that it's possible to get funding without completing an EA, Mr. Duyvestyn writes:
In the past, a completed EA study has been required before the Federal and Provincial governments will consider any funding requests for construction. The completion of an EA study will allow the City to be ready should there be external funding available in the future.
The earliest they can submit their new plan for funding consideration is after the next provincial election, and it's just not possible to predict what the political or financial context will be in 2019 or 2020.
So let's please stop pointing to Brampton as an example of a City that managed to cut off its nose without spiting its face.
They turned down their LRT funding and as a result have delayed the possible construction of an alternate LRT system by at least several years, with no guarantee that they will get funding for their Plan B.
Post a Comment
You must be logged in to comment.