Cappucino Planning and the Face of Public Space
We need to ensure that our public spaces are conducive and welcoming to the greatest number of citizens from across the demographic and economic spectrum.
By Maureen Wilson
Published August 18, 2016
Since about mid-June, I've been dragging my kids out regularly to cycle the bike trail along Lake Ontario, from Grays Road in Stoney Creek to the lift bridge in Hamilton. It's a little more than an eight kilometre journey each way.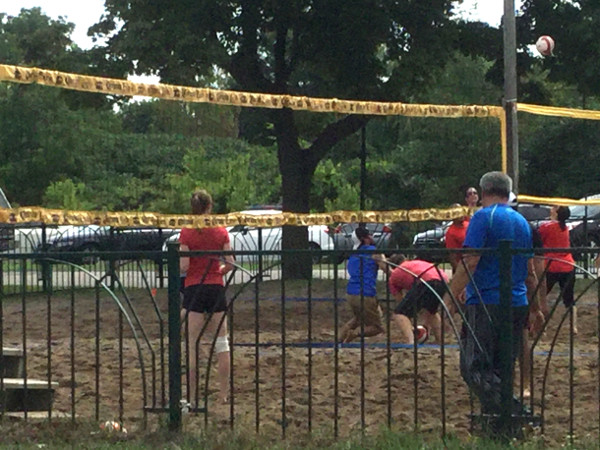 Outdoor volleyball court off the Waterfront Trail
During these rides, I've kept a close watch of the people using the public and private space alongside the waterfront and on the bike trail itself. Here are my unscientific observations.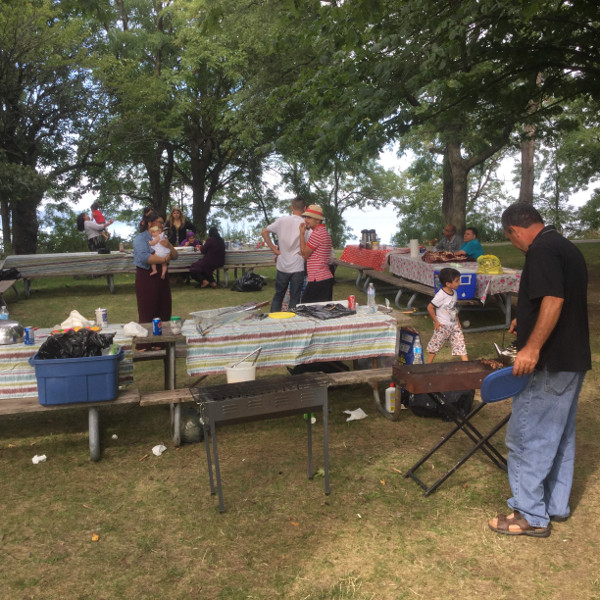 This family comes from the region of Kurdistan.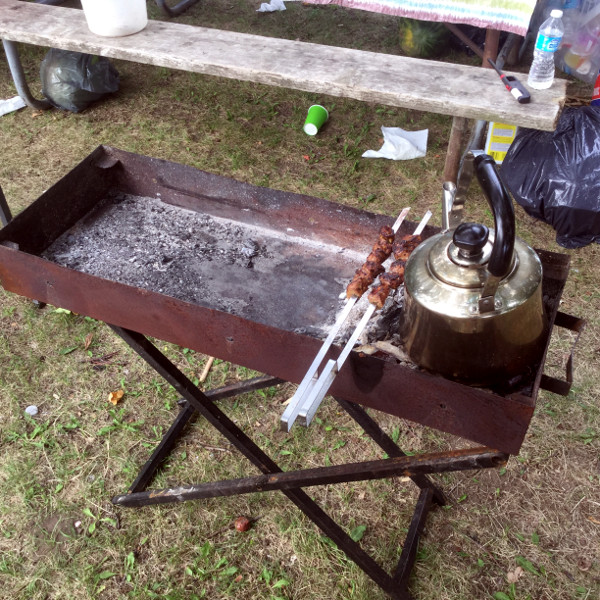 The family from Kurdistan is cooking barbecued skewers.
First, 80 percent of the folks using the public spaces are visible minorities. Of this 80 percent, three-quarters gather in large groups in the form of multi-generational families, friends, or a little bit of both.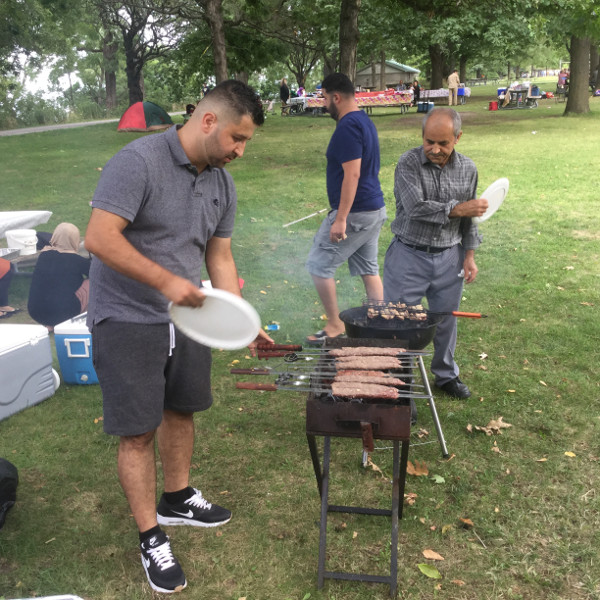 This family was originally from Tajikistan and made their way to Canada via Greece and then Quebec, and now reside on Hamilton Mountain. The gentleman is barbecuing kebabs. The women were nearby on the ground preparing the meat.
It would appear that they make extended use of the space. They are there for a good time and a long time. Picnic tables are grouped together, there are things to cook on and elaborate things to drink from, and there are a lot of happy, active children.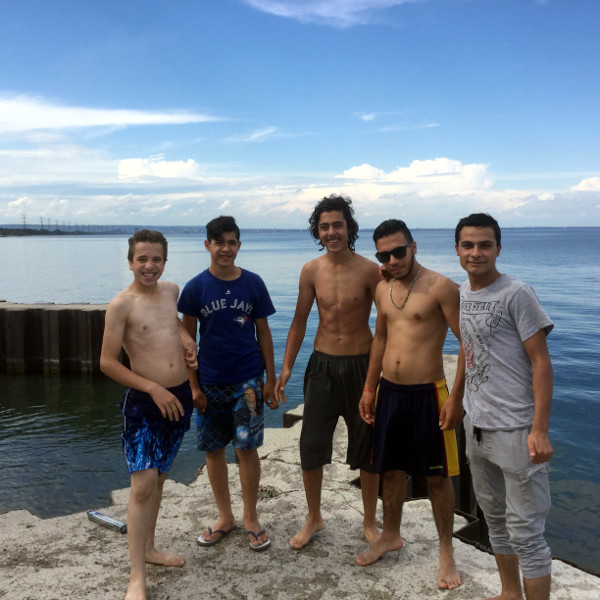 These boys are from Syria and arrived in Canada 6 to 8 months ago. They were east of Barangas having a wonderful time jumping off and into the water.
Interestingly, very few visible minorities seem to be making use of the bike trail.
When we consider the private spaces along the same route, the experience seems to be the opposite. On this stretch of waterfront there are two privately owned and operated restaurants. Barangas on the Beach enjoys a spacious outdoor deck. Further down the trail, Hutch's serves up fast food and ice cream.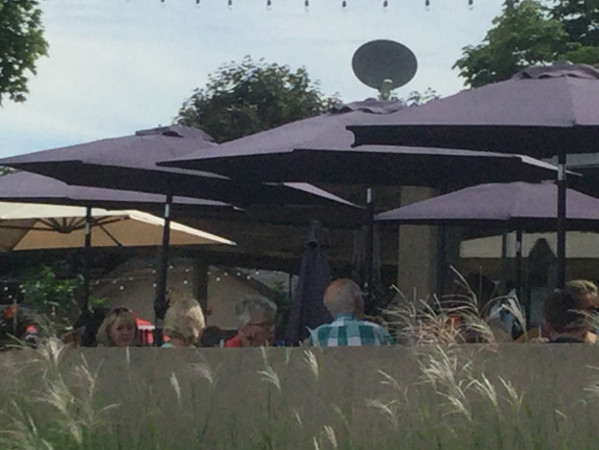 Barangas on the Beach patio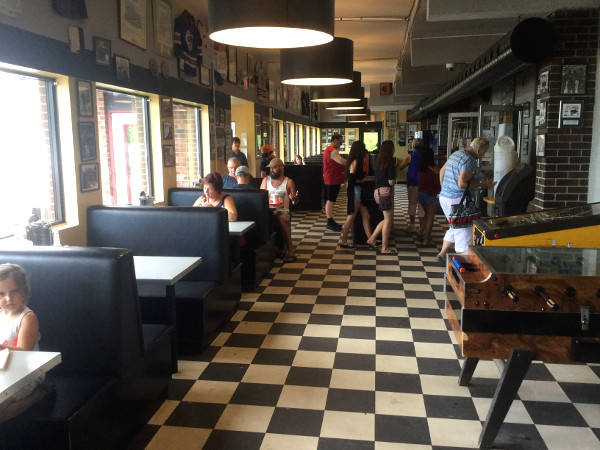 Inside Hutch's
At least 80 percent of the people in these spaces are not visible minorities.
Why might this be the case? I don't know for sure, but here are at least three possibilities:
Economics: the use of space might be a reflection of disposable income.

Party size: larger groups may not be easily accommodated in private spaces.

Culture: the role of food, the type of food and getting together with family and friends, particularly after resettlement, is important.
Why might this matter? It matters because increasingly, our plans for public space involve places of private consumption.
Public boardwalks dotted with cafes, art galleries, restaurants are being touted as great public spaces when in reality the amount of actual space that is public is relatively small compared to the space being put aside for private enterprise.
This is called cappuccino planning. Cappuccino planning is a term used to describe how cities are increasingly approaching redevelopment and public space planning. The goal of cappuccino planning is to create new spaces of consumption.
But there's a hiccup. Consumption is guided by taste and price. What we consume is often influenced by what we can afford and who has the economic means to produce and sell it. In other words, "tastes reinforce social distinctions," as Sharon Zukin put it in her book Naked City: The Death and Life of Authentic Urban Places.
Good public policy and planning requires that we focus on access and equity first. We need to ensure that our public spaces are conducive and welcoming to the greatest number of citizens from across the demographic and economic spectrum.
As Hamilton enters an era of rebuild, including the redevelopment of its waterfront, this is something to keep in mind.
Post a Comment
You must be logged in to comment.