Next Stop: Atlantic Station
A new infill development in Atlanta proves that many people want to live in real neighbourhoods.
By Trey Shaughnessy
Published April 21, 2006
(This article has been updated)
In a city renowned for sprawling highways and long commutes from the vast low density housing of what Joel Garreau has called "edge city" due to its overwhelming suburban makeup, Atlanta seems like an unlikely home for a successful, inner city brownfield development.
Atlantic Station is on the former site of Atlantic Steel Company. The Retail district was originally developed by Development Design Group (DDG) of Baltimore, and the 138 acre community was co-developed by AIG Global Real Estate and Jacoby Development Inc. 1
The development is built on 130 acres and will provide homes for 10,000 residents and employment for 30,000 more and six million square feet of office space. That's just over half a square kilometer! That is density, and it's proof that density is not a bad thing, because Atlantic Station is fast becoming the hottest real estate in Atlanta.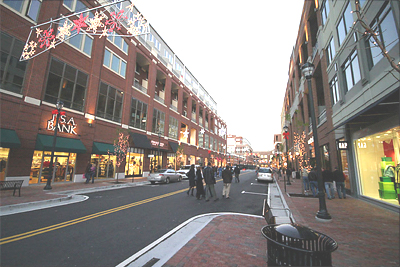 Like many sun-belt cities, Atlanta has experienced amazing growth in the last 25 years. It was the second most popular destination for rented U-Hauls. Unfortunately, much of the growth happened at the edges of the ever-expanding city edges with new highways to get to new city edges. In his book The City in Mind, James Howard Kunstler called the result a "hairball".
Many of the new residents fueling the growth were coming from "rust belt" cities of the northeast. The northeasterners were coming from denser cities built with real neighbourhoods and transit alternatives. The new Atlantians perceived the far-flung edges of "edge city" and its two-hour daily commute as not an option.
The economic opportunities were enormous and it's the reason why people are flocking to the sun-belt, but people are saying enough is enough. They want to live near their work and not be dependent on a car.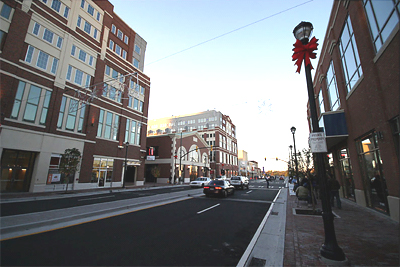 Atlantic Station's web site opens with this line: "What could you do with an extra hour a day?...an extra day a month?...an extra week a year?... Wouldn't you rather work two blocks from home and shop around the corner?" That's what a half hour one-way commute adds up to - one 24-hour day a month!
The rest reads like many developers' websites with promises of green spaces, shops, a variety of housing and a neighbourhood atmosphere, but where many developers fail to deliver these neighbourhood amenities, Atlantic Station actually delivers them. People are demanding these live, work and play arrangements, even in sprawly Atlanta.
"For me, the best thing about it is that I can come home from work on Friday and go back to work on Monday and not have to get in the stupid car once in between," said Brian Fish, 35. "You're not just living in your house. It makes you go outside. It makes you be social."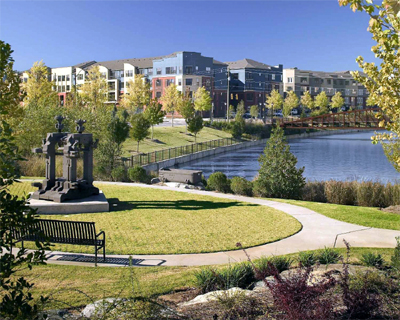 Old steel presses have been preserved as outdoor sculptures in the Commons Park overlooking the lake and new townhouses.
Atlantic Station has single-family houses, townhomes, lofts, and apartments all within a walking distance of shops, restaurants, outdoor cafes and a movie theatre. A car is absolutely not necessary.
The promise of a real car-free lifestyle is its main selling feature, but to deliver the promise of car-free living, the development needed to offer a multitude of housing options, retail services, entertainment and real employment lands all within a walking distance and walkable routes. That means sidewalks and narrow, pedestrian-friendly streets.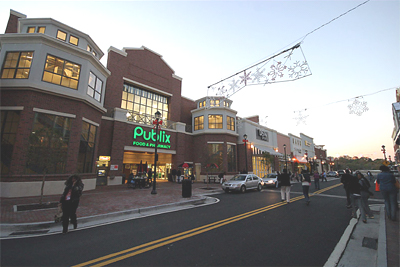 Too many so-called neighbourhood developments like Meadowlands and Summit Park - Hamilton's edge city - are "neighbourhoods" in marketing materials only. Actually, living in the Meadowlands means you have to drive to the Meadowlands' stores and even to its parks.
The development turns out to be car-dependent, bland, monotonous, housing tracts that leave their residents bored stiff with nowhere to go but their private "great room" in front of the 500 channel HDTV.
Life is more than driveways and TV, as Atlantic Station's positioning line makes clear: "Life Happens Here".
The Development Design Group writes, "Synergy may have become an overused buzz word, but it accurately reflects the core challenge of mixed use design: to integrate multiple uses - retail, housing, entertainment, office space hotels - in ways that promote commerce, encourage social interaction and create efficiencies of space."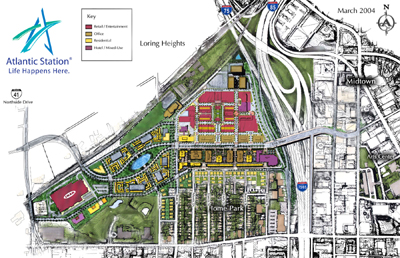 Picture this on brownfields near Burlington Street and the harbour (click the image to see a larger version)
The area has many similarities to Hamilton, and not just because it's being built on a steel factory brownfield. Atlantic Station is now the home of Dillards, Atlanta's first downtown department store in 50 years. In Hamilton, there has been much talk about downtown department stores since Eatons closed. A new flagship boutique hotel and residential high-rise is planned, similar to a stale Lister Block proposal and the recent Royal Connaught.
Atlantic Station is built along a one mile stretch of interstate freeway, similar to Burlington Street. The Atlanta average one-way daily commute is 31 minutes (18th highest in the U.S.). in Hamilton and GTA the average one-way daily commute is 35 minutes.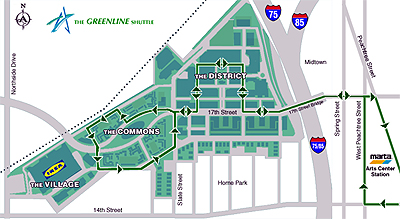 Atlantic Station Transit Map
Of course a true-mixed use, car-free neighbourhood needs transit. This sounds almost utopian, but, there is a free shuttle every five to ten minutes that services all points in Atlantic Station and connects to a nearby Metropolitan Atlanta Rapid Transit Authority (MARTA) Station.
Similar to places like Toronto that develop residential and commercial hubs along TTC stations, Atlantic Station wasn't serviced by MARTA so it created a shuttle bus to and from the closest metro station - called Arts Center no less.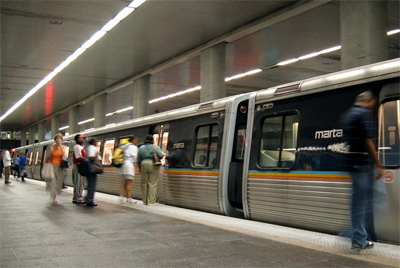 Nearby MARTA station.
There is also a grocery shuttle bus from Georgia Tech that transports students to Atlantic Station and back to campus. Imagine such a grocery shuttle to get the isolated students off McMaster's campus and into Hamilton's urban environment the way U of T and Ryerson do in downtown Toronto.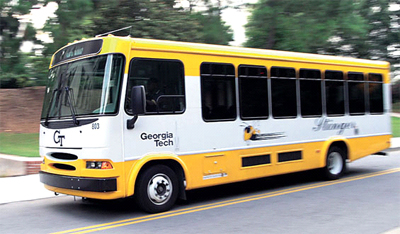 Grocery Shuttle from Georgia Tech to Atlantic Station.
Hamilton could benefit from a vision like Atlantic Station. Small infill developments are already starting to appear. Some are criticized by local residents, but others are heralded as great like Durand Park.
But Hamilton could definitey be a trail-blazing city and the envy of sprawling suburbs like Burlington with our very own Atlantic Station in the north end or on a brownfield near Burlington Street.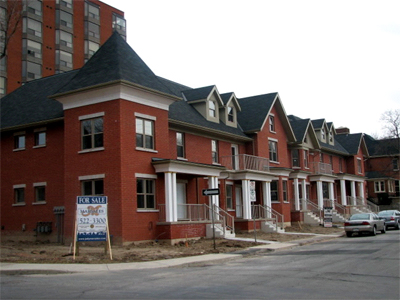 Durand Park - a small successful infill development
Update: This paragraph originally read, "Atlantic Station, developed by Development Design Group of Baltimore, is on the former site of Atlantic Steel Company." Raise the Hammer regrets the error. Return to updated paragraph.
Post a Comment
You must be logged in to comment.