A Row Over Row Houses
Slower car traffic and more eyes on the street will actually make Queensdale safer and more livable.
By Trey Shaughnessy
Published April 21, 2006
"They said the residences would become nothing more than row houses [emphasis added]".
-- Hamilton Mountain News, on Queensdale residents' concerns about a local infill project
Al Frisna, a long-time, respected Hamilton area developer and builder of the 43-storey Landmark Place, is proposing a well suited infill project near Upper Wellington and Queensdale. Area residents took a very typical NIMBY stance and opposed it based on fears of increased traffic, parking problems, and the horror of row houses incorporated into their neighbourhood fabric.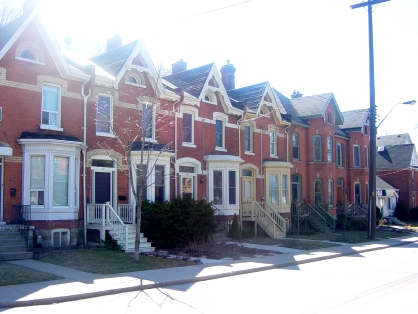 Row houses in downtown Hamilton (RTH file photo)
This attitude came as a shock to me. I know the area well. It is a war-era, working-class neighbourhood built on a grid of streets that some call the East Somethings, referring to the street numbering that starts at Upper James (zero) and incrementally numbers each street. Every tenth street is a main thoroughfare.
Upper Wellington would be East 10th Street if it was kept to the numbering sequence. Upper Wentworth would be East 20th, and so on to Upper Gage, which would be East 40th.
The homes are modest cottages and one and half storey middle working class houses. Some streets still have the back alley service laneways - very cool. The area was popular with steelworkers who found paradise on the Mountain in an ideal suburban setting to raise a family, with only a short commute to the factories down Kenilworth Access.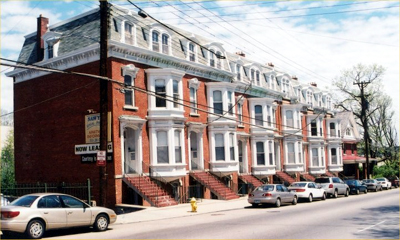 Row Houses in Auburn, Cincinnati (Photo Credit: Mount Auburn Presbyterian Church)
The Access is now too big for the substantially fewer number of workers traveling to the lower city. Consequently, terrible accidents occur due to speeding encouraged by the near-empty, wide freeway traversing Hamilton's eastern escarpment.
Today, the neighbourhood is home to a large portion of first generation immigrants and the retired original working class residents. The evidence is found at an old Roman Catholic Church with newer signs that read in an Asian language.
When I read the residents' concerns in the April 14 issue of the Hamilton Mountain News, I was shocked to hear such snobbery come from down-to-earth people.
These were my roots, my stomping grounds, and I had a sense of pride in the knowledge that I came from a pretense-free, tolerant, accepting, "Coronation Street" neighbourhood. We were the people who said "underwears," "no kidink," and "westren". That kind of attitude was something expected from the West Mountain, the "Knotting Hill" snobs.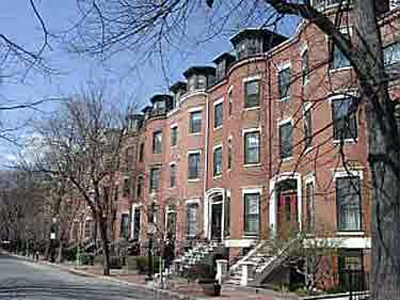 Row Houses in South End, Boston (Photo Credit: Emerson College School of Journalism)
Frisna's plan of seven single-family and 20 row homes will not cause congestion problems. The area has less traffic than it did 50 years ago, and the streets are completely capable of handling the small increase. There is on-street parking, sidewalks on both sides, and a small commercial strip only a short walk away.
The shopkeepers will be happy with an increase in customers. It will help to keep the local businesses in business and the nearby convenience of these stores should be seen as a benefit, especially to the older residents.
The plan is also in line with the Greenbelt legislation. The Province has called upon cities to intensify their urban neighbourhoods. Extra density and people will make the area more livable. After all, the alternative is a hollowed-out, boarded-up, vacated neighbourhood that becomes home to squatters.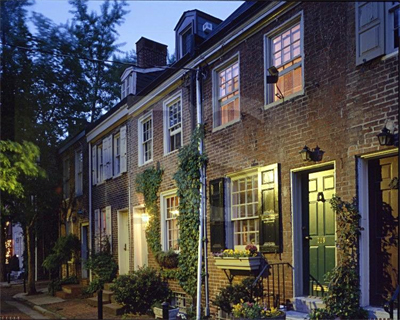 Row Houses in Philadelphia (Photo Credit: Ron Saari)
The fact that builders and people are still interested in the area should be regarded as a benefit. The property values will be maintained and even increased with this proposal. Queensdale is also on a bus route. The increase in residents ensures that is has a viable public transit route, also a big benefit to senior residents. Quite possibly, it is why Frisna chose this site for investment.
The neighbourhood will also become safer. More residents on the sidewalks, on their porches, and living in the area will put more eyes on the street, providing more leisurely strolls and making it safer to walk, cycle and live in.
The residents' traffic concerns are backwards. It is the empty, wide-open streets that have the serious accidents. On-street parking, and having to watch out for fellow traffic in narrow lanes, forces drivers to be more aware and drive with more caution.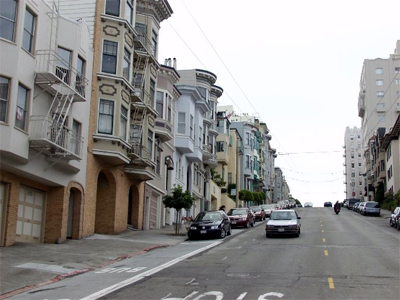 Row Houses in San Francisco (Photo Credit: Stewarts.us)
Highway strips like Queenston/Highway 8 in Stoney Creek are the roads that need extra caution. It is those types of open, wide streets that are often the scene of fatalities, due to speeding and drivers not paying attention because one doesn't expect to encounter a cyclist or pedestrian.
The residents of Queensdale have surprised me with their attitude. They should feel proud that a developer saw value and a future in their neighbourhood. The area hasn't exactly been the centre for investment for the last few decades.
I'm actually pleasantly surprised by Al Frisna's proposal. It comes at a time when many of his colleagues are building car-dependent sprawl on the edge of the city. Al Frisna obviously saw the future is in walkable, mixed-use areas serviced by public transit, schools, shops, churches, parks and most importantly, real neighbourhoods.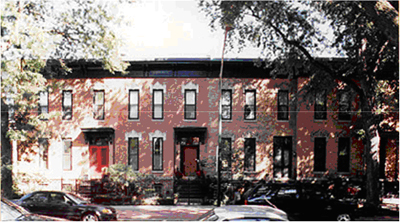 Row houses in Chicago (Photo Credit: Chicago Landmarks)
Post a Comment
You must be logged in to comment.