PlanLocal: Building Safer Streets In Ward 2
We encourage anyone who lives or owns a business in Ward 2 to identify their unsafe locations and potential solutions online or at a location in their neighbourhood.
By Graeme Douglas
Published May 05, 2016
The safety of our neighbourhood streets is the foundation of a vibrant, prosperous community. For an urban community to flourish, residents must have the ability to move easily and safely between home, work, school, and recreation.
In Ward 2, the safety of local streets has been an ongoing concern for residents and businesses alike. With almost 40,000 residents, the centre of business, and 25,000 workers commuting there every day, the Ward is one of Hamilton's most highly-travelled communities.
It also contains some of the most diverse urban environments in all of Hamilton. Extending from the Niagara Escarpment to the Waterfront, Ward 2 includes six distinct neighbourhoods, the main central business district, several commercial and shopping districts, and is the seat of our municipal government.
While this diversity is a source of strength, it also means there is no one-size-fits-all solution to create safe streets.
PlanLocal Ward 2 Safe Streets
In recognition of the unique challenges and opportunities faced by each neighbourhood, Ward 2 Councillor Jason Farr sought a new form of urban planning engagement. This led to the launch of PlanLocal Ward 2 Safe Streets.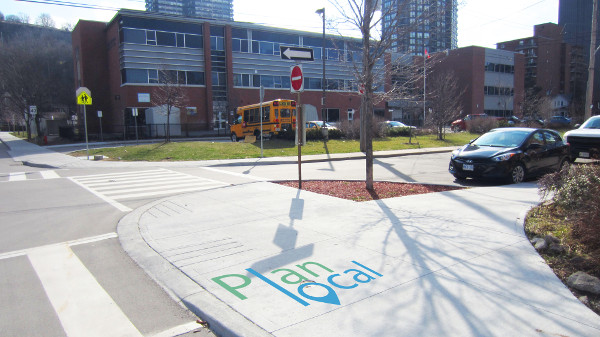 New sidewalk bumpout at Forest and Ferguson near Queen Victoria School
PlanLocal engages the community directly to determine the unsafe locations most important to their neighbourhoods. It offers an opportunity for residents and local businesses to help guide the urban planning process through citizen supported decision-making.
This process reflects the fact that no one knows local streets better than the people who live, work, and play around them. PlanLocal funnels this knowledge into direct, actionable projects to enhance street safety.
To help attract as many submissions as possible, Councillor Farr has made $1 million available from the Ward 2 area rating capital reserve account for infrastructure improvements under the PlanLocal process. This investment offers a real opportunity to have a positive impact on safety in local neighbourhoods.
We encourage anyone who lives or owns a business in Ward 2 to identify their unsafe locations and potential solutions online or at a location in their neighbourhood.
Identify, Vote, Build
The PlanLocal process involves three distinct phases: Identify, Vote, Build.
Identify: Between April 26 - May 16, residents can identify unsafe locations in the Ward and propose physical solutions to make these areas safer.

Vote: Between June 20 - 30, residents will be asked to vote on a shortlist of safe street solutions throughout the Ward.

Build: The results of the ward-wide vote will provide the Councillor with a concrete list of projects to build safer streets in Ward 2 beginning in the 2017 budget year.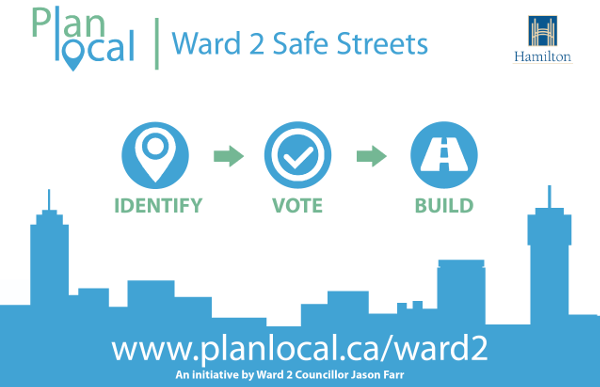 PlanLocal Ward 2 Safe Streets
Since the process launched on April 26, 2016, residents have already shared numerous examples of safe street solutions from locations throughout all six Ward 2 neighbourhoods. Suggested solutions include ladder crossings, sidewalk bumpouts, speed humps, street braille, better street lighting, sidewalk repairs, pedestrian activated crosswalks, and many more.
There is still time to participate. Ward 2 residents, business owners and kids can identify unsafe locations and proposed solutions until May 16, 2016, and vote on a shortlist of those ideas from June 20-30, 2016.
The question remains: how can your streets be safer? We hope the Ward 2 community will take this opportunity and act to build safer streets and communities through the PlanLocal Ward 2 Safe Streets process.
You can learn more about PlanLocal Ward 2 Safe Streets and submit ideas at www.planlocal.ca/ward2/
Post a Comment
You must be logged in to comment.