Shared Assets at Stake in Gore Building Demolition
The purpose of the Ontario Heritage Act is to bridge the gap between the public interest and a property owner without vision, who is driven to destroy for short-term gain.
By Ned Nolan
Published April 25, 2016
On April 21, Wilson-Blanchard made a delegation to the Hamilton Municipal Heritage Committee with respect to their plans for 18-30 King Street East. Thanks to Joey Coleman and The Public Record, you can watch a video of the meeting.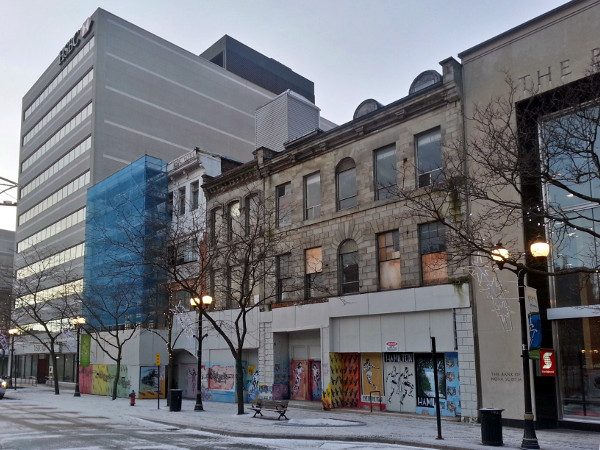 18-28 King Street East (RTH file photo)
The property owner proposes demolishing everything but the facade to 18-22, which was designed by William Thomas and built in 1840, and incorporating it into a new a building.
We're told that saving the facades of some of these - some of Hamilton's first buildings - is a good compromise. But look at the backs of these solid beauties. Look at the potential! Look how this block contributes to the character of the downtown fabric - yes even from the back.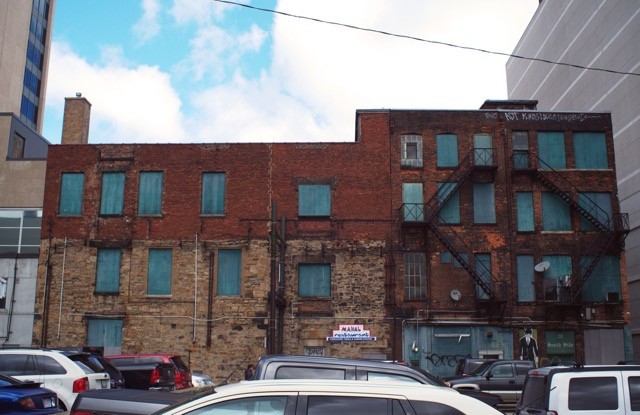 Rear of 18-28 King Street East (Image Credit: Ned Nolan)
Now, where are the windows? The south-facing flower-boxes? The imagination? Why hasn't the owner aspired to do great things with these unique and valuable assets?
That's just it: If these buildings are derelict, vacant, or "held up by scaffolding" it is nobody's fault but the owner's - a property management company which has obviously failed to responsibly steward what it inherited from the founders of our City.
It is a gross arrogance to acquire historic properties and allow them to lie vacant and to crumble under your watch - to shrug, 'they're mine now and I can do what I want with them!'
Paradoxically, it is also a kind of sad insecurity to fail to see the greatness under your nose, to think that our heritage is not important - "that's why we travel to Europe."
More is at stake here than property rights, than a developer's bottom dollar. This is about shared assets, hundreds of years of craftsmanship, history, myth, and collective consciousness. And that is what the Ontario Heritage Act is for: To bridge the gap between the public interest and a property owner without vision, who is driven to destroy for short-term gain.
Originally, David Blanchard said he wanted to tear these buildings down and put "maybe a Target" there on our City square - that was before Target failed the test of time. You know what doesn't fail the test of time? Escarpment limestone, Hamilton bricks and mortar.
The most important thing we must do with the space that we've inherited from previous generations is to care for it, to steward it for future generations, to do something good with it. We don't improve as a society when our city builders only care about the present.
I'll leave you with a photograph I took a few summers ago in Amsterdam of a few nondescript brick building built c.1745.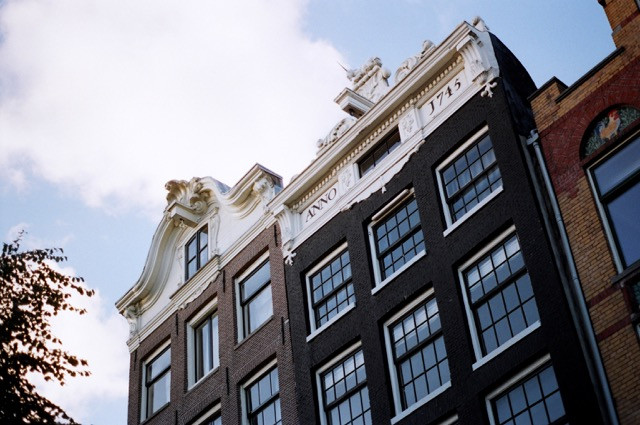 Amsterdam building, 1745 (Image Credit: Ned Nolan)
With files from Ryan McGreal
Post a Comment
You must be logged in to comment.