Why Vision Zero Calls for a 30 km/h Speed Limit
The short answer is: because physics. For the longer answer, we need to review some classical mechanics you may remember from high school.
By Ryan McGreal
Published April 18, 2016
One of the core principles of the Vision Zero approach to traffic safety is that on streets where people on foot cross paths with people in automobiles, it is imperative that the automobiles maintain a speed low enough to prevent death or serious injury in the case of a collision. This is generally taken to mean maintaining vehicle speeds at or below 30 km/h.
Some readers may wonder why this particular speed is so often recommended - and adopted - by cities committing to Vision Zero. The short answer is: because physics.
For the longer answer, we need to review some classical mechanics that you might remember from high school.
Kinetic Energy
The kinetic energy of a moving object is the energy the object possesses as a result of being in motion. Obviously, an object sitting at rest does not have any kinetic energy, but once it starts moving, it has kinetic energy - and when it is moving faster, its kinetic energy goes up.
But there is something very important about the relationship between an object's speed and its kinetic energy. It is not a linear relationship, in which a certain increase in speed produces an equivalent increase in energy. Instead, it is a quadratic relationship: if you double an object's speed, its kinetic energy doesn't double, it roughly quadruples. Likewise, if you quadruple its speed, its kinetic energy increases roughly 16-fold.
The formula to calculate kinetic energy is as follows:
Kinetic energy (Joules) = 1/2 X mass (kg) X velocity (m/s) squared

Let's apply the formula with a real vehicle at various speeds. My car is a 2012 Honda Civic sedan, which has a curb weight of 1,198 kg (2,641 lb). The following table calculates its kinetic energy at various speeds between 10 km/h and 100 km/h.
Kinetic Energy by Speed, 2012 Honda Civic Sedan
Curb Weight
Speed
Kinetic Energy (J)
(lbs)
(kg)
(km/h)
(m/s)
2,641
1,198
10
2.8
4,622
2,641
1,198
20
5.6
18,487
2,641
1,198
30
8.3
41,595
2,641
1,198
40
11.1
73,947
2,641
1,198
50
13.9
115,542
2,641
1,198
60
16.7
166,380
2,641
1,198
70
19.4
226,462
2,641
1,198
80
22.2
295,787
2,641
1,198
90
25.0
374,355
2,641
1,198
100
27.8
462,167
Here's how that looks when you plot the kinetic energy (Y axis) against vehicle speed (X axis):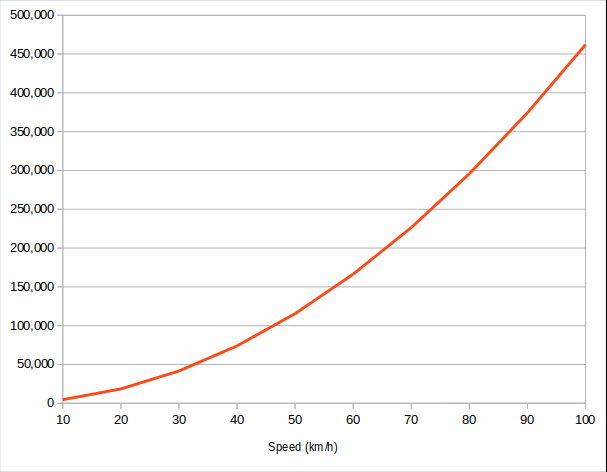 Chart: Kinetic energy by speed, Honda Civic
As you can see, the kinetic energy increases in a curve, not a straight line. That is what is meant by calling kinetic energy a quadratic formula rather than a linear formula.
Another important thing to note is that heavier vehicles increase kinetic energy even more dramatically. The following table calculates kinetic energy at the same speeds for a Toyota Camry, a popular mid-sized sedan.
Kinetic Energy by Speed, Toyota Camry
Curb Weight
Speed
Kinetic Energy (J)
(lbs)
(kg)
(km/h)
(m/s)
3,240
1,470
10
2.8
5,670
3,240
1,470
20
5.6
22,680
3,240
1,470
30
8.3
51,029
3,240
1,470
40
11.1
90,718
3,240
1,470
50
13.9
141,748
3,240
1,470
60
16.7
204,116
3,240
1,470
70
19.4
277,825
3,240
1,470
80
22.2
362,874
3,240
1,470
90
25.0
459,262
3,240
1,470
100
27.8
566,990
And the following table does the same calculations for a Chevrolet Silverado, a popular full-size pickup truck.
Kinetic Energy by Speed, Chevrolet Silverado
Curb Weight
Speed
Kinetic Energy (J)
(lbs)
(kg)
(km/h)
(m/s)
4,567
2,072
10
2.8
7,992
4,567
2,072
20
5.6
31,968
4,567
2,072
30
8.3
71,929
4,567
2,072
40
11.1
127,874
4,567
2,072
50
13.9
199,803
4,567
2,072
60
16.7
287,716
4,567
2,072
70
19.4
391,613
4,567
2,072
80
22.2
511,495
4,567
2,072
90
25.0
647,361
4,567
2,072
100
27.8
799,211
As you can see, the sheer physics involved makes the risk outcome for pedestrians pretty inevitable. At vehicle speeds below 30 km/h, the risk of fatality for a pedestrian struck by a vehicle is very close to zero. As speeds increase, fatality risk increases quadratically according to the rising kinetic energy of the faster-moving vehicle.
I should note here that the vehicle's mass also contributes significantly to its kinetic energy. The following chart shows the kinetic energy at various speeds for all three profiled vehicles, with the addition of the curve for a person on a bicycle for comparison: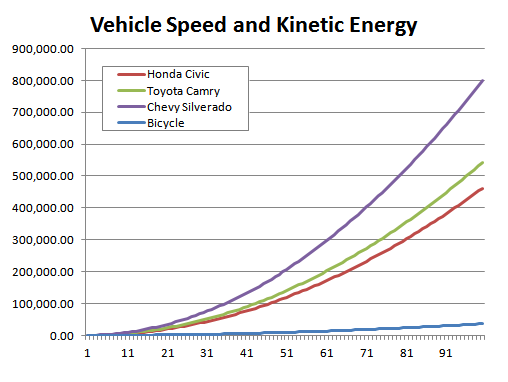 Chart: Vehicle Speed and Kinetic Energy
That Silverado has 1.7 times the mass of the Civic. At any given speed, it also has 1.7 times the kinetic energy.
Vehicle Speed and Pedestrian Fatality Risk
The following chart from World Resources Institute shows how that risk of fatality changes as speed goes up.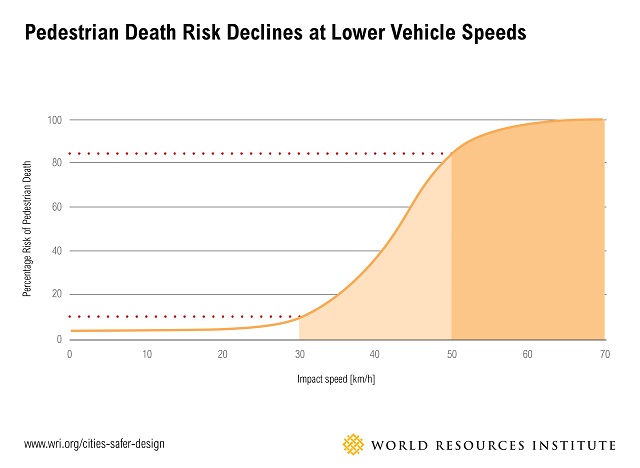 Chart: Pedestrian death risk by vehicle speed
This is clearly and abundantly documented in road safety research. The classic source is a 1997 UK Department of Transportation Study titled Killing Speed and Saving Lives, which found that pedestrian fatality risk rose from just 5 percent when the vehicle was going at 32 km/h (20 mph) to 45 percent when the vehicle was going at 48 km/h (30 mph) and a staggering 85 percent when the vehicle was going 64 km/h (40 mph).
Likewise, a 1999 research review by the United States Department of Transportation National Highway Traffic Safety Administration surveys a wide sweep of traffic studies and concludes:
Reductions in vehicle speeds can have a very significant influence on pedestrian crashes and injuries. Pedestrians suffer much more serious injuries when struck by high-speed vehicles than when struck by vehicles going more slowly. Also, many pedestrian crashes would be prevented entirely had the vehicles been traveling more slowly, since driver and pedestrian would have had more time to perceive the risk and react.
Incidentally, the report also notes that speed limit reduction is more successful when accompanied by physical changes to the street to induce traffic calming:
The accumulated weight of evidence from studies of traffic calming is that pedestrian injuries and total, or motor vehicle, crashes and injuries are closely related. Traffic calming which reduces motor vehicle crashes and injuries also reduces pedestrian injuries and severities.
So it is particularly distressing that the City of Hamilton has nominally committed to Vision Zero but refuses to commit to the 30 km/h speed limit that classical mechanics tells us we need to maintain to make our streets truly safe.
Instead, we are compromising with a more modest reduction to 40 km/h - and only in selected locations - on the shaky assumption that it will be more politically palatable to people who are inclined to favour their convenience over other people's safety.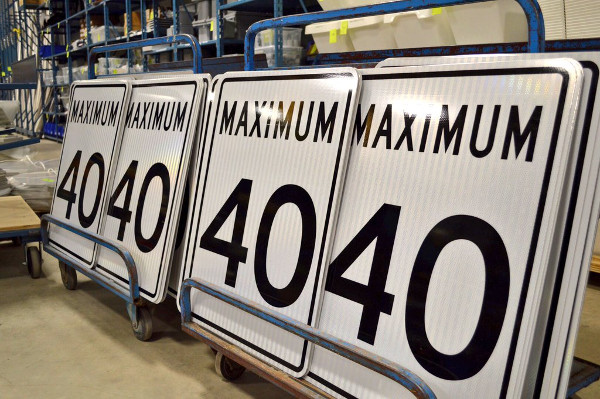 40 km/h speed limit signs ready to be deployed (Image Credit: City of Hamilton)
The basic problem with this half-measure is that there is no arguing with the laws of physics.
Calculate Kinetic Energy
If you want to play around with the Kinetic Energy formula, the following form will calculate kinetic energy based on the values in the input boxes above it.
Weight (lb)
Weight (kg)
Speed (km/h)
Speed (m/s)
Kinetic Energy:

41595

J
Post a Comment
You must be logged in to comment.