City, School Board Neglecting Dr Davey Student Needs
When prioritizing, both the City and School Board seem to place the needs of these kids last.
By Tanya Ritchie
Published April 11, 2016
On Friday, April 8, I attended a small meeting with Hamilton-Wentworth District School Board (HWDSB) Superintendent Sue Dunlop, Wards 1 and 2 Trustee Christine Bingham, HWDSB staff, the school Principal, parents and others, about the grounds at Dr J Edgar Davey School. I have a daughter at the school, and I'm a member of the Parent Council.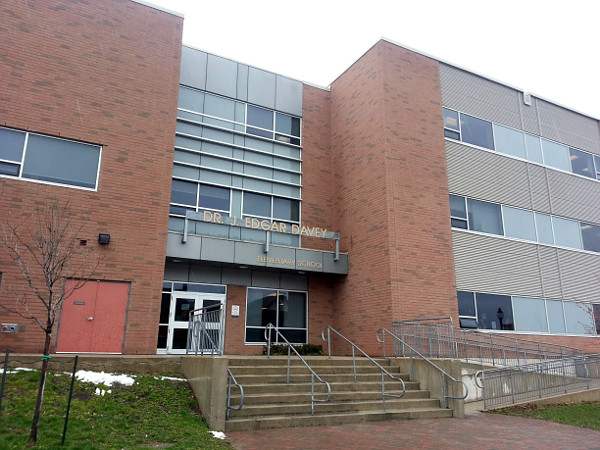 Dr J Edgar Davey School (RTH file photo)
I'm spectacularly unimpressed. I'm not enraged, though, because there's a sense that it's all fruitless and that the students are all just going to be squashed in the wheels of the big machine.
A few points:
1. Dr Davey's slide has been broken since at least November, and the reason it has not been fixed or replaced is because it's the school's responsibility to do so and we simply cannot afford it.
2. We have 90+ parking spots on site for a staff of approximately 50. Even with extra spaces for the Beasley community centre (10?) and potential for additional staff (maybe 10 more?), that's tons of excess parking.
3. In preparation for the Beasley park renovation starting in autumn and taking maybe 18 months to complete, a fence on the western edge of the school was moved to improve sight lines and access to a fire hydrant.
City staff insisted it was only fair to reclaim the "road allowance" where the former Elgin Street would be, if it wasn't park land. Thus the school lost about 50 square metres (I don't have an exact measurement) and in return we got a gate in the fence so that kids can use the park.
In a meeting last year with Ward 2 Councillor Jason Farr, City staff and School Board staff, we were also promised the playground would take over part of the parking lot. But:
4. We won't be using the park, except for organized sports like athletics and soccer. I asked, "What about kids who just want to be able to be under a tree, or stand on grass?" Flat answer: "No." This is due to perceived - not necessarily actual - risk and staffing concerns.
These risks and concerns are to do with the safety of the park itself, teachers doing extra yard supervision hours, sight lines, etc. For these reasons, the School Board is rolling back park access for schools in other parts of the city, too.
5. We can't annex the parking lot for a playground because it turns out that Hydro One, the electrical behemoth, will be taking over half of our parking lot - probably in autumn, probably for four or five years - to renovate their neighbouring substation. We can't do anything until they're finished.
Exactly when the City and/or the School Board signed off on this and why they feel it's acceptable is something that we can't get a really clear answer on. But the hydro giant is sufficiently arrogant that they haven't even finalized a building permit.
6. Questions about Hydro One moving their substation elsewhere were met with phrases like, "financially prohibitive" and "impossible" and the idea of fighting them was considered an impossibility because they're huge and rich (a "billion-dollar war chest" was mentioned in answer to suggestions that the community would oppose the renovations) and we can't even afford to replace a slide.
7. During the hydro renovations, teachers are concerned about their safety in walking from the food bank parking lot one block away, on Cannon Street East at Ferguson, to the school. About 95 percent of Dr Davey's approximately 600 students walk to school along these horribly unsafe streets. According to Principal Smith, as many as eight have been struck by cars. Superintendent Dunlop was confident that these safety concerns would be swiftly addressed by the City.
8. We cannot increase the kids' recreational area using the southern edge of the school, the eastern edge, or even the roof, due to cost, staffing and safety concerns. The current yard has no green space and is significantly smaller than the area required for such a large number of students.
The standard response to these sorts of concerns is that Dr Davey is not alone among downtown schools in having inadequate outdoor space. This is true, but it doesn't excuse the situation - especially given the inappropriate waste of usable space, currently taken up by the Hydro substation and the unnecessarily large parking lot.
Several neighbourhood partners have expressed a lot of interest in the substation moving to one of the many vacant, city-owned lands in the vicinity, and we are currently attempting, with the help of Councillor Farr, to get a community meeting on the subject.
But at present, it seems very much like Dr Davey kids get nothing: no safety, no improvements, no hope of improvement, and nobody cares. When prioritizing, both the City and School Board seem to place the needs of these kids last.
Post a Comment
You must be logged in to comment.