Hamilton Health Sciences Can Do More to Reduce Parking Demand
It's not surprising no one is taking the bus or carpooling when you can park for a month at the General for $60 and an HSR bus pass is almost 60 percent more expensive!
By Nicholas Kevlahan
Published March 23, 2016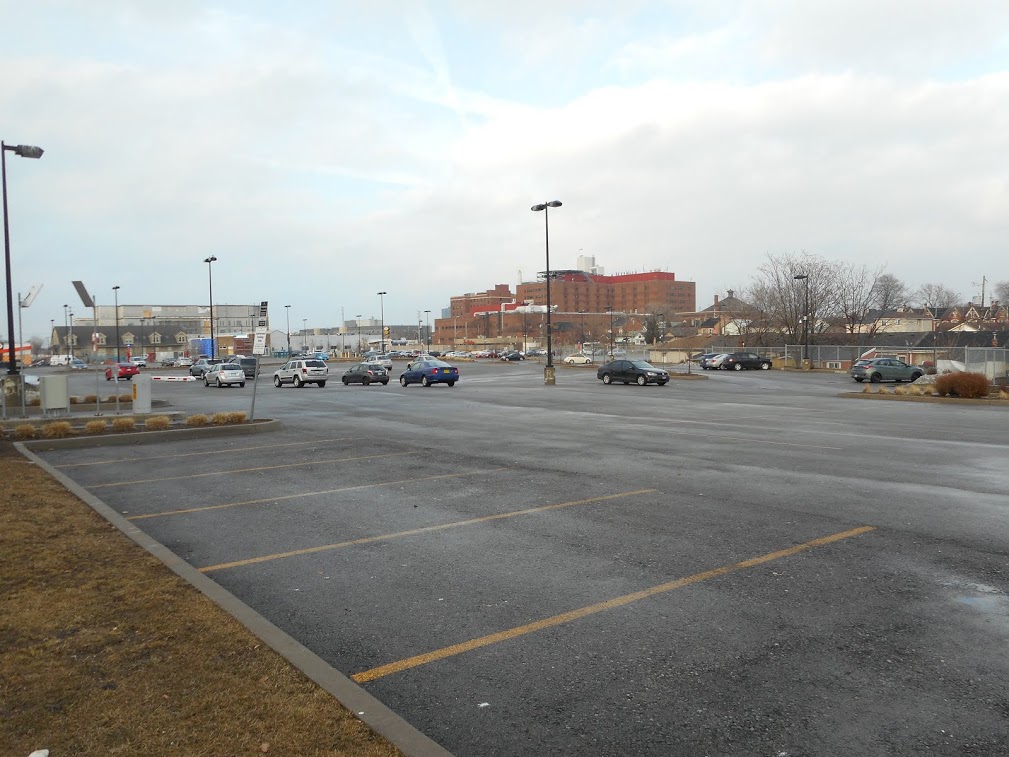 Hamilton Health Sciences Barton Street parking lot (RTH file photo)
Hamilton Health Sciences (HHS) is raising its monthly parking rates [PDF]. Over three years, premium parking lots will increase to $110 per month, while standard parking lots will increase to $90 per month. You can see the schedule of increases in the following table.
Hamilton Health Sciences Monthly Parking Cost Increase Schedule
Type
Location
Current Rate
Year 1 (May 2016)
Year 2 (April 2017)
Year 3 (April 2018)
Premium
MUMC, Underground
$96.99
$100.00
$105.00
$110.00
JHCC, Concession/Poplar
$96.99
$100.00
$105.00
$110.00
General, Victoria
$96.99
$100.00
$105.00
$110.00
MUMC South Garage
$76.57
$86.00
$96.00
$110.00
Standard
General, Wellington
$70.00
$77.00
$83.00
$90.00
General, Barton
$60.00
$70.00
$80.00
$90.00
JHCC, Big Bee
$75.00
$80.00
$85.00
$90.00
Chedoke, St Peters, Urgent Care
$54.10
$66.00
$78.00
$90.00
West Lincoln
WLMH
$25.00
$40.00
$45.00
$50.00
Off-Site
MUMC, Ward
$50.00
$57.00
$64.00
$71.00
RJCHC-Dofasco
This lot is utilized and leased for RJCHC staff on a temporary basis only (until August 2016) and as such there will be no rate increase implemented at this time
The current prices are amazingly low. It's not surprising no one is taking the bus or carpooling when you can park for a month at the General for $60 and a HSR pass is almost 60 percent more expensive!
It is a straightforward economic argument that pricing something lower, especially when it is more convenient and socially acceptable, than the alternative is going to encourage its consumption. And this pricing structure is a form of subsidy.
Combined with an apparent policy of trying to provide parking for everyone who wants it - e.g. the Dofasco parking and the recent attempt to create a new surface parking lot in Beasley Neighbourhood - this is clearly a policy to encourage everyone to drive.
The highest "premium" parking passes, at $96.99, are roughly the same as a bus pass at $94.60. Even with the increases, most parking will still be much cheaper than a bus pass.
Parking Demand Management
McMaster University's parking rates on the main campus are higher overall ($88 to $101) but they are still very cheap at the distant lots on the other side of Cootes Drive ($48 to $70).
But McMaster also has a student HSR pass program and a carpool program. It has actually reduced the number of parking spaces it provides by re-naturalising parts of the Cootes parking lots.
McMaster has only 4,400 parking spots for about 30,000 students and 7,000 staff. (The McMaster Students Union (MSU) will also hold a referendum on a Hamilton Bike Share pass program in the Fall.)
As a result, the vast majority of the McMaster community does not drive alone to campus.
At the first Big Ideas, Better Cities talk at the Downtown Health Centre last fall, Stephen Huddart, President and CEO of the McConnell foundation, emphasized that big publicly-funded institutions - e.g. hospitals, universities, school boards - have a special responsibility to use their power, influence and spending to benefit the local community.
If HHS pushed for better cycling, walking and transit options near the General, it would also provide big benefits for the residents of this relatively poor and vulnerable community.
Universities and Hospitals are not such dissimilar institutions. In fact, there are often hospitals on university campuses and hospitals often use a "campus" model.
I would have hoped that as a progressive employer and community member, HHS would ensure that its cheapest monthly parking passes are at least as expensive as a monthly bus pass or provide subsidized bus passes for employees.
Opportunities to Shift Modes
I'm not suggesting that every employee should or even can commute to an HHS facility via walking, cycling, carpooling or transit. However, I expect a large percentage of employees fall into one of the following categories:
Live within 5 km and could walk or cycle easily.
Live within 5-10 km and could cycle.
Could take the Main/King or #2 buses with a maximum of one change.
Could carpool.
McMaster surveyed its employees and students on these criteria in order to gauge the potential for reducing single-car commutes. There is surely huge potential at HHS for people in these categories to drive less.
The parking system can also provide flexibility. For example, instead of a monthly pass HHS could provide reduced parking rates for a certain number of days a month to deal with specific circumstances when driving is the only reasonable option.
If HHS put the time, effort and money into tackling demand for parking that they put into shuttling employees from a lot at Dofasco and trying to force a new surface parking lot into Beasley, they could achieve real gains in these areas.
'There Are No Alternatives'
I just don't accept the argument that for the General and McMaster transit, carpooling, or cycling is not an option for most employees. (I can certainly believe that most employees like to drive and would rather not take the bus, but that's quite different.)
The whole "there are no alternatives" argument really irks me in urban contexts like McMaster, the General and St Joe's. All of these facilities are situated in dense urban areas and are well-served by transit.
This argument comes up all the time and is a form of concern trolling: I support transit in principle, but until it's a credible alternative for most people we have to keep catering to drivers.
What is really meant: I'm not going to take the bus because the bus is for other people who have no alternative. I like to drive and commuting by car is what normal successful people do.
There is also the higher-order argument that people used to cycling, walking and transit will choose where they live based on how good the cycling, walking and transit infrastructure is, and people who only drive won't take those things into account when choosing where to live. I certainly considered transit and cycling and walking when deciding to live in Durand Neighbourhood.
There are over 22 million HSR trips in Hamilton each year. Clearly it's not some Utopian dream to take the bus. And McMaster has already demonstrated that big institutions don't need to provide a parking spot for most of their constituents.
Sociological Component
There is also an interesting sociological component. If you grow up taking transit, as I did, then it seems normal and not strange or unpleasant. But if you grew up in a family where everyone drove everywhere, taking transit seems foreign and you don't think of it as an alternative for yourself - only for other people.
These social conventions are real, but they are not inevitable and people can change. Pricing is one way to make it both easier to switch and fairer to those who really do have no alternative: those who cannot drive or cannot afford a vehicle.
Another strange sociological fact is that I have to admit that professors are generally much more willing to walk, cycle or take transit than medical doctors and nurses, or business people - or even than the non-academic administrative staff. I often see my colleagues biking or on the HSR.
This extends internationally, where Paul Krugman talks about the efficiency of being able to work on the train (rather than driving) or to newspaper articles about scientific discoveries sparked by discussions on the line B RER between central Paris and the labs in the suburbs south of Paris.
I remember visiting the engineering department at the University of Cambridge and my host, a professor, pointed out a fancy Morgan sports car among all the bikes. The sports car was driven by an administrative staff member; the professors all rode bikes! I'm not sure why this is, but it could simply be a self-reinforcing trend.
Another example: primary and secondary school teachers almost all drive and schools provide abundant free parking. In fact, abundant free parking was one of the top ranked factors in the "decision matrix" that led to locating the new Hamilton-Wentworth District School Board office on the mountain.
I've never understood this: shouldn't school teachers have a similar attitude to professors regarding cycling, transit and so on?
In any case, it's clear that the social standards of your colleagues clearly play a role as well, which makes it harder socially for, say, a top lawyer, to take the bus than a professor.
Post a Comment
You must be logged in to comment.