Help Support the Escarpment Project
What started with one Hamiltonian taking the lead has quickly erupted to become the largest volunteer environmental clean-up in Hamilton and one of the largest of its kind in Canada.
By Sajid Pathan
Published March 15, 2016
If you are a nature lover, you don't have to travel to the far corners of the earth to find an incredible collection of creatures, ancient trees, rare species and beautiful waterfalls, we have them all in our city of Hamilton. A walk on any of the trails along the beautifully diverse Niagara Escarpment in Hamilton has all these things and more. There is no better place to explore the biodiversity in the geological marvel that we have in our own backyard.


Niagara Escarpment
Unfortunately, the health of this natural ecosystem is being threatened due to human waste like cans, plastic bottles, household items and more, which get transported into the woods by wind, water or humans directly. It is our duty to protect nature and become environmentally responsible.
In February 2012, Greg Lenko took the lead and decided to clean up the litter and debris from Devil's Punchbowl and dubbed it "Project Punchbowl". With the support of approximately 75 volunteers, an overflowing dumpster and ten pickup trucks full of garbage were removed.
What started with one Hamiltonian taking the lead has quickly erupted to become the largest volunteer environmental clean-up in Hamilton and one of the largest of its kind in Canada, called "The Escarpment Project".
In the past four years, the clean-up project has grown to include the Bruce Trail in Dundas, the Chedoke Radial Trail almost completely uninterrupted to Albion Falls and the original Devil's Punchbowl, and has attracted over 600 volunteers.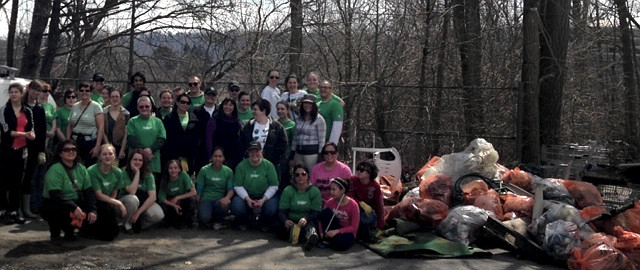 Escarpment Project volunteers
The Escarpment Project Gets Recognition
The Escarpment Project has received recognition from various media including: CBC The National, The Globe and Mail, Hamilton Spectator, Hamilton Community News, Hamilton Magazine, various radio stations in Hamilton as well as blogs.
The Escarpment Project has also received several environmental awards from the City of Hamilton and Hamilton Conservation Authority for its efforts along the Niagara Escarpment in Hamilton. David Suzuki Foundation has sent a letter of endorsement to The Escarpment Project.
In 2015 it was listed as the Number 1 activity to participate for Earth Week in Hamilton.
2016 Escarpment Clean-up Project
2016 is an exciting year for The Escarpment Project, as they will be celebrating the fifth anniversary clean-up on the April 24, 2016 which includes ten locations in the greater Hamilton area. It is expected to bring together over 1000 volunteers with even more participation from the business community.
On Sunday April 24, 2016 at 11 am, volunteers of all ages from our diverse communities will gather at the below mentioned locations along the escarpment in Hamilton to revitalize the escarpment forest, trails and waterfalls and help return the escarpment to its natural splendour by removing litter & debris.
Albion Falls
Billy Green Falls
Bruce Trail in Dundas
Chedoke Falls, Stairs & Radial Trail
Devils Punchbowl
Felker's Fall
Kenilworth Falls & Rail Trail
Wentworth Stairs & Side Trails
40 Mile Creek - Grimsby
Team leaders will meet and greet volunteers at specific sites for each of the above locations, provide instructions, handover garbage bags and gloves, and work in teams to clean up our beautiful surroundings.
After the clean up all volunteers and community partners are invited to the Escarpment Project BBQ Festival at the Devil's Punchbowl Market from 2 pm onward to enjoy the community celebration featuring food, music and fun as volunteers swap stories of what treasures they may have found.
Why Should You Participate?
"Humans are disappearing from the outdoors at a rate that would make them top any conservationist's list of endangered species." —Tim Gill, The Ecologist
It is well-known that the majority of people spend over 90 percent of their time indoors and away from the natural environment. This has important physical, emotional and cognitive implications. We need to understand the link between human health and the natural environment. Spending time in nature has health benefits, it helps relieve stress in minutes, cope with depression and increases self esteem.
There is no better way of making a personal and collective commitment to reconnect with the outdoors, explore the trails and take care of our ecological marvel by participating in the Escarpment Project. This type of event also helps build a stronger community, it allows people to spend time with family and friends, build new friendships and so much more.
So choose your location, come out with friends, colleagues and family, participate in the clean-up as a volunteer and enjoy the great outdoors as well. Join the growing number of volunteers by registering your name on the "get involved" page of the website. Volunteers then simply need to show up on April 24th, 2016 at 11AM, to help for as long as they like.
Good news for students - get community service hours when you help do the clean-up!
Donate or Consider Becoming a Sponsor
While the city of Hamilton does show its support by donating garbage bags, gloves and some tools, there are still additional costs.
The Escarpment Project requires your support to cover costs such as the participation of St. John's Ambulance, event insurance and clean-up and safety equipment. Personal donations of $5 to $500 or more can be made online on the website.
Each year, several organizations provide financial and product support by becoming corporate sponsors and helping make the clean-up project a success.
This is a unique initiative that demonstrates to the people that your company continues to have an interest in preserving the environment, and in maintaining one of Greater Hamilton's unique appeals, namely the Escarpment and its waterfalls and trails. It also demonstrates the willingness of sponsoring companies to give back to the community.
Contact Greg Lenko (Founder): greglenko@escarpmentproject.ca or Ine Wauben (Corporate Sponsorships): inewauben@escarpmentproject.ca to discuss sponsorship opportunities or arrange a personal meeting.
Lend Social Media Support
It has become evident that people have been waiting for an organized event like The Escarpment Project. People are actively joining the army of volunteers from Oakville, Toronto, St Catharines, Niagara, and beyond.
Help us reach out to as many people by following The Escarpment Project on twitter @EscPrj and like the Facebook Page, Tweet or post images with instagram using the "#escprj" hashtag.
You can also show your support by sharing the cleanup video with friends, who may also want to join in.
Post a Comment
You must be logged in to comment.