City Should Consider Getting Out of Golf Business
As city after city regularly confronts their lethargic, money-losing golf courses, the debate always focuses on how to improve them, rather than whether they still serve a purpose.
By Zachary Spicer
Published March 03, 2016
Why is Hamilton in the golf business? This past week, Hamilton City Council has taken time to debate its municipally-owned golf courses. The city owns two: Chedoke, on Aberdeen Road, and King's Forest, near the Red Hill Valley Parkway.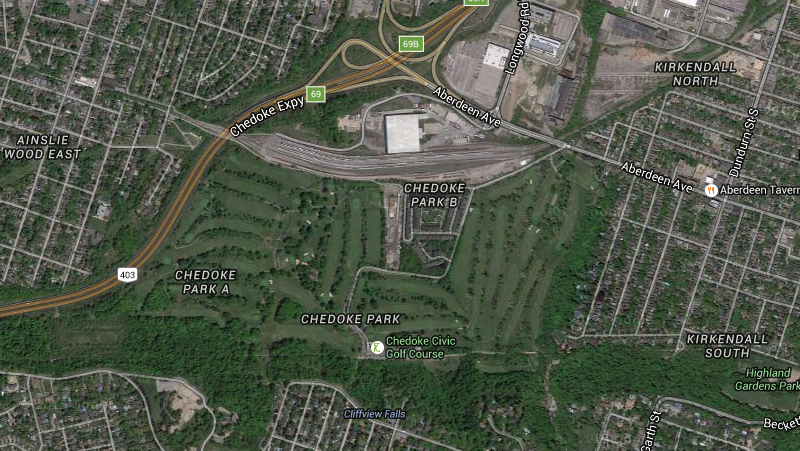 Chedoke Golf Course (Image Credit: Google Maps)
The debate has centered on what to do with these two facilities. In short, fewer people are using the courses and the city is looking for ways to bolster revenue and turned to a group called "Global Golf Advisors" to provide advice on how to do so.
The proposed solution? Cut some green fees and occasionally offer last-minute deals to lure more customers.
Nearly absent from this debate, however, was any discussion of why Hamilton should remain in the golf business. Whether the courses generate a profit or not, there are some very good reasons why Hamilton - or any city for that matter - should question the continued existence of municipally-owned golf courses.
The most obvious thing about golf courses is that they are large. If these large courses were placed in rural areas, the problem would likely not be so bad. Instead, municipally-owned courses are usually in fairly well-established areas and, therefore, close to the city core.
Hamilton's courses fall into this category. Take Chedoke, for example, which consumes just over 220 acres and rests in the middle of established neighbourhoods like Abderdeen and Westdale and is adjacent to the McMaster Innovation Park. King's Forest is slightly larger at 250 acres.

King's Forest Golf Course (Image Credit: Google Maps)
The question, of course, is what else could be done with this land? The possibilities are endless, but dedicating this space to one activity limits the potential of the area, while adding to land scarcity nearby and driving up the cost of housing. Land is the most valuable commodity a city has; squandering it and not pricing it properly is a shame.
Along with this, of course, comes opportunity cost. Using almost 500 acres of prime urban land for golf courses means the city cannot collect tax revenue on the productive use of this land. How much is being lost? It's hard to say precisely, but what we do know is that we are currently losing money reserving the land for golfing.
But, of course, a municipally-owned golf course could make money. They could generate substantial income for the city. Currently, they are not, but it is not outside the realm of possibility that these courses could, in fact, earn their keep at some time in the future.
Proponents may look down Highway 401 to London to see some money-generating municipal courses. After many years of hemorrhaging cash, some of London's courses are generating a profit and contributing to the city's capital reserves.
How much? Of London's three courses, two ran small deficits, but the third - Thames Valley - ran a $59,000 surplus in 2014.
Few other cities can seem to squeeze a profit from their courses. Toronto, for instance, has one course - Dentonia Park - that lost $822,000 between 2007 and 2012. In total, Toronto's five courses only generated $521,000 as recently as 2012. Certainly nothing to write home amount considering the opportunity costs of keeping the courses in place.
Not everything a municipality does has to make money. Let's not kid ourselves: profit shouldn't be the only motivating factor when gauging the value of municipal services. We are, after all, talking about recreation - something that is firmly within the city's wheelhouse.
The logic here is that golf is a recreational service and should not be the sole domain of the rich. Everyone should have a chance to play the game.
We see this argument quite a bit from those who defend municipal golf courses. In this current debate, Ward 1 councillor Aiden Johnson trumpeted it loudly. He argued that Chedoke was founded as a "working person's golf course" and is a "valuable part" of his Ward.
He continued, arguing that municipally-run courses make the sport of golf less "elite" and, in turn, allow those with lower incomes to enjoy the game.
Proponents like Johnson present an interesting argument, but one that I don't find particularly convincing. We need to be clear about the goals of local recreation programming. One would think the goal would be to encourage physical activity, rather than being a type of redistribution program.
Even if we did see golf courses fitting into this category, maintaining a city-run golf course would not necessarily fulfill those goals. For one, some area courses cost less to play (such as Buncrana) or are priced similarly (such as Flamborough Hills).
But even if we priced courses like Chedoke well below every other privately owned course in the city, there is no guarantee we would actually make golf more accessible to lower-income members of the community. Rather, we could just as likely be providing a subsidy for those who could very well pay market prices.
The proper way to increase accessibility would be means testing, but that falls well outside the current debate. Keeping the course is likely the least egalitarian thing we could do, given that the land could be used for something like affordable housing or a large urban park that could be made available for a number of different uses.
As city after city regularly confronts their lethargic, money-losing golf courses, the debate always focuses on how to improve them, rather than whether they still serve a purpose (if they ever did to begin with). Hamilton does not necessarily need to sell its two courses or re-purpose them, but it is at least worth discussing.

Chedoke Golf Course (RTH file photo)
Post a Comment
You must be logged in to comment.