Deficit of Ideas in Hamilton's Civic Governance
In the case of our crumbling public housing, budgeting has become a matter of choosing which deficit to grow. This is a political choice.
By Shawn Selway
Published March 02, 2016
I attended the public meeting on Thursday, February 25 looking at the future of the city-owned properties in the West Harbour, including the CityHousing Hamilton properties at 500 MacNab street North and the Jamesville Townhouse complex.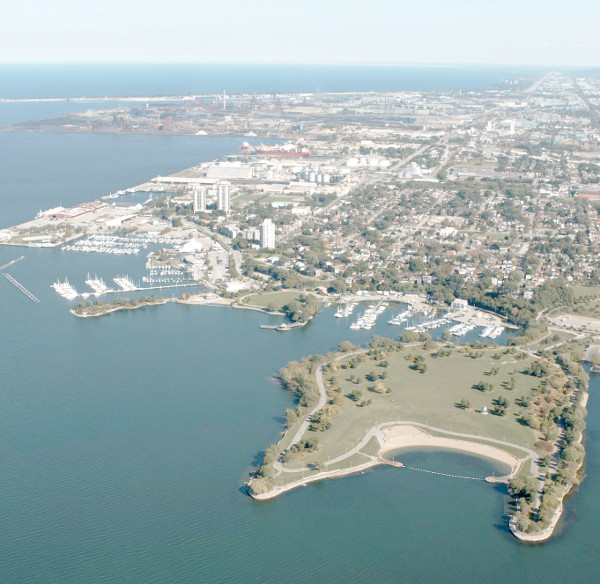 West Harbour (Image Credit: City of Hamilton)
What struck me most forcibly about the presentation was the insistence that the 48 acres of city-owned West Harbour lands are the sole possible source of re-capitalization for Hamilton Housing in that area. Over and over, we were told there is no money for maintenance, as if this were some divinely ordained fact of nature. It is not.
The City takes in about a billion and a half dollars a year. Council simply chooses to spend it on things other than housing, as Matt Jelly pointed out in his recent article: mainly roads, police, and social services. This year we will spend $16 million on new roads - not repairs to existing roads, new roads.
And as Shekar Chandrashekar pointed out in the Hamilton Spectator last Friday, the police will once again salt away some undetermined amount in the millions by double-dipping: allocating funds to sick leave and vacation pay accounts, but actually paying these sums out of separate divisional accounts.
Political Choice
We all know that the situation in Hamilton Housing recapitulates in miniature the overall financial condition of the City, which has a serious and growing infrastructure deficit in all areas of capital spending. Budgeting has become a matter of choosing which deficit to grow.
This is a political choice, and the choice seems to be based on the following line of thought: if we bonus developers and property owners large and small in the downtown, we will eventually recover that money and much more from the increased assessment that arises when land now vacant or "underused" is occupied by new buildings.
Meanwhile, the combination of those and other incentives, along with the relentlessly ascending prices in the Toronto housing market, will produce a residential affordability crunch in Hamilton.
Over the long term, greater tax revenues should allow us to alleviate problems at the lower end of the market, and those same problems should also induce an increase in rental apartment supply and relieve the upward pressure on rents from that side.
In brief, there will be short-term pain for long-term gain. The political choices revolve around who is to get the pain, and how severe it will be.
Right now Council has decided to let the poor and the young in the old city do the suffering. If you are poor and without a car in the lower city, then you are standing in the slush watching yet another Barton bus go by and wondering how you are going to pay for your next move. If you live in Waterdown you are enjoying that wonderful new library and looking forward to that great new highway interchange.
(Yes, yes, I know it is all very complicated and the people of Waterdown are not undeserving; nonetheless when you've worked through all the complications, the bottom line is still class segregation and, if not unmerited privilege, at least unmerited deprivation, which it is the responsibility of government to address.)
Of course, Council could mitigate the pain rather sooner than the market is likely to do, by raising taxes. During this year's capital budget discussions, staff were asked to recommend spending priorities if they had another 0.5 percent increase to allocate. As reported in the 2016 Capital Budget book one, this is what they suggested, based on their conception of "critical need" status:
Roads, Bridges and Sidewalks (53% of discretionary funding envelope (d.f.e.))(28.5% of total assets)
Corporate and Recreation Facilities (9.4% of d.f.e.)(6.5% of total assets)
Social Housing (2.9% d.f.e.) (8.8% of total assets)
From which we learn that our unofficial aspiration continues to be: "Hamilton, the best place to drive a car."
Deficit of Ideas
However, there is another deficit that is really beginning to bite, and it is a deficit in ideas, imagination and well-considered alternatives. (A problem to which Graham Crawford and a number of contributors to this site have been trying to draw our attention for some years now.)
Idea-wise, things are much much better on the transportation front than on land-use. And as with our other backlogs, the scale of the catch-up required is daunting.
The fact is that while many seem to share a sense of fait accompli with respect to West Harbour planning, I have to agree with other commentators that alternate proposals have yet to come forward. (In fairness, Deloitte's report was preliminary, and their remit quite limited; it needn't remain so.)
I agree also that leasing should be considered as an option. I had to laugh on Saturday when I opened the New Home and Condo Living supplement to the Spec and saw the headline "Top Four Reasons You Should Land Lease".
These include: "The key to the affordability of land leasing is that individuals purchase their homes and lease the land ... allowing the home to be much more affordable."
Also: "True sense of community: the land lease model of individual homes in walkable neighbourhoods foster a true sense of community and social connectivity." Yowza! Sign me up!
The ultimate Hamilton deal suggests itself. The City sells the West Harbour lands to private interests, who build a couple of nice land-lease "lifestyle communities" on the water for retirees, and wait for the big pay off down the road when those Toronto condos start to crumble.
Less facetiously, and again as Nicholas Kevlahan points out, it would be very unfortunate if the City were to relinquish the land, and then the Federal Liberals come with housing money that we could have used to do the building without recourse to private developers and their inevitable pressure to skew design guidelines to the disadvantage of the eventual occupants of the buildings.
However, is swapping municipal debt for federal debt really the answer? What is the long-term solution, if there is one available to us? What about the co-op model?
And quite apart from the question of tenure, we have also had zero public discussion of what affordable, sustainable, flexible, inclusionary multi-residential design produces in 2016 in the way of building form and materials.
Post a Comment
You must be logged in to comment.