Our Raging Roads Are Dangerous By Design
No amount of education or enforcement can overcome the predictable effects of streets that are designed to maximize the likelihood, speed and severity of collisions.
By Ryan McGreal
Published March 02, 2016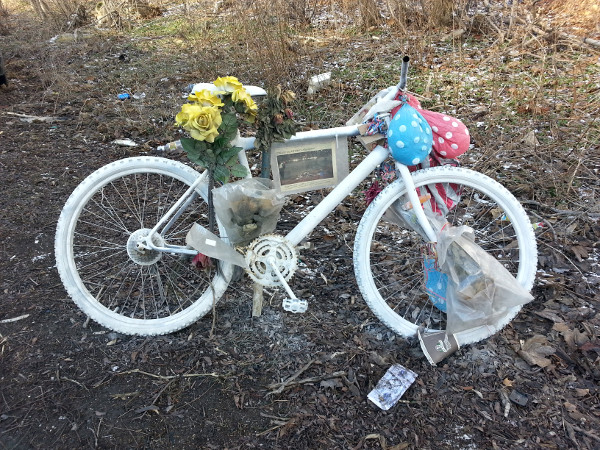 Ghost bike for Jay Keddy, killed on the Claremont Access on December 3, 2015
On Friday, December 4 at 8:30 AM, a Mazda 3 slammed so hard into a concrete pole on the Kenilworth Access that the pole crashed across the street. I'm not sure what is more disturbing: that the driver was apparently drunk (she has been charged with impaired driving) or that she was able to drive fast enough during rush hour to knock over a concrete pole with a small car.
That same morning, Hamilton Police set up a speed trap at the bottom of the Jolley Cut. Just before 9:00 AM, a driver roared through the trap at 89 km/h and nearly ran over an officer. Again, I'm not sure what's worse: that the driver was also allegedly drunk or that he could reach highway speed on an urban roadway during rush hour.
On Saturday, January 16, police recorded a driver going an astonishing 141 km/h on Paramount Drive near Butternut Court. Paramount is a three-lane street with a 40 km/h speed limit running through the middle of a residential neighbourhood.
No one died in these incidents but not everyone is so lucky. On Sunday, January 24, a northbound driver on James Street South near the Hunter GO Station crashed into a southbound bus turning left into the station. The driver was going 100 km/h and died from the collision.
These are not isolated incidents. They follow a consistent pattern of dangerous driving on Hamilton streets.
Last year, 18 people died in traffic collisions in Hamilton. Half of these people weren't even in cars: eight were walking and one was riding a bike. That ratio of fatalities among the most vulnerable street users makes Hamilton a major outlier compared to other Ontario cities.
In March 2014, the City installed a mobile speed radar for eight days on Herkimer Street next to Durand Park, a popular local playground. At all hours of the day, including during rush hour, the peak hourly speed exceeded 70, 80 or 90 km/h. And that's with a large display on the side of the road flashing drivers' speeds at them.
Likewise, the City set up the mobile speed radar on Hunter Street west of MacNab - just as you approach Central School - for two weeks in May 2015. Maximum speeds above 70 km/h were recorded during every hourly time period on a street with a 40 km/h speed limit.

Car recorded driving 55 km/h in a 40 km/h zone on Hunter (RTH file photo)
In 2013, the Social Planning and Research Council compared ten years' worth of collision data and concluded that Hamilton is the second-most dangerous city in Ontario for people on foot. The injury risk for pedestrians is 42 percent higher than the provincial average, and the risk for cyclists is 81 percent higher.
There is a simple, horrible reason there is so much dangerous speeding on Hamilton streets: they're designed that way. Arterial streets in Hamilton are designed for running speeds up to 80 km/h with wide lanes and minimal obstacles or encumbrances that might slow drivers down.
In the old lower city, we converted dozens of city streets to one-way traffic so they can have multiple lanes for reckless passing with narrow ribbons of sidewalk just inches away. In newer parts of the city, arterial streets have long blocks and staggeringly wide lanes with dedicated turn lanes so no one ever has to slow down.
For decades, we have taken the approach that the best way to make streets safe is to make lanes wide and eliminate any obstacles that might get in the way of drivers, on the assumption that removing potential hazards reduces the chance of a collision.
Unfortunately, this assumption is dead wrong. We now have decades of research proving that people drive at a speed that feels comfortable, and streets designed with wide uninterrupted lanes encourage dangerously fast driving. When you combine that feeling of comfort with the sudden addition of a pedestrian - even one crossing legally at a crosswalk - it's a recipe for collisions and trauma.
As a vehicle's speed increases, its kinetic energy increases quadratically. A vehicle going twice as fast has four times as much energy, and a vehicle going four times as fast has 16 times as much energy. It becomes vastly more difficult to stop in time to avoid a collision, and when a collision does occur, the damage is vastly more serious.
This is why a pedestrian's fatality risk from a vehicle collision jumps from 5 percent at 30 km/h to 45 percent at 48 km/h and 85 percent at 64 km/h.
Again, this is borne out in the data. According to a May 2000 paper published in the peer-reviewed journal Canadian Journal of Public Health using Hamilton data, the injury rate for children was 2.5 times higher on one-way streets than on two-way streets. Again, one-way streets may seem intuitively to be safer - no opposing traffic to worry about - but in effect they are more dangerous.
Streets designed for fast, uninterrupted driving encourage drivers to drive faster, of course, but they also encourage drivers to lower their guard about possible obstacles.
That reduced situational awareness, combined with higher speeds, is a deadly combination when a pedestrian does unexpectedly show up - for example, in a crosswalk, where most pedestrian collisions occur.
Cities around the world are following the lead of Sweden and committing to Vision Zero, a commitment to eliminate traffic fatalities by making streets inherently safer for everyone. Vision Zero is based on the idea that the limiting design guide for our transportation system should be the body's ability to tolerate trauma.
It may be counterintuitive, but the best way to make streets safer for everyone is to make them feel more dangerous for drivers with narrower lanes, overhanging street trees, bumpouts, raised crosswalks, chicanes, parked cars, protected bike lanes, speed humps and other design elements that force drivers to slow down and pay attention.
No amount of education or enforcement can overcome the predictable effects of streets that are designed to maximize the likelihood, speed and severity of collisions. We need to address the root of the problem - the design that encourages fast, distracted driving in the first place.
The first thing we need to is admit that the way we've been doing it up to now is not working. This is not about blame but about recognizing, as John Maynard Keynes famously said, that the facts have changed and our opinions need to follow suit.
This article was first published in the February, 2016 issue of Urbanicity Magazine.
Post a Comment
You must be logged in to comment.