13-Year-Old Pedestrian Struck at Mud Street and Winterberry Drive
We need to stop blaming people for being human and start blaming our streets for punishing normal, predictable human behaviour with tragedy.
By Ryan McGreal
Published December 21, 2015
Hamilton's dangerous-by-design street network continues to expose the city's most vulnerable road users to elevated risk of injury and death. On Friday, December 18 at 5:35 PM, a 13-year-old boy ran south on Winterberry Drive and tried to dart across Mud Street against the traffic signals.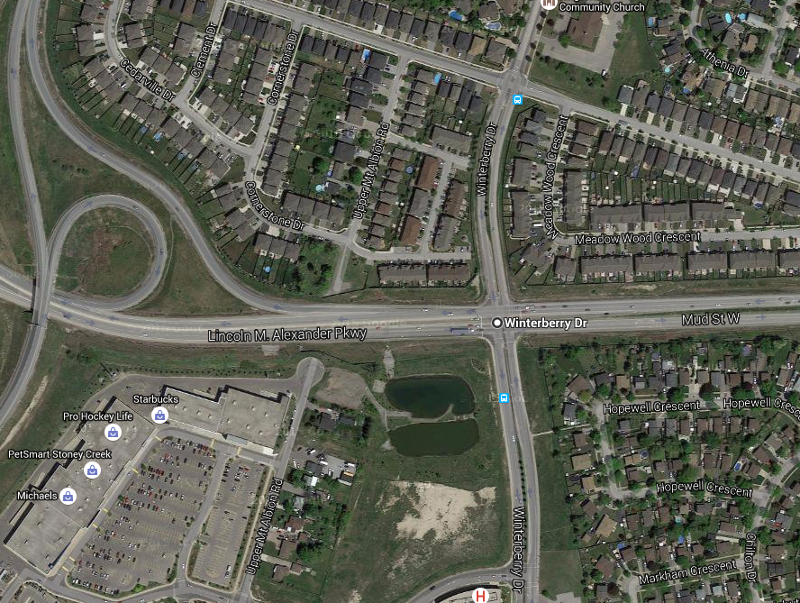 Winterberry Drive and Mud Street (Image Credit: Google Maps)
According to the Hamilton Police report, he "narrowly missed being struck by a westbound vehicle" but was then hit by a 58-year-old man driving eastbound in the curb lane in a pickup truck, who had just exited the Red Hill Valley Parkway. (West of Winterberry, Mud turns into an on- and off-ramp for the Red Hill Valley Parkway and Lincoln M. Alexander Parkway.)
The driver remained on scene and attended to the boy until emergency services arrived. The boy was then rushed to hospital by ambulance with life-threatening injuries.
If you witnessed anything and have not already spoken to the police, please contact Detective-Constable Niblock at 905-546-4753.
The Blame Game
The police report makes it clear that the 13-year-old "proceeded to run south across the busy roadway without the right of way" and that "Alcohol was not a factor in this collision".
However, for a long time I have tried to argue that in these cases, assigning blame is not the most important consideration from a policy perspective. Rather, we have to ask: Can we design the street so that it is inherently safer for everyone?
Can we reduce the cost of a bad decision, a moment of recklessness, the distraction and carelessness every one of us will experience from time to time, so that when someone makes a mistake, the result isn't serious injury or death?
Look at the design of Mud Street at Winterberry: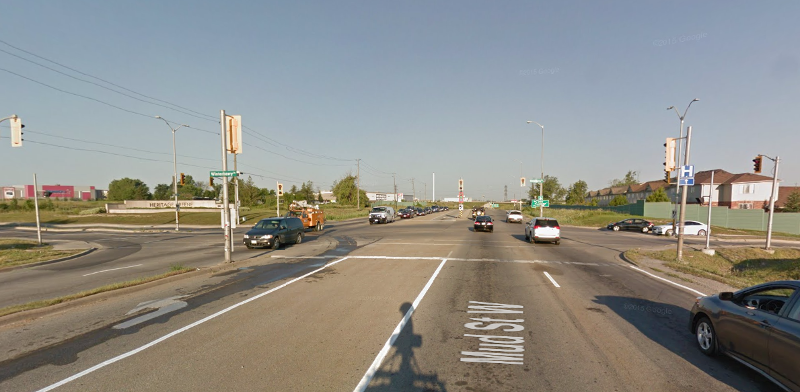 Looking west across Winterberry Drive from Mud Street (Image Credit: Google Street View)
The street is extremely wide: two wide westbound lanes, a lane-width buffer, a left-turn lane, a narrow raised median and two eastbound lanes. Pedestrian affordance here is an afterthought - I would be nervous crossing the street on foot here even if I had a green traffic signal.
This is yet another "stroad", a street/road hybrid that is designed like a highway but also nominally serves local residential destinations, bringing high-speed vehicle traffic - in this case, much of it velocitized by being on the Red Hill/Linc - in dangerous contact with those pedestrians brave or desperate enough to venture out into hostile territory.
Inevitable Conflicts
Consider all the houses in the blocks around that intersection, all of them single-family homes with no integrated small-scale retail. If you want to buy anything, you need to get either to the strip plaza at Mud Street and Paramount Drive or the the Meadowlands East big-box development at Stone Church and Upper Mountain Albion Road.
Neither destination affords a walking- or cycling-friendly route, so people who can't drive - and that set includes many senior citizens and every teenager under the age of 16 - is stuck navigating the stroads.
We have designed our street environment that makes collisions like this one with a 13-year-old pedestrian and the fatal collision two weeks ago with an 81-year-old pedestrian at Queenston Road just west of the Red Hill an inevitability.
This or that party might be "at fault" in a given incident, but the real fault lies with a street system that punishes inevitable errors in judgment with trauma and death.
Our street system disproportionately punishes senior citizens and children, the most vulnerable road users and those with the fewest alternative options in how to get around.
Speed Always a Factor
The police report included an interesting observation: "the posted highway speed will be a contributing factor."
Normally, when a driver is not exceeding the legal speed limit, the police media report notes, "Speed was not a factor." What this means is that the driver was not "speeding", i.e. illegally exceeding the speed limit. However, I have argued in the past that it is misleading to put it this way, since the vehicle's speed is certainly a factor in both the likelihood and severity of a collision.
The kinetic energy of a moving vehicle is an exponential function of its speed. That means if you double the speed of a vehicle, you quadruple its kinetic energy; and if you increase the speed four times, you increase the kinetic energy 16 times.
That exponential increase in kinetic energy affects both the stopping distance, which makes it harder to avoid a collision; and also the level of damage if a collision does occur.
This is borne out in the traffic fatality data. When a vehicle travelling at 30 km/h collides with a pedestrian, the pedestrian has a 5 percent chance of dying from the collision. At 48 km/h, the fatality risk increases to 45 percent, and at 64 km/h the fatality risk increases to 85 percent.
This is why, for example, Edinburgh, Bristol, Paris and many other cities have been moving to a citywide speed limit of 30 km/h: at that speed, most errors in judgment are not deadly.
It's also why the Ontario Coroner has recommended reducing the default unsigned speed limit to 40 km/h and residential streets to 30 km/h on Ontario Streets.
It is not yet clear whether the pickup truck driver was exceeding the speed limit, but again, aside from deciding how to apportion blame it doesn't really matter. Even a legal speed of 50-60 km/h is high enough to kill a huge percentage of pedestrians who are stuck at that speed.
Until we decide that preventing injury and death is more important than saving commuters a minute or two and start changing how we design our streets, these tragedies will continue, one after another, in spates and clusters that provoke eruptions of outrage and defensiveness and finger-pointing.
If our streets were consumer products, we would be demanding a recall. Enough is enough. We need to stop blaming people for being human and start blaming our streets for punishing normal, predictable human behaviour with tragedy.
Post a Comment
You must be logged in to comment.