Councillors, Staff Present Wentworth Two-Way Conversion Plan
The final designs are not yet complete, but the two-way conversion of Wentworth Street should be complete in time for the start of school in September 2016.
By Bob Berberick
Published December 11, 2015
On Monday, October 7, Ward 2 Councillor Jason Farr and Ward 3 Councillor Matthew Green hosted a public information meeting with City staff on the upcoming two-way conversion of Wentworth Street, which City Council recently approved. It was held at the Mission Services building at 196 Wentworth Street North there were approximately 75 people in attendance.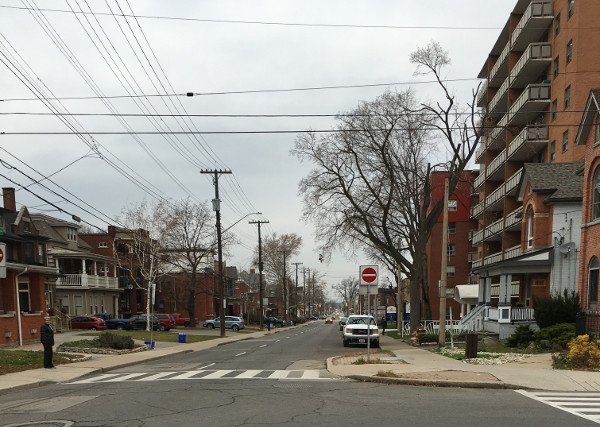 Looking north on Wentworth Street at Delaware (Image Credit: Bob Berberick)
The meeting started out with some naysayers, most of whom were concerned about parking. There was even one person who said that this street has been working for 50 years, and why do we need to change it!
It was stated early in the meeting that this is an information meeting for discussion and questions, and there was a lot of that.
The final designs are not yet complete but this two-way conversion will be happening. If there are no major issues, it is hoped to be complete in time for the start of the school year in September 2016.
The roadway will be two lanes southbound and one lane northbound, with a number of changes to the parking arrangement. There will be some lost parking as a result.
The overhead cross-sections below are marked as follows:
Thick green line - gain in parking spaces
Thick yellow line - no change in parking spaces
Thick red line - loss in parking spaces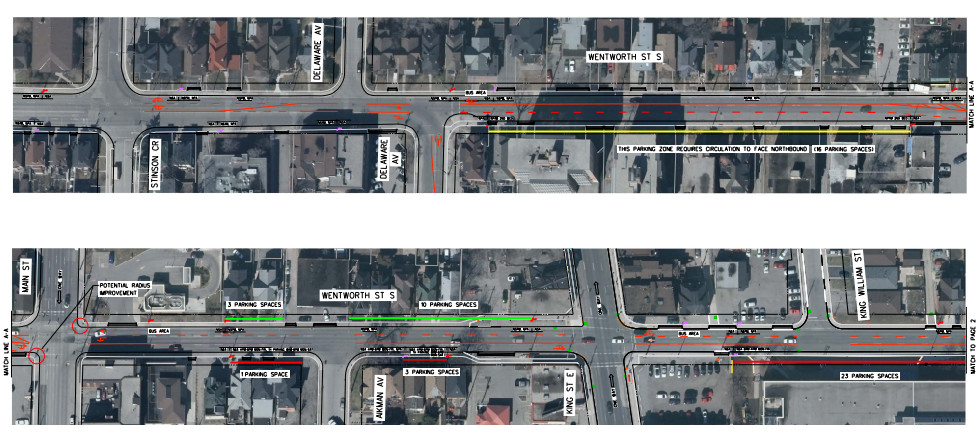 Wentworth Conversion cross-section, Delaware to King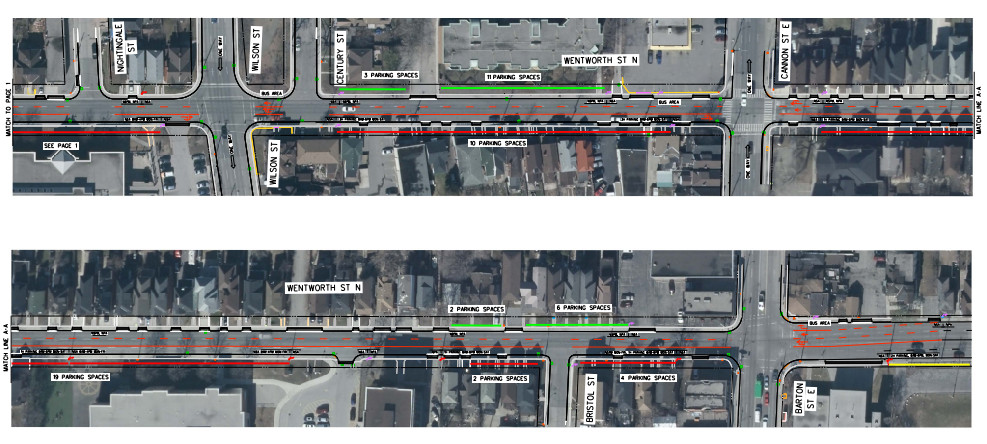 Wentworth Conversion cross-section, Nightingale to Cannon
At Barton Street there will be a slight adjustment for southbound vehicle traffic that will erase the lane shift and add a right-hand turn lane.
City staff are still working on the Main Street intersection, as it is going to be a bit tricky for larger vehicles turning left. There will also be some truck route considerations.
At Delaware Avenue, there is currently a bumpout on the northeast corner. Everyone was surprised to hear that this will not be moved because there is a large hydro installation below it. To move this would cost many times more than the entire project. It's not clear to me how this will be worked out.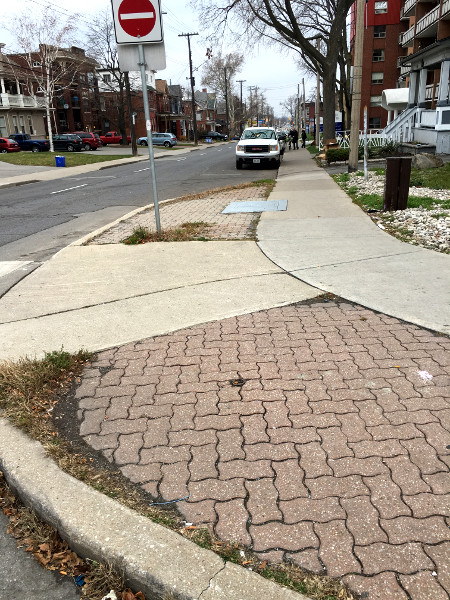 Bumpout at Wentworth and Delaware (Image Credit: Bob Berberick)
There were numerous questions about cycling infrastructure and I think that everyone agreed that there really isn't enough room.
What is expected to happen is that when Sanford Avenue is converted to two-way (or maybe before, I'm not sure), that will become the north-south cycling route. There is ample space and low traffic volume on Sanford.
Another concern was in front of Cathedral School, because people will likely be trying to drop of their kids in the only travel lane available. Perhaps a solution can be found off Wilson Street.
The staff information included a table of pros and cons of two-way conversion:
Pros and Cons of Wentworth Two-Way Conversion
Advantages
Disadvantages
Efficient road network, improved connectivity
Potential for head-on and angle vehicle collision because of more conflict points
Provides direct routes to destinations, improved accessibility (eliminates circuitous travel)
Potential for increased pedestrian collision because of more conflict points
Typically lowers speeds and vehicle-kilometers of travel on the street. Less tendencies for speeding
Change in road capacity, therefore possible for increase in congestion
Increases access for businesses, more storefront exposure
Reduced opportunity to provide traffic signal synchronization affecting traffic flow
May improve the livability and urban experience
Potential turn restrictions at some intersections for larger vehicles
Easier way finding. Less confusing for visitors
Impact to on-street parking and loading/unloading. Shift in parking from east to west side may require pedestrians to cross the road. Access to on-street parking on east side, south of Main St., will now require circulation to face northward
Improved accommodation for all road users
Conversion Cost: Intersection improvements, traffic signals, pavement markings, signs
Potentially less traffic infiltration to nearby Local Roads
Transit routing possible in both directions on the same road – easy and convenient access to transit
Post a Comment
You must be logged in to comment.