A Moratorium on Progress that Undermines LRT Planning
It is our fear that the motion before Council would tie the hands of city staff and the LRT Project Team by preventing them from designing into the project the very best practices that are essential to the success of LRT.
By Keanin Loomis
Published December 09, 2015
Any visitor to Hamilton will tell you that our main streets (particularly Main Street) do our city no favour in leaving a positive impression. They are repellent rather than inviting. And that's bad for business.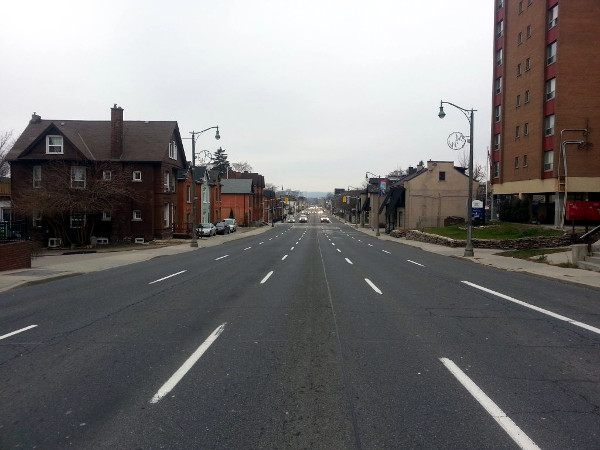 Main Street West (RTH file photo)
Contrary to the countless experts who have advised us over recent years that enhancements to our built environment will lead to increased livability, we have done very little to take advantage of the best economic development opportunity before us in the 21st century: intensification of and tourism to our lower city.
Yet, just as increasing numbers of Hamiltonians are finally waking to the realization that we are being limited by our 1950s-era road network and just as citizen groups are gaining strength in demanding changes, Hamilton City Council is set to discuss a motion to impose a "Moratorium on Any New Projects, Roadway Alterations or Designs That Reduce Motor Vehicular Capacity on any Roadway within the LRT Corridor".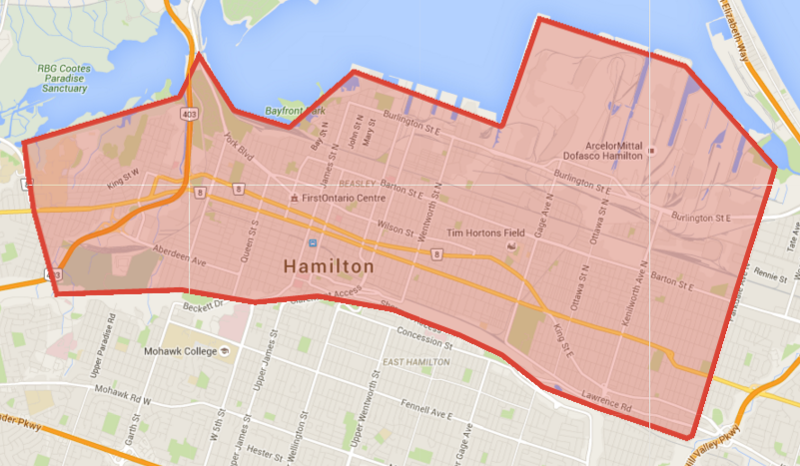 Proposed area of moratorium on any new street safety improvement measures (Image Credit: Google Maps)
The motion springs from the very same mindset that for the last six decades has entrenched efficient vehicular throughput as the only measure of success of our street networks. The motion may as well propose a moratorium on progress, science and economic development.
Complete Streets as Economic Development
As an organization, the Hamilton Chamber of Commerce has been working hard with other anchor institutions to highlight the business case that links balanced, complete streets (streets that are designed for people, not just automobiles) implementations with the renewal of our commercial districts and neighborhoods.
A recent study by the McMaster Institute of Transportation and Logistics, in which we participated, determined that there are eight economic benefits commonly associated complete streets:
increased property values;
higher tax revenues;
better vibe;
lower healthcare costs;
greater productivity;
decrease maintenance costs;
higher densities; and
vibrant local economies
For Hamilton to truly live up to its potential, many changes to our streets are needed. Some are hard and expensive, some are easy and inexpensive. What makes LRT so exciting is that it is the impetus to finally, completely overhaul the entirety of the city's transportation network in one coordinated effort.
LRT Plan is Complete Streets Plan
The City's own "Rapid Ready" Light Rail Transit Plan [PDF] provides a roadmap for successful implementation of the Hamilton LRT project to the benefit of all users: residents, pedestrians, cyclists, transit users, drivers, goods movers, and bricks and mortar businesses.
It outlines the Seven Key Actions needed to "greatly improve the pay-back for major infrastructure investments," specifically:
Building a Rapid-Ready Transit Network: Enhance and increase bus services, restructure the route network around rapid transit corridors

Creating an Accessible Transportation System: Transit and the transportation system will be fully accessible.

Making Transit Faster and More Reliable: Transit must offer journey times competitive to driving to be an attractive choice

Creating a Refined Transit Customer Experience: Provide customer service and amenities to make it easier and more attractive to use transit

Providing Safe and Convenient Walking and Cycling Environments: Encourage walking and cycling for short- and medium-distance trips while creating strong linkages to transit

Integrating Corridor and Community Planning: Planning for and building the city around transit

Developing Seamless Multi-modal Connections: Integrating different modes of transportation to maximize connections to transit
Rapid Ready makes clear that the Hamilton LRT project is a complete streets project. This conclusion is established by mountains of research that shows that transit-oriented demand - i.e. the density and ridership necessary to make the system sustainable - is interlinked with the transit user's experience in the first and last mile of one's destination (when one usually walks, or in a city with a healthy bike share system like our SoBi, cycles).
Motion Ties Our Hands
It is our fear that the motion before Council would tie the hands of city staff and the LRT Project Team over the next 18-24 months by preventing them from designing into the project, and through all its impacted corridors (pretty much the entire city), the very best practices that are essential to the success of LRT.
Members of the community and the businesses serving them increasingly understand the need for a rebalancing of our public spaces and streets. Our members understand that we will be competing with communities across Ontario and the world to demonstrate to investors, migrants and tourists that Hamilton is an evolving, progressive and livable city.
Our success will be determined by whether we get this LRT project right. The motion before Council limits our ability to do so.
This article was first published in the Hamilton Spectator.
Post a Comment
You must be logged in to comment.