Character Zoning Pilot Study: A Step Toward Preserving the Character of Durand
Durand residents deserve 21st century zoning that protects the character of their neighbourhood and facilitates good infill development.
By Frances Murray and Yonatan Rozenszajn
Published November 30, 2015
On November 17, 2015, Durand residents who gathered for the annual Durand Neighbourhood Association's Annual General Meeting were treated to the unveiling of the new Durand Neighbourhood Character Project.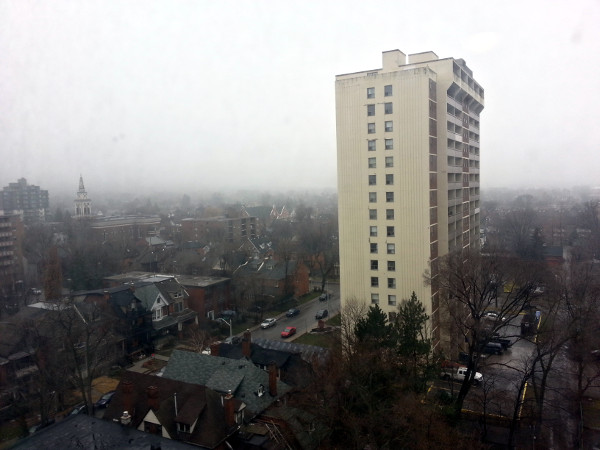 Overlooking houses and apartments in Durand (RTH file photo)
Our project consultants, Paul Shaker and Sonja MacDonald of CivicPlan, presented the concept and its possible application to Durand. You can download a copy of their presentation [PDF].
The genesis of this project harkens back to the battles of the early 1970s when low lying historic homes were demolished in favour new high rise buildings. Apart from the collateral loss of heritage, the planning of those high-rises generally failed to pay any attention to the dominant character of Durand, forever altering it to the detriment of all residents.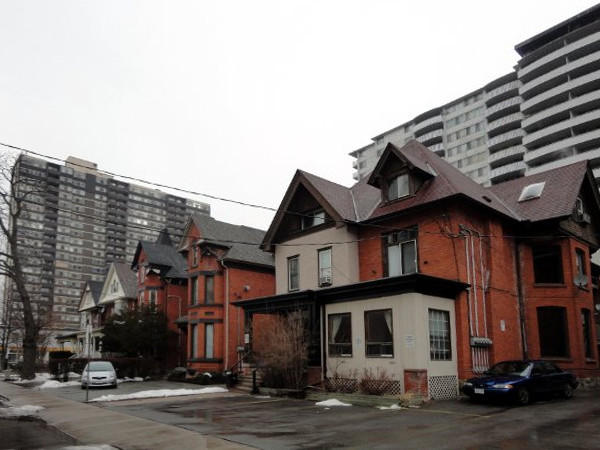 Houses and apartment buildings in Durand (RTH file photo)
Similar challenges are in place today with the City and developers struggling to make new infill developments comply with antiquated zoning bylaws.
The zoning framework today mimics the set-backs of a suburban subdivision together with overtly generous height allowances. It bears no resemblance to the historic street landscape.
Developers must resort to expensive site specific zoning changes or complex variances to win approval for infill projects that fit well with existing houses.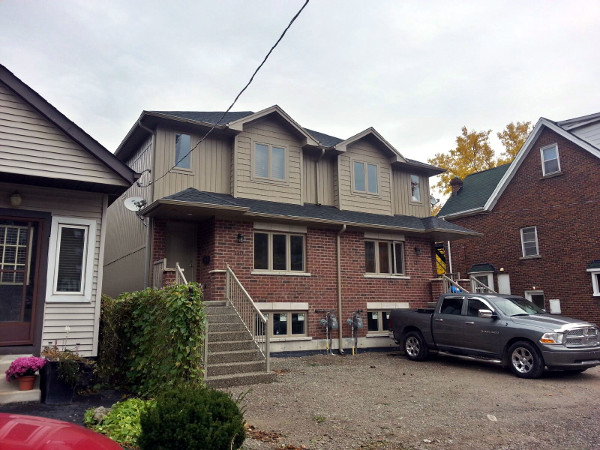 Deeply set-back infill houses (RTH file photo)
Summertime consultation between city staff, Councillor Jason Farr and board members Janice Brown, Yonatan Rozenszajn, Wes Jamieson and Geoff Roche revealed that character or "form-based" zoning may have application to mature residential neighbourhoods like Durand.
Form-based zoning focuses on the character of a neighbourhood to guide infill development. As Paul Shaker explained at our AGM, Character can be defined as the recurrence or prevalence of patterns of:
Front yard space;
Existence and orientation of parking and driveways;
Orientation of the principal entranceway to the street.
The City of Ottawa has recently adopted character based zoning for some of its mature residential neighbourhoods. It uses the approach: "Your street gives you your rules."
Property owners retain complete architectural freedom as long as three key streetscape attributes are retained. These attributes are the dominant character attributes and should be maintained or strengthened.
Unlike heritage conservation laws, which dictate the look of existing structures, character-based zoning may only apply to new infill developments or new and permanent uses of land that may require some development approval from the City's planning staff.
So, what's next for Duranders?
An information tool will be set up online to explain the concept, how it might look in Durand and gather more input;
Phase II will include a workshop, street audits and a report delivered to the city.
If you are interested in supporting this grassroots project or would like more information, please email us at info@durandna.com.
Post a Comment
You must be logged in to comment.