Zoning Rules Produce Inferior Outcomes, Variance Needed for Good Design
Every infill project faces the barrier of Zoning rules designed for low-density suburban develompents.
By Ryan McGreal
Published November 06, 2015
What does it say about our Zoning By-Law that every decent urban development requires a variance in order to go ahead, and developments that don't seek variances end up with inferior outcomes?
Consider the urban townhouse development at 149 Young Street, built in 2013 at the corner of Young and Walnut: seven tall, narrow houses set close to the street on a small lot, with tiny driveways in front and small decks out back.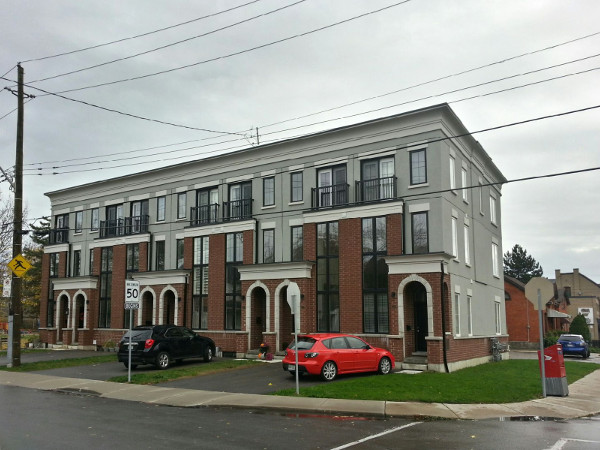 149 Young Street (at Walnut)
It's a nice infill development that integrates well into its location and improves the neighbourhood. But the project required a zoning variance to be allowed to fit into the site, even though it clearly fits just fine.
First of all, the lot had site-specific zoning allowing only the small grocery store that was there prior to the new development. It had to be rezoned to allow residential use.
In addition, the units had insufficient setback from the street, the small driveways encroach onto public right-of-way, and the back yards and side yards were too small to meet the Zoning rules. Quel horreur.
Every infill project faces the barrier of Zoning rules designed for low-density suburban develompents. Consider the nearby townhome development at 150 Catharine Street South (at Young Street), another nice infill project of townhouses wrapping around the northwest corner.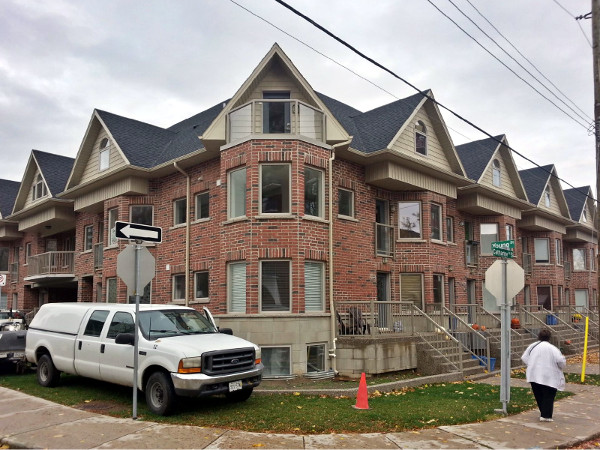 Townhouses at Catherine and Young
The houses are constructed to the same build-to line as the century houses beside them, which allows them to fit nicely into their surroundings but also means the project needed a zoning variance to reduce the large mandatory suburban-style setback.
Again, there is something wrong with the Zoning By-Law when the variance fits more closely with the the Provincial Policy Statement and City's Official Plan than the actual zoning.
Bad Rules Produce Bad Outcomes
Year after year, we maintain a situation in which every decent development project needs to jump through bureaucratic hoops, pay large fees and risk being rejected instead of creating a zoning framework designed to approve good projects and challenge bad ones.
Meanwhile, projects that just follow the rules instead of challenging the Zoning By-Law end up producing crappy developments.
The new pair of semi-detached houses at 119 and 121 Young Street are an unfortunate case in point. The developer needed to get a variance [PDF] to sever the lot in two, but the houses were built at the applicable setback and the result is awkward.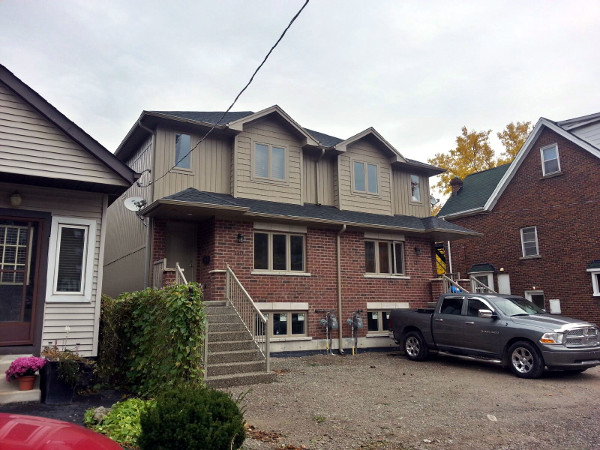 119 and 121 Young Street
Setting aside any observations about the building design itself, the houses are set far behind their neighbours, breaking the integrity of the street wall and generally failing to fit into the existing streetscape.
Following the Zoning By-Law produced a worse result than going through the trouble of getting approval for a variance from the Zoning By-Law. Developers should not have to seek permission to break the rules to produce the outcome the City claims to want!
Road Widening
This is also true of the ridiculous road-widening provisions that remain in our Official Plan despite any notion of common sense.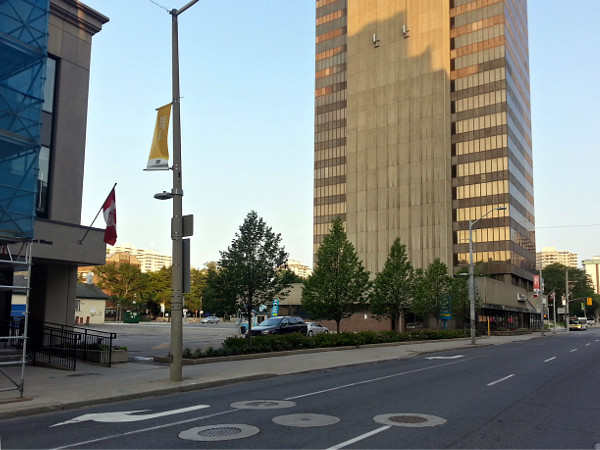 21 Main Street West (RTH file photo)
Any proposed development on Main Street encounters a truly mind-boggling obstacle: the City's official plan is to widen Main Street from the current five lanes to an astonishing six lanes. (Never mind that every building currently standing on Main Street that would have to be removed in order make such a widening even possible.)
The Hamilton Grand project at Main and John notoriously fell victim to this requirement. More recently, proposed developments at 21 Main Street West and Main West Mall are faced with having to seek waivers on this requirement.
Of course, some developers just go along with the rule instead of spending the money to fight it, and so we end up with results like the useless strip of asphalt in front of the new apartment building at 149 Main West, just east of Caroline.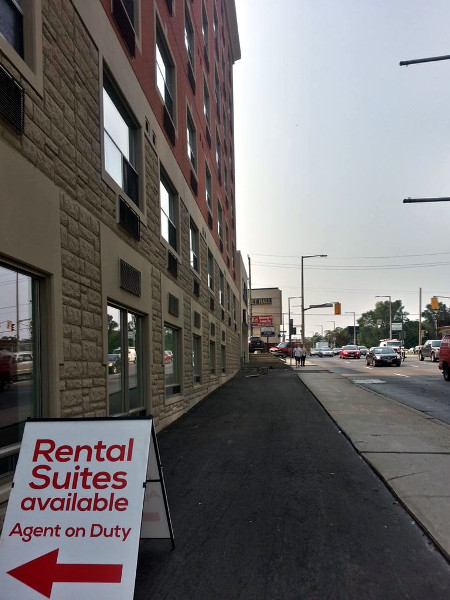 Wasted space in front of 149 Main Street West (RTH file photo)
What kind of self-loathing underlies municipal rules that produce such crappy results?
Change is Coming
The good news is that the Planning and Economic Development (PED) now seems to recognize that these rules are killing development and is starting to take steps to change them.
PED General Manager Jason Thorne advised RTH earlier this year that his department is "reviewing this policy in the Official Plan in consultation with Public Works and intend to have a proposed amendment in front of Council before the end of the year."
But until our Zoning By-Law is updated comprehensively to define urban rules for urban developments - particularly setbacks and allowable uses - we will continue to make every infill project more slow, difficult and expensive than it has to be.
Even if you don't care about the quality of urban life, our mismatched Zoning rules translate into more properties under-performing their tax-assessment potential for longer, and a worse bottom line for the city as a whole.
Post a Comment
You must be logged in to comment.