Robert Service: The People's Poet
Robert W. Service may be forever lost to a few cold-blooded academics, but he will never be truly forgotten by the people. This mountain of a man was, and remains, a people's poet.
By Margaret Lindsay Holton
Published November 10, 2015
There is something about "island people" that make them fearless adventurers of unknown realms, real and imagined. I am reminded of a man I knew during college, Duncan Taylor, a fiery long-haired red-headed rubber-legged Scot from Edinburgh. A hard-working dedicated PhD biologist by day, Duncan was a fearless somewhat whimsical wanderer of the fantastic and fantastical off-hours.
As uni-pals, we intrepidly sailed the Firth of Forth (in a thunderstorm), flew kites in the Lowlands (in the middle of winter blasts), and skied down treacherous un-groomed mountain trails (with jagged boulders scrapping the bottoms of our telemarking skies). For one glorious fun-filled year, we intrepidly explored vast landscapes in that bewitching mythical nation.
After a potent whiskey dram or two, we'd dance in cozy back-road taverns. Throughout it all, Duncan remained the perfect island host: kind, attentive, witty as he delivered startling bolts of island wisdom.
Last I heard, some twenty-odd years ago, Duncan - in pursuit of a rare species of crocodile - disappeared into the wilds of central Africa. He has not been heard of since. He is presumed dead. But with Duncan, you never know. You came to expect the unexpected.
He would suddenly turn up on the door with riveting stories to tell. They made your eyes bug out in awe and amazement, and there was always the twist, that bon mot that flipped the whole engrossing scenario on its head. You would laugh, gasp, cry out or cry.
He was the consummate entertainer; it was just Duncan's way, his personality, his charm and his uncanny story-telling ability. Fittingly, it was Duncan, not the Canadian educational system, that first introduced me to the quirk and charm of The Bard of the Yukon, Robert William Service.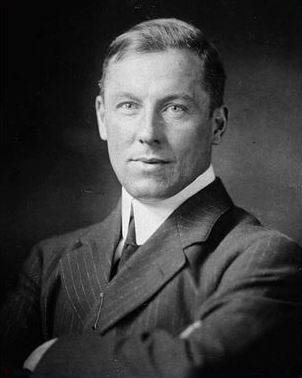 Robert William Service (CC Wikipedia)
Bob Service was born January 16, 1874, the eldest of ten children. His first known poem written at six years of age, was a meal blessing. From the onset, it is, characteristically, him - warm and witty.
God bless the cakes and bless the jam;
Bless the cheese and the cold boiled ham:
Bless the scones Aunt Jeannie makes,
And save us all from bellyaches. - Amen
His father was a career banker who relocated his large family to Glasgow in Scotland to pursue better work opportunities. It was there, grounded with a solid Scots education and mired in heady Scottish folklore, that Robert began to write poetry in earnest. Inspired by the semi-revolutionary zeal of Robbie Burns and the grand heroics of Sir Walter Scott, his young mind was soon primed for worldly adventure.
He arrived in Canada, in Victoria BC, at the tender, impressionable age of 22. After travelling around the Western side of the continent for a year as a "tramp" and a "bum", he eventually returned to Western Canada and settled into a solid job as a banker in Kamloops, British Colombia.
Like Duncan, by day he earned his keep, but in his off-hours he continued to compose reams of fanciful poetry about the inspiring Northwestern frontier based on the people he had seen and heard on the road and in the bars.
In 1904 he was transferred, by the bank, to Whitehorse, in the Yukon. The Spirit of the North infused his writings.
The bank soon transferred him again to Dawson City. There, he got himself a cabin. He would tack his rough drafts to the wall, read them aloud while pacing back and forth, edit with a charcoal stick throughout the night, and then "happily crawl into bed" at dawn.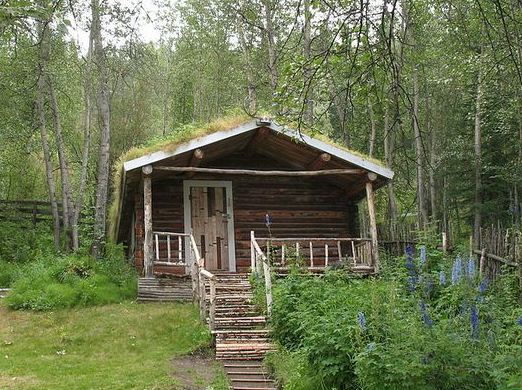 Robert W. Service Dawson City cabin, circa 2009, Parks Canada. (CC Wikipedia)
From this somewhat desolate and lonely location, he shaped some of the most enduring classics of Canadian poetry, such as The Shooting of Dan McGrew, The Cremation of Sam McGee and Call of the Wild.
He sent his first collection of northern poems to his father, who had by this time relocated the clan to Toronto. His father organized to have the works published. Service's first collection of poetry, The Songs of a Sourdough, was an instant hit, and his future - and fate - as a populist poet was established.
As his popularity soared, stodgy academics scoffed at his poetic words, claiming he was a parvenu, an interloper, a fake. On top of that, he was no miner, no trapper. He never panned for gold in his life. Yet, like Gray Owl AKA Archibald Belaney (the notoriously popular 'Fake Indian'), Service soon silenced his high-brow cultural critics by the sheer popularity for his poems.
By the mid 1900s, Service's book of poetry, Songs have a Sourdough, reprinted more than 20 times, in more then 18 languages, earned him enough in royalties that he could happily forgo forever his earlier life as a banker.
He moved to Paris, where he met and married Parisienne Germaine Bourgoin, daughter of a distillery owner. They purchased a summer home at Lancieux in the Bittany region of France and settled into a comfortable life.
His words were soon spun into talking pictures. His first novel, Trail of '98, was transformed into a script of the same name, directed by Clarence Brown, for Metro-Goldwyn-Mayer. It starred early talking-picture greats Dolores del Rio, Ralph Forbes and Karl Dane.
Service was wined and dined by both Hollywood and international celebrities who appreciated his ability to both entertain and inform.
Without a doubt, to most appreciate Service's words, a verbal rendition is best. Like the great poets before him, he understood the traditional connection between poetic verse and oratory. So, listen, please, to this wonder-filled performance of The Cremation of Sam Magee by actor, Jens Hansen, in the persona of Robert Service:
Service may have not attained the stature of John McCrae, best known for his beloved poem, In Flanders Fields. But in his poetry collection, Rhymes of a Red Cross Man, written while he was convalescing in Paris from battle fatigue as a front-line ambulance driver for The American Red Cross (and dedicated to his brother, Lieutenant Albert Service, killed in action in France in 1916), it is hard to ignore the poetic potency of Fleurette, about the hospitalized disfigured soldier who shyly espies a beautiful girl.
...Then I turned to the wall again.
(I was awfully blue, you see),
And I thought with a bitter pain:
"Such visions are not for me."
So there like a log I lay,
All hidden, I thought, from view,
When sudden I heard her say:
"Ah! Who is that 'malheureux'?"
Then briefly I heard him tell
(However he came to know)
How I'd smothered a bomb that fell
Into the trench, and so
None of my men were hit,
Though it busted me up a bit.
Likewise, the horror and despair of an impaled gunner On the Wire is clear:
O God, take the sun from the sky!
It's burning me, scorching me up.
God, can't You hear my cry?
'Water! A poor, little cup!'
It's laughing, that cursed sun!
See how it swells and swells
Fierce as a hundred hells!
God, will it never have done?
It's searing the flesh on my bones;
It's beating with hammers red
My eyeballs into my head;
It's parching my very moans.
See! It's the size of the sky,
And the sky is a torrent of fire,
Foaming on me as I lie
Here on the wire ... the wire
These poems touch us all with their empathy and humanity. We feel the hope in the longing, we feel the pain in the despair.
Service, though extremely popular during his lifetime with his adroit ability to conjure the immediacy of experience through his well-crafted words, continues to remain unappreciated in most Canadian academic circles.
As late as 1952, even Canada's esteemed literary critic, Northrop Frye, in The Bush Garden: Essays on the Canadian Imagination, dismisses Service's efforts. Frye scoffed at Service's poetry, calling them "verbal stunts". Frye opined, with hope, that the public taste for Service's words was on the wane.
Perhaps if Service was able to respond, he would reproach our grand literary Master with these pointed words: "Your heads are bound to power and pomp" while he was inspired by "lilac nights", "the simple songs of Earth" and a "primitive and strapping wench".
As he wrote, "I belonged to the simple folks - whom I liked to please." Service may have recognized the green-eyed God of Envy for what it is. As he often did, he may have crafted yet another poem to 'explore' this untidy emotion in all men.
After the war, Service returned to Paris, where he enjoyed the life of a wealthy writer. Yet, his heart was always with ordinary people who did extraordinary things often in ordinary moments. He soon wrote and had published Ballads of a Bohemian. This was followed by several thriller novels, which never did as well as his poetry. During the winter months, he was known to fraternize in the South of France with literary giants - H.G. Wells, Somerset Maugham, and James Joyce.
At the advent of the second World War, Service moved his family to California. He soon rallied the troops with performances of his poetry, and acted as himself in The Spoilers (1942) alongside Marlene Dietrich, John Wayne and Randolph Scott. After the war, the Services moved back to Brittany and rebuilt their war-ruined home in that battered country.
He wrote his autobiography, Harper of Heaven (1948) and lived there for the rest of his life, publishing six more books of poetry before he died in 1958, at the age of 84.
It was good to hear recently, contrary to Northrop Frye's lingering hope, that Robert Service's poems do, in fact, remain at the core of Canadian poetic sensibilities - even, shock of shocks, in the Canadian literary establishment.
At the recent departure of the long-serving editor of The Walrus Magazine, a rousing chorus of Service's The Cremation of Sam McGee was bellowed out by those in attendance. In tribute. In honour. In good-fellowship. In RESPECT.
How moving it is that a simple "doggerel" poem by an academically-exiled poet cheerfully churned the finely-tuned literate minds of the nation's most academically revered, to recite, verbatim, in 2015, this robust enduring poem.
Robert W. Service, like my old university pal, Duncan, may be forever lost to a few cold-blooded academics, but he will never be truly forgotten by the people. This mountain of a man was, and remains, a people's poet.
His poems move the heads and hearts of millions with his rhyming and bitter-sweet rhythmic couplets. His warm, embracing and often amusing words will be ever re-discovered and enjoyed, again and again, by those who simply love well-told verse.
Post a Comment
You must be logged in to comment.