Motion to Waive Road Widening is Welcome But Should Not Be Necessary
No urban commercial district can thrive next to a five-lane highway. The absolute minimum we can do is agree that our five-lane highway does not need to become a six-lane highway!
By Ryan McGreal
Published August 28, 2015
A Site Plan Application has been submitted to the City to build two new restaurants at the Main West Mall, on the site of a former restaurant that was destroyed in a fire in November 2013.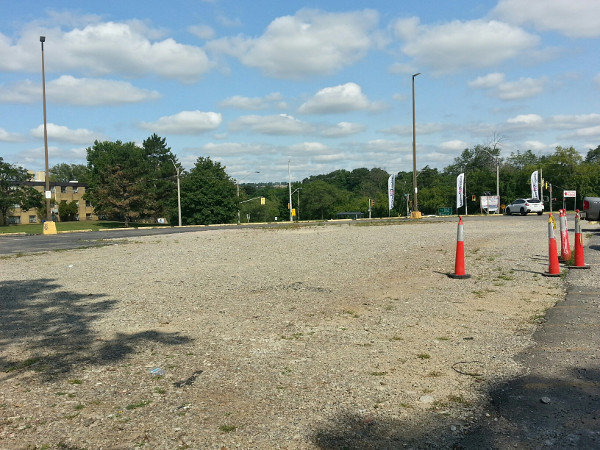 Site of former restaurant
But nothing is ever easy in Hamilton, and the application has run into an obstacle that RTH readers will find gruelingly familiar: a standing provision in the City's Official Plan to widen Main Street to six lanes.
Thankfully, Ward 1 Councillor Aidan Johnson has submitted a notice of motion for the September 1, 2015 Planning Committee meeting to waive the requirement of a road widening.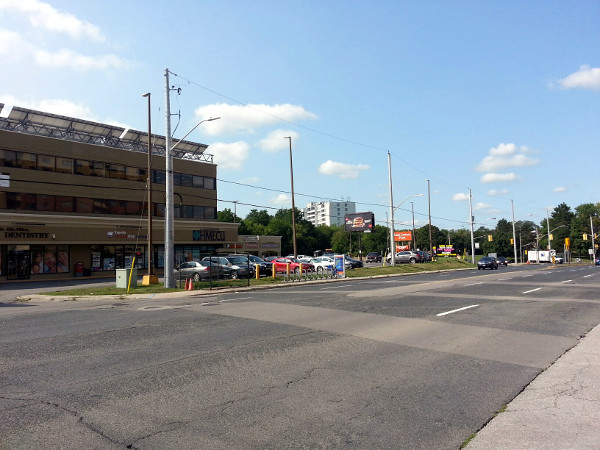 Main Street West in front of 1685
Main Street West is already five lanes wide and is lined with buildings that would have to be demolished in order to widen it further, but that hasn't stopped the Public Works Department from objecting to every new development project that would match the existing build-to line.
The same issue came up earlier this summer with the Site Plan Application for 21 Main Street West, at which the property owner is planning a new four-storey building.
Even though the site sits between two existing buildings that would have to be demolished to widen Main Street, the City's Engineering Division demanded a setback to make room for the City's plan to widen Main Street to six lanes.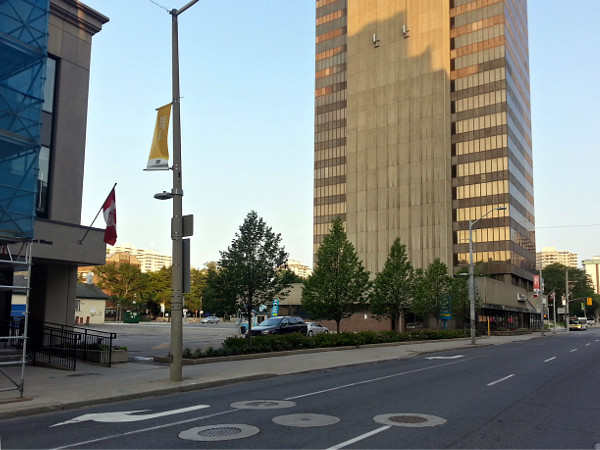 21 Main Street West (RTH file photo)
It was also one of the obstacles that scuppered the proposed Hamilton Grand development at the corner of Main Street East and John Street South, after the developer was told by Engineering that he had to move the front of the building back 2.4 metres to make room for an extra lane.
A Spectator column by Andrew Dreschel from 2010 quotes Gary Moore, the City's Director of Engineering Services, explaining why you keep feeling the need to drop your face into your open palms:
The rule is you take the widening; that's the starting point. Whether we need it or not, normally we don't get into that because you don't want to limit yourself or future generations.
The good news is that this boneheaded road-widening policy might finally be subject to change.
According to Jason Thorne, the City's General Manager of Planning and Economic Development, "We are reviewing this policy in the Official Plan in consultation with Public Works and intend to have a proposed amendment in front of Council before the end of the year."
I would urge Council in the strongest terms to approve this recommendation when it comes forward. The absolute last thing we should ever do with Main Street is widen it further than the five lawn-gobbling lanes it already is.
What Main Street really needs is to have some space carved away from the juggernaut of automobile lanes and repurposed to make the street safer and more welcoming for people walking and cycling, not just people in cars racing across the city.
Main Street should be the City's thriving commercial centre, but no urban business district can thrive when it rests on the side of a five-lane highway. The absolute minimum we should do is agree that our five-lane highway does not need to become a six-lane highway!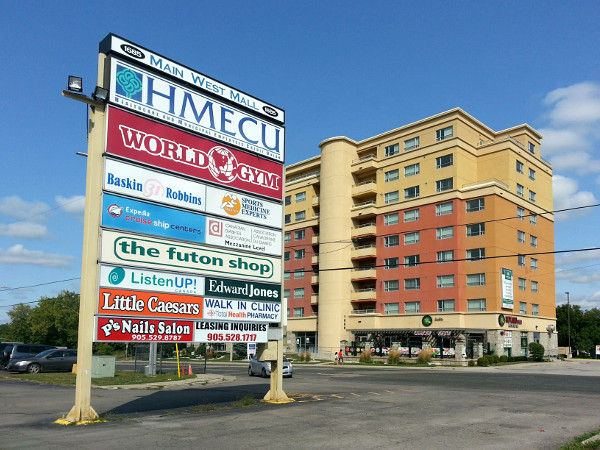 Main West Mall sign with student apartment across the street
with files from Jason Leach
Post a Comment
You must be logged in to comment.