My Crazy Bike Commuting Route
For a car driver, the route to a given destination is usually simple and straightforward. Cycling should be the same.
By Kevin Love
Published July 22, 2015
RTH editor Ryan McGreal recently provided a recent description of his trip to Limeridge Mall and the dysfunctional lack of bicycle infrastructure to get him there and back.
That article inspired me to describe part of my bizarre daily commute to work. In my opinion, my commute is also an excellent example of the dysfunctional lack of bicycle infrastructure that people in Hamilton have to put up with every day.
I live in the Durand neighbourhood near Durand Park. I work in East Hamilton, about 10 km away. Dear reader, as you read this article, please ride along with me in your imagination. Let's ride together for the first part of my commute to work, from Durand Park to the Cannon Street cycle path.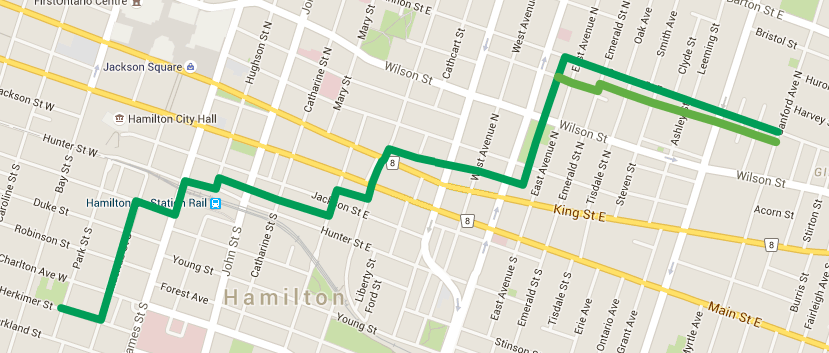 Bike commute route (Image Credit: Google Maps)
My Route
From Durand Park, we will ride eastbound on Herkimer to McNab Street. Then we turn left onto McNab and ride north four blocks to Bold Street. Next we turn right onto Bold Street and one block later turn left onto James Street. Then (Scary! Scary!) we ride under the James Street underpass under the railway tracks, taking the lane on James Street with heavy motor vehicle traffic. This is NOT a pleasant experience.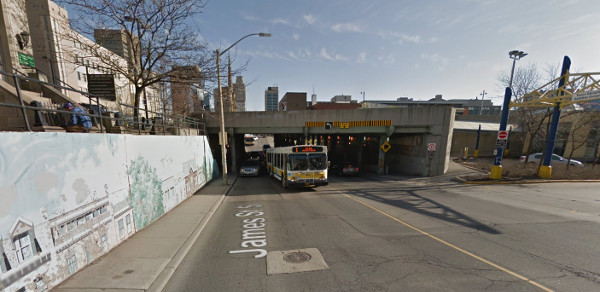 James Street railway underpass - Scary! (Image Credit: Google Street View)
Many people ride on the sidewalk under the James Street underpass, but I do not. There is heavy pedestrian traffic on this narrow sidewalk, and I am one of the 1% who is willing to take the lane in order to exercise lane control on roads with motor vehicle traffic. So I do.
From James, we turn right into the GO station property at Hunter Street. As we see in the photograph, the sidewalk goes off to the left next to the street and a multi-use path goes to the right at the base of the elevated rail lines. We will take the multi-use path to the right, and then turn left onto Hughson Street.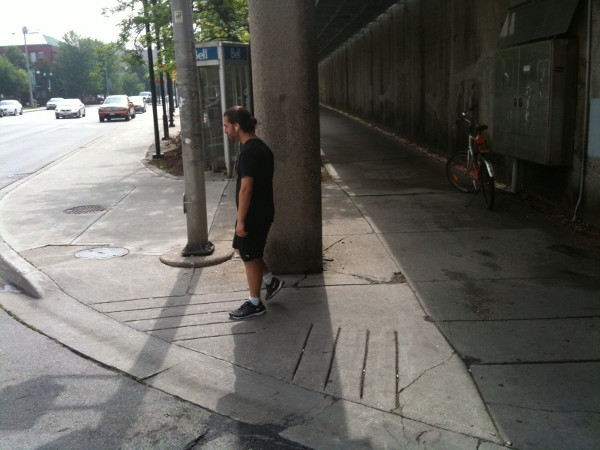 Hamilton GO Station. Sidewalk on left, multi-use path on right.
After the first building on Hughson, we turn right into the alley. Please note from the photograph the absolute lack of wayfinding.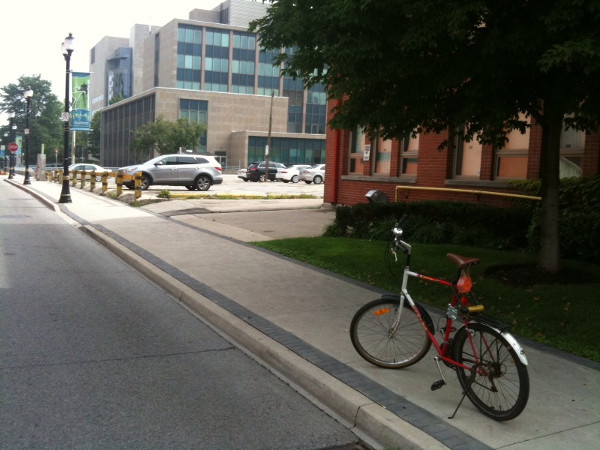 Entrance to three block long alley. Wayfinding non-existent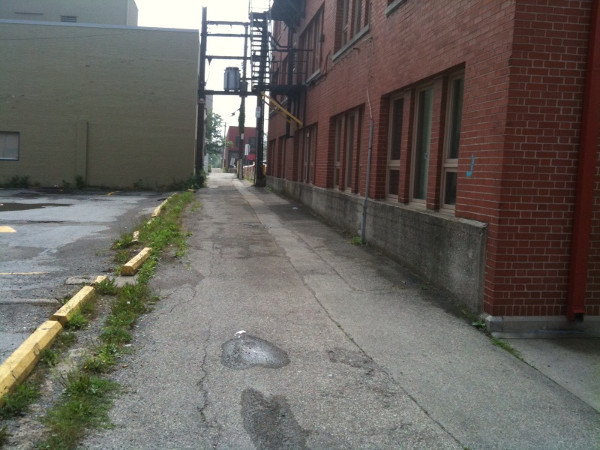 Alley entrance at Hughson.
This alley continues for three blocks. It crosses John Street, then crosses Catherine and ends at Walnut Street. As shown in the photograph, the last block between Catherine and Walnut streets is unpaved and overgrown.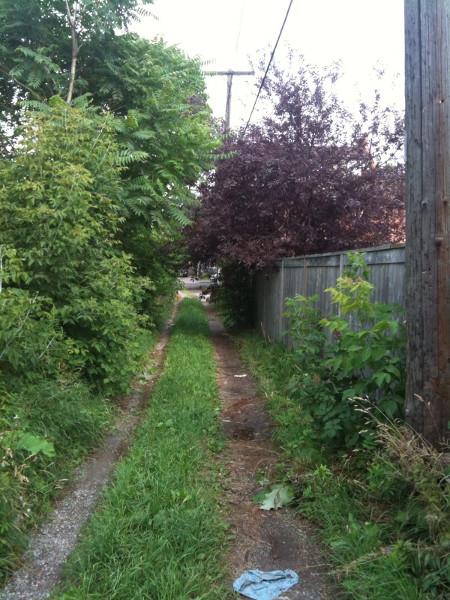 Last block between Catherine and Walnut. Alley is unpaved and overgrown.
From this unpaved alley, we turn left onto Walnut Street. Riding northbound along Walnut, we will cross Jackson Street and immediately turn right into the alley.
Although the alley continues to the east, we will turn left after one block, onto Ferguson. Then we ride north on Ferguson and its car-free extension across Main and King streets. This is a very pleasant part of the route.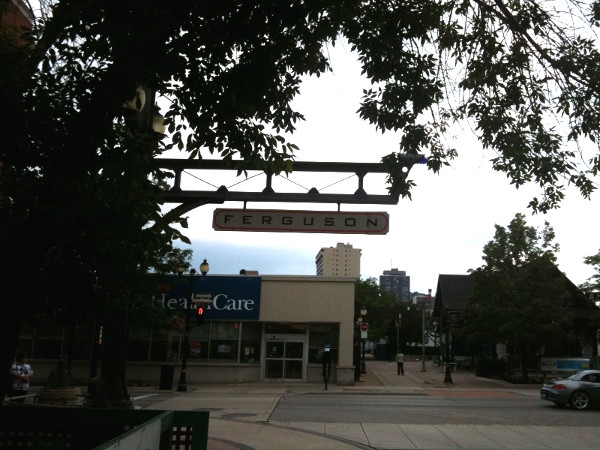 Car-free extension of Ferguson Street. Very nice!
Immediately after King Street, we will turn right after the first building and go into the alley. At this location, we encounter our one-and-only piece of bicycle-specific infrastructure for an alley. As shown in the photograph, this is the sign regulating traffic exiting the alley onto Ferguson.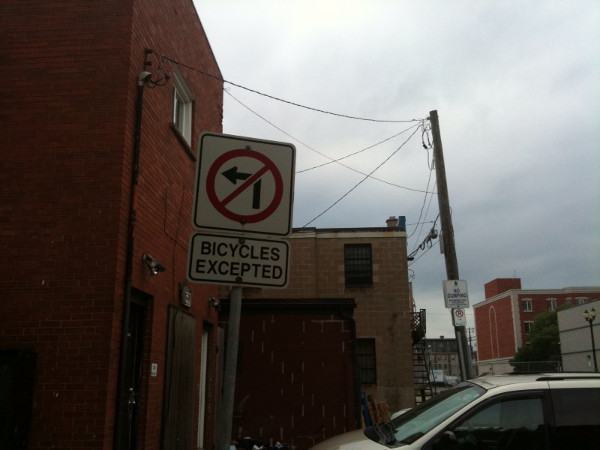 Exit westbound from alley onto Ferguson.
We now use this alley to ride east four and a half blocks. We pass Jarvis Street, cross Wellington Street, West Avenue and Victoria Avenue.
Then comes something interesting. Half way between Victoria and East Avenue we turn left at an alley/alley intersection! We are now headed north on one of the longest alleys in Hamilton.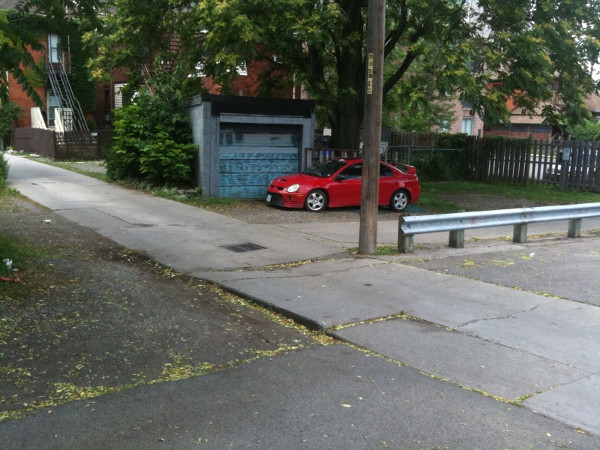 Alley/alley intersection
Riding in this alley, we cross King William Street, ride through Jack C. Beemer Park (very nice!), cross Evans Street and finally arrive at the Cannon Street bike lane which will take us to East Hamilton. Taa-daa!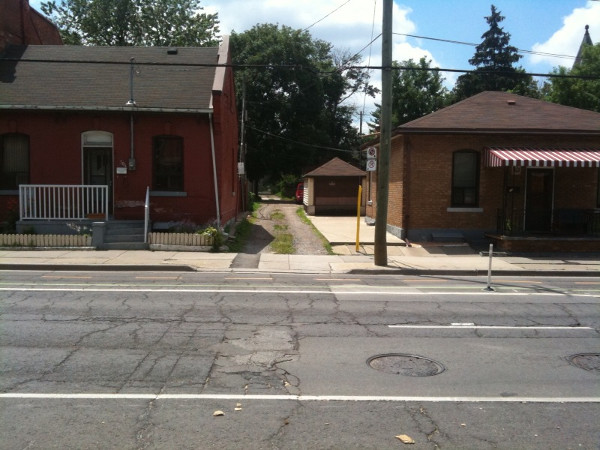 Our destination - Cannon Street cycle track
By the way, the alley we were in continues all the way north to the railway tracks at Birge Street. Turn right at Birge and we are only one block away from the pedestrian bridge over the tracks.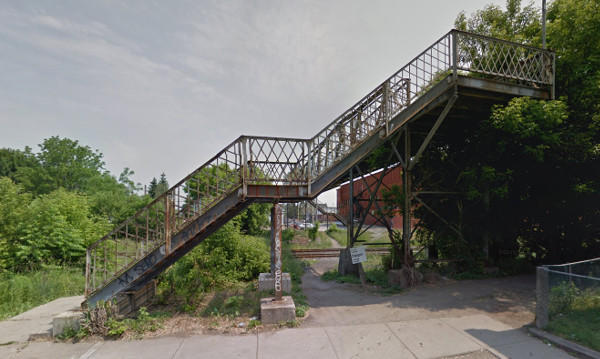 Pedestrian only bridge. No cycle infrastructure, so a desire line has formed across the tracks. (Image Credit: Google Street View)
Alternate Route
Just before we get to the Cannon Street bike lane, an alternative is the route that I used to take before the Cannon Street bike lane was installed. What I did was turn right one block before Cannon and ride eastbound on Evans Street.
As we see on Google Maps, Evans is really an upgraded alley that got a street name.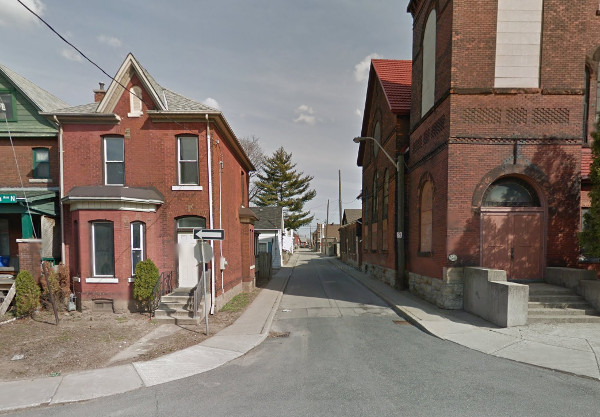 Evans at Victoria (Image Credit: Google Street View)
At Emerald Street, Evans takes a slight jog left and becomes a true alley. This alley then continues for another seven blocks to Sanford Avenue.
I will still sometimes take this alternate route, since this can be a pleasant low-stress alternative that bypasses the traffic lights at Wentworth and Sanford.
What is truly fascinating about taking this alternate route is that as we are riding east we see north-south intersecting alleys at the middle of most blocks. This forms a true alley transportation network for this part of Hamilton.
That's my commuting route to get to work. Bizarre, isn't it?
Reflections on Alleys in Hamilton
Although extremely insane by any rational route planning exercise, this route does have three advantages. Firstly, the alleys are a good example of the Dutch term "autoluwe." I'll follow David Hembrow's example and translate this as nearly car free.
Hamilton alleys are nearly car-free because they are uncomfortable and slow for a car driver to use. Two oncoming cars cannot pass each other. There is always a parallel road for car drivers that is much faster and more convenient for that car driver.
As a result, the number of motor vehicles in motion that I encounter in the alleys is usually zero. A second advantage is that the alleys are mid-block, and therefore entirely bypass traffic lights. Also, mid-block crossings are inherently safer since there are no turning motor vehicle movements such as are found at motor vehicle intersections.
Thirdly, the quality of paving in most of the alleys is excellent. It looks like the City did an alley paving project about 30 years ago. Most of the alleys have high-quality concrete paving that looks to be about that old. Due to the low volume of motor vehicle traffic, this concrete has aged well.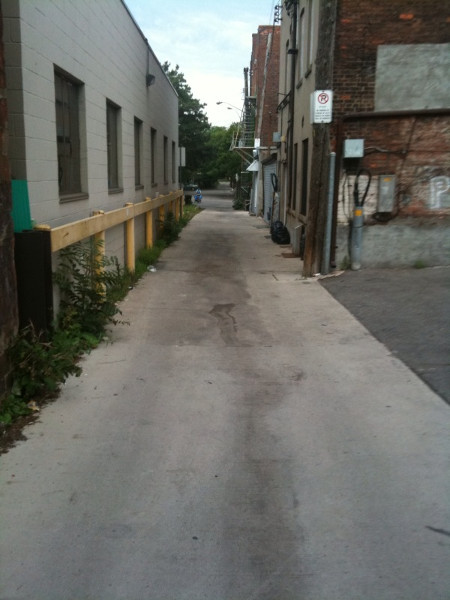 High quality concrete paving
Unfortunately, about 10-15 percent of the alleys have very poor surfaces or are entirely unpaved. A transportation route is only as good as its weakest link.
The disadvantages to using the alleys for transportation are numerous. But here goes.
No wayfinding. These alleys don't even have names. They are not on Google maps and not on Hamilton's bike map. The only map that I know of that shows the alleys is the SoBi map.. Unless one has detailed local knowledge and does thorough reconnaissance there is no way of knowing about these routes.

Crappy road surfaces. 10-15% of the alleys have potholes, cracks and other road surface issues or else are entirely unpaved. Any particular alley can be inconsistent, going from excellent one block to poor the next.

No lighting. I don't use this route when commuting during the winter when I would have to travel in the dark. But I would not use this route in the winter anyway because of...

Poor clearance of snow and ice in winter.

Unpleasant ambiance. For many people, particularly women and children, this could cause an issue with social safety.

Must yield right of way at all intersections.

No coherent network. Note all the twisting and turning for my commute route. Combined with the lack of wayfinding, this route is a maze and essentially impossible to use except as a commuter route for someone who uses it frequently.
How to fix this situation
For a car driver, the route to Cannon Street from Durand Park is easy and can be described in one 11-word sentence: "Take Herkimer to James Street, turn left and drive to Cannon." Also, no part of the car route is unpaved. Cycling should be the same.
Many articles have been written about the car parking protected bike lanes that the Durand Neighbourhood Association has recommended.
As per usual, the City is dragging its feet when it comes to vital safety improvements requested by the community.
For James Street, thanks to the "interesting" way that James was reverted back to two-way traffic, much of James has two lanes southbound and only one lane northbound.
Does this mean that northbound traffic is a perpetual traffic jam? No.
So there is plenty of room to reallocate road space. Jodenbreestraat in Amsterdam is an example of a street with a road allowance of similar width to James.
This same street treatment can be done to James Street to create a north-south transportation route that transforms the daily commute of myself (and many, many other people!) from a dysfunctional maze to sensible transportation.
Post a Comment
You must be logged in to comment.