Provincial Funding to Expand Toronto Bike Share, Boost Cycling in Other Municipalities
Hamilton has an opportunity to apply for funding through the Ontario Municipal Cycling Infrastructure Program.
By Ryan McGreal
Published July 08, 2015
this article has been updated
The Ontario Government has announced $4.9 million in funding to expand Toronto's bike share system as part of a commitment to funding for cycling infrastructure.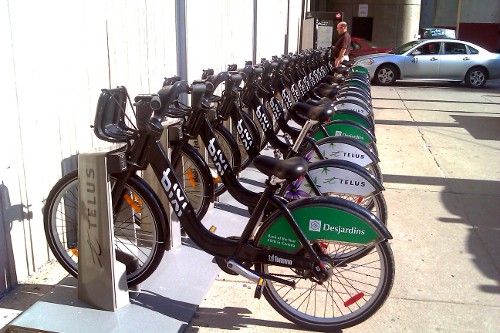 Toronto Bike Share station (RTH file photo)
The network opened in 2011 with 800 bikes and 80 stations throughout the downtown and has around 4,000 active users. With the new Provincial funding, Toronto Bike Share will be able to double the number of bikes and stations and expand the territory it covers, including increasing connectivity with local and regional transit.
Toronto Bike Share uses the Bixi system developed in Montreal, in which the technology to oversee rentals and bike availability resides in the stations.
The Montreal-based Public Bike Share Corporation (PBSC) which created the Bixi technology declared bankruptcy last year after two years of struggles and delays to update the software that runs the system, a lawsuit by the software company that had created the original software, and resulting cash flow problems.
Toronto Bike Share uses the technology developed by PBSC but is now operated by Motivate, which also operates bike share systems in Washington, Boston, Chicago, New York City, San Francisco, Seattle and other cities.
Funding Opportunity to Expand Hamilton Bike Share
Here at home, Hamilton Bike Share just launched this past spring with a bike share system using next-generation technology from Social Bicycles (Sobi).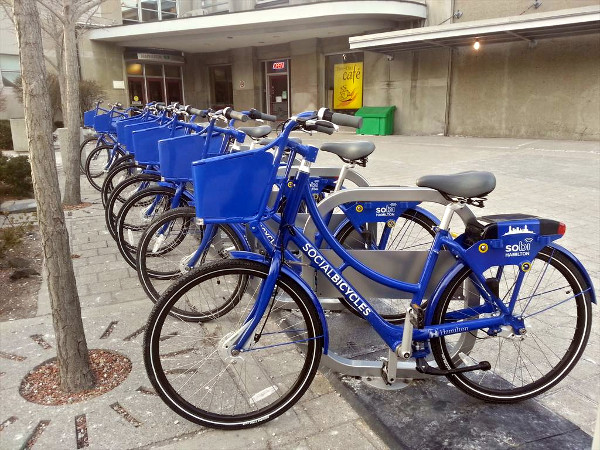 Hamilton Bike Share station at Hunter GO Station (RTH file photo)
Unlike the Bixi system, Sobi uses inexpensive "dumb" hub stations and loads all the technology on the bikes themselves via onboard computers that include wireless network connections and GPS.
As a result, the capital costs are much lower and the operator can administer the system more proactively, following the movement of the bikes through the network in real time.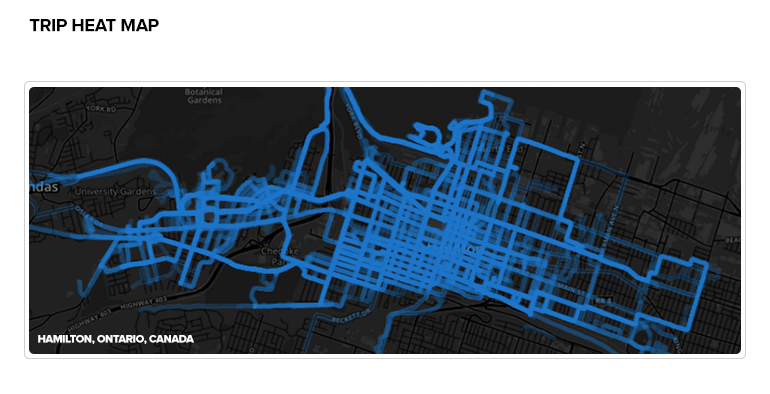 Heat map of Hamilton Bike Share trip from the launch to July 2, 2015
Hamilton's system was funded with $1.6 million in Metrolinx "Quick Wins" capital, which was enough to fund a network of 750 bikes and 110 stations. It is operated by Hamilton Bike Share Incorporated (HBSI), a local not-for-profit corporation in a very lean operation with one service truck (borrowed from Hamilton Community Car Share) and a handful of staff.
The entire cost to build and operate the bike share is equivalent to the cost to build and operate one city bus.
The system is only a few months old and already has more than 5,000 riders with annual, monthly or pay-as-you-go memberships, who have taken almost 60,000 total trips and ridden over 120,000 total kilometres. This has exceeded even the optimistic projections of project supporters, not to mention the many doubters and squelchers who insisted that bike share would never work in Hamilton.
But the system only covers an area of 45 square kilometres, spanning from part of Dundas through Wards 1 and 2 and part of Ward 3, as well as a few stations on the mountain near Concession Street. Because of the flexibility of the Sobi technology, it will be easy to expand the system, especially farther into ward 3 where the density of stations is lower.
As the service grows steadily toward operational sustainability, the biggest challenge will be finding the capital to buy more bikes and stations.
Provincial Funding
Fortunately, the Province has committed to providing funding for cycling infrastructure. As local MPP Ted McMeekin, Minister for Municipal Affairs, put it at the Hamilton Bike Share launch, this government has an "activist agenda" to promote more healthy active transportation in Ontario.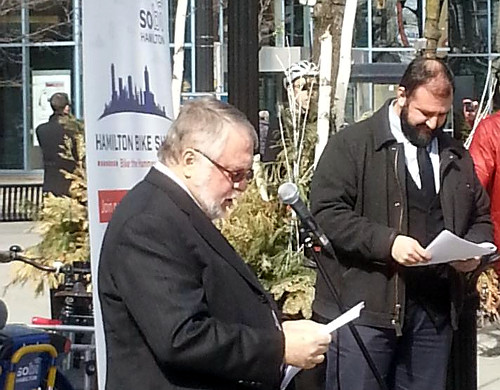 Minister Ted McMeekin, left, at Hamilton Bike Share launch with City of Hamilton transportation manager Peter Topalovic (RTH file photo)
On July 3, 2015, the Province announced that municipalities can apply to the Ontario Municipal Cycling Infrastructure Program, a three-year, $10 million commitment to cycling infrastructure.
According to Patrick Searle, spokesperson for Ontario Transport Minister Steven Del Duca, Hamilton is welcome to apply for funding through this program.
RTH contacted Peter Topalovic, the City of Hamilton transportation manager who spearheaded the Hamilton Bike Share project, to ask if the City is considering applying for funding through this program.
Topalovic replied, "It seems from the release that Hamilton is a potential recipient for regional funding and we are well poised to expand our system, should the province decide to provide additional capital dollars. I do not yet know what the application procedure will entail, but I will be following up with Metrolinx staff."
Excellent Opportunity
This is an excellent opportunity for Hamilton to build on success and expand the benefits of its bike share program to a broader area.
For members, Hamilton Bike Share is a very cost-effective and inclusive way to get around the city. A pay-as-you-go membership costs $5 an hour, pro-rated to the minute. A monthly membership (good for 60 minutes a day) costs $15, and an annual membership (good for 60 minutes a day) costs $85.
In addition, a $25,000 donation from Union Gas established the Everyone Rides program to provide free annual memberships to Hamiltonians who live below the poverty line.
The operator was not able to provide detailed demographic data about its members, but it noted in response to an RTH query that the gender breakdown of its members is very equitable, with a 53 percent male, 47 percent female distribution.
Generally, low rates of cycling are associated with high rates of gender imbalance, so the high percentage of female bike share members is a very encouraging sign about the system's accessibility.
Hamilton Bike Share still has many challenges to overcome, including growing both its membership and advertising/sponsorship revenues. But as Nicholas Kevlahan argued earlier this week, they have defied the skeptics and are off to a very strong start.
More bikes and stations will mean higher gross operating costs, so the system will have to grow in such a way as to increase the revenue to match its operating costs.
It may not quite be time to expand the system while it is still getting established, but it is certainly time to start thinking and planning how the system will grow as it becomes a more important part of Hamilton's transportation mix.
---
Update: Alas, it looks as though this fund can't be used for bike share systems.
Post a Comment
You must be logged in to comment.