Toronto's Queen's Quay Finally Arrives
There is now something for everybody: smooth streetcars, lots of pedestrian space, room for cycling, jogging and skateboarding, and space for cars to cruise - albeit more slowly.
By Ben Bull
Published June 23, 2015
It's arrived! Toronto's waterfront finally got a complete street this weekend when the extension to the Martin Goodman trail was opened to the public. The makeover extends from the foot of Yonge Street (the ghost of Captain John's - Woo!) all the way to Bathurst.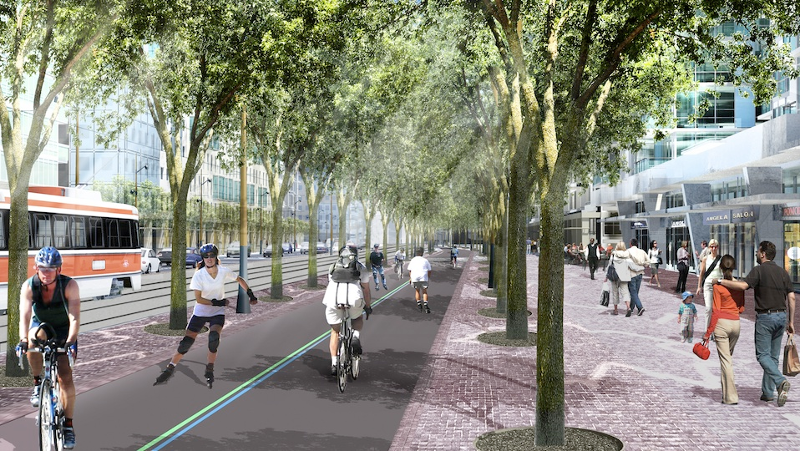 Toronto's new Queens Quay
I wheeled my bike down there last night and was very pleased with what I saw. Among the key features of the upgrade:
Cars get one lane each way instead of the two. Hey Presto! More room for everybody!

The Multi-use trail now links the Cherry Beach section to Exhibition (no more sidewalk hopping)

There are lots and lots of trees, 74, 156 of them according to The Star

Fancy schmancy pavements. Like your posh neighbour's new driveway, the one he keeps hosing down for no apparent reason. According to the Globe and Mail, the paving stones are "Royal Canadian Red, San Sebastian, Caledonian granite, all quarried in Quebec." Ooh. Well, they look nice.)
I had a couple of minor quibbles during my brief tour last night. The grass strips promised during the trial run nine years ago never materialized and the bike trail isn't separated from the sidewalk.
But overall, the experience was highly pleasant and to me it felt like this is the way all streets should be.
There is something for everybody on Queens Quay now. Streetcars have a smooth, cushioned ride (literally: they put the tracks on rubber mounts). Pedestrians have space - lots of it - and skateboarders, joggers and bikes get to share the multi-use trail (what could possibly go wrong?).
Cars can still cruise along, of course, they just have to take it a little slower this time.
Post a Comment
You must be logged in to comment.