Market Fresh: Good Things Taking Root in a Food Desert
The Code Red area in which Market Fresh is located is littered with fast food, junk food, and convenience food, but the neighbourhood was dying for raw fruits and vegetables.
By Kevin Somers
Published June 23, 2015
May was good. The big one got accepted to Western University, where she'll study engineering. I don't know where she gets it, I couldn't operate a toy train.
As always, the fifth month brought blooms, blossoms, buds, Budweisers, Bud Lights, buddies, bugs, bees, and birds to the beautiful garden.
I saw great readings and performances from local writers, Collin Glavic, Jessica Anderson, and Anna Chatterton, in May, which were inspiring and invigorating.
"Cinco de Mayo" means tequila shots.
In May, Hamilton was promised a billion dollars for LRT. I like trains and was cautiously thrilled by the announcement, the first step in a long journey.
Besides having to put a train through a city without overly inconveniencing citizens, LRT proponents, like myself, must try to ensure the project goes ahead with as little acrimony as possible. Nothing is free and everyone is paying for the train. There are many opposed to LRT, family and friends amongst them, and winning their hearts, minds, and wallets won't be easy.
I hope everyone gets behind the train, rather than in front of it.
No one can see the future, so only time will tell, but I believe LRT will be fantastic. (Perhaps, my daughter can get a job driving it, someday.) I wrote a Fifty to commemorate the announcement.
The Train Is Coming
I've seen the future and it's plain:
A nice, light train
Running right down Main
Will be, indeed, a capital gain
I maintain
Even drivers won't feel pain
Losing a lane
From every arterial vein
So, please refrain
And don't complain about the campaign
Get onboard and enjoy free champagne
Another great thing about May was discovering Market Fresh Produce at 707 Barton Street East. Market Fresh is a fruit and vegetable store in Hamilton's poorest neighbourhood with a pay-it-forward concept. This is a project everyone can get behind: it's already going, there's no burden to the taxpayer, and it has unlimited potential to do good.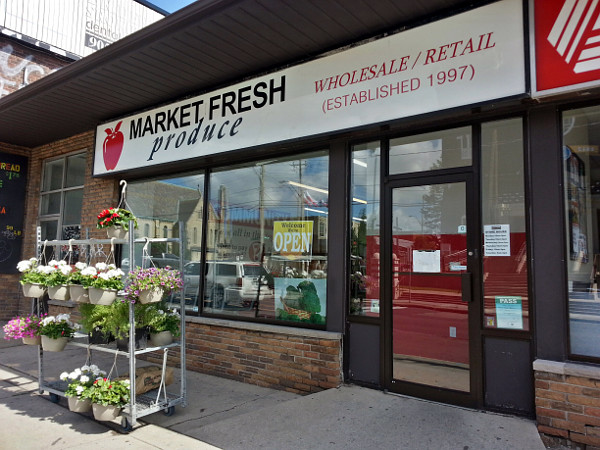 Market Fresh Produce (RTH file photo)
The Code Red area in which Market Fresh is located is littered with fast food, junk food, and convenience food, but the neighbourhood was dying for raw fruits and vegetables.
Nicknamed "the food desert," surveys showed, overwhelmingly, the locals wanted easier access to fresh produce. So, in the heart of the desert, up sprung Market Fresh, a thousand square feet of good produce.
It's not a discount store, Market Fresh sells fresh, high quality food at fair prices. Modesty keeps costs down: the stark, beautifully simple shop makes a No Frills franchise look full glitz.
It has a beautifully simplistic pay-it-forward option, as well. Shoppers who have a little extra can purchase tags, which others are able use as cash to buy quality produce. Simple. Beautiful.
One day in May, I stopped and shopped at Market Fresh and had the pleasure of a long chat with Jim Beattie, who explained the store, the people behind it, and their hopes for the future. (Apologies to Jim; I was hoping this piece would be done by now.)
Jim started working in produce decades ago, under the tutelage of George Love, founder of The Barn. Jim spoke very highly of Mr. Love. "He was a great mentor. I would have worked for him until I retired, but the company was sold.
"He taught me about produce, but also how to conduct business with ethics and honour: pay suppliers on time, treat everybody well, be honest and fair..."
Market Fresh was founded in 1997 and is a wholesale supplier of fruits and vegetables to caterers, restaurants, and organizations, like The Good Box, Tastebuds, which brings fresh fruit and vegetables to schools, Wesley Urban Ministry's day care, and others.
Through the business, the Market Fresh team became aware and enthusiastic about charitable opportunities and developed a passion to help.
A lifelong Hamiltonian in the food industry, Jim has seen success and failure, large and small. He spoke about Hamilton's potential and the James North renaissance. "There's not a huge silver bullet to fix neighbourhoods. It takes a lot people doing their thing; guys like Graham Crawford and Dave Kuruc [two James Street entrepreneurs]."
Indeed, along with the conversion to two-way traffic, small retail brought life to the, recently moribund, now thriving neighbourhood.
"We know produce," Jim said of the Market Fresh crew. "We're passionate about it. We wanted to use the business to do good, so we started thinking."
The results, I think, are wonderful. The business model, like the store, is perfectly uncomplicated. A wholesale business, Market Fresh needs warehousing, so they use some of the space benevolently. As well as their regular duties, the Market Fresh team has taken on running the retail aspect.
Their goal is for the store to sustain itself and employ locals.
Jim said the idea for a pay-it-forward outlet came from a client, 541 Barton, which is fantastic restaurant just down the street. (After the chat with Jim, I treated myself to a five-star breakfast at 541.)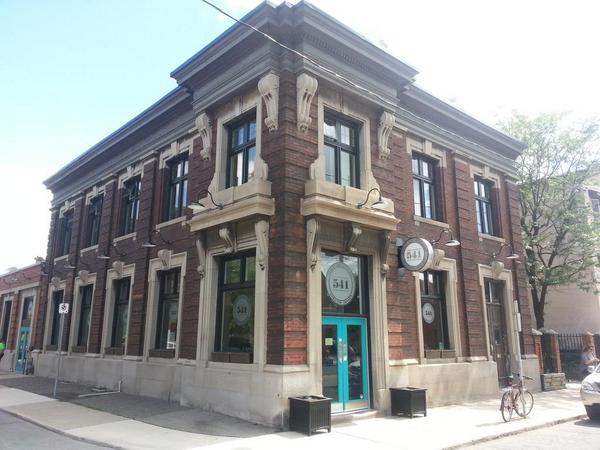 541 Barton (RTH file photo)
"This is an experimental model," Jim said of the Market Fresh outlet. "The neighbourhood has to support it. If this is viable, we'd like to have little pocket stores around Hamilton. Every area should have a 'James North' revival. We're trying to do our part."
Doubtlessly.
"When we first got this idea, I took out a map and asked, 'Where do we need this the most?'" Et voila, here it is, Hamilton: Market Fresh is at 707 Barton St East, up from the stadium, down from the steel mills, across from the church.
Post a Comment
You must be logged in to comment.