Intensification Panel Discussion Video
Watch the panel discussion on intensification with professor Jim Dunn, planner Dana Anderson, developer Steve Kulakowsky and Planning and Economic Development general manager Jason Thorne.
By RTH Staff
Published June 19, 2015
Thanks to Joey Coleman of The Public Record, you can watch a video recording of this week's Neighbourhoods Working Together panel discussion on intensification.
The event was organized through a partnership between several neighbourhood associations and the Useful Knowledge Society of Hamilton and featured a panel discussion with: Jim Dunn, Health and Aging Professor, McMaster University; Dana Anderson, partner, MHBC Planning; Steve Kulakowsky, partner, Core Urban Inc; and Jason Thorne, General Manager of Planning and Economic Development, City of Hamilton.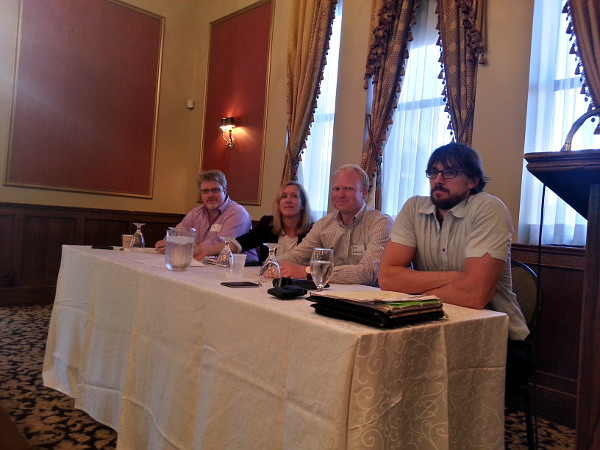 Jim Dunn, Dana Anderson, Steve Kulakowsky and Jason Thorne
The introduction was by community organizer Mike Borrelli. The discussion was moderated by RTH editor Ryan McGreal, and the concluding statements were made by UKS organizer Maureen Wilson.
Post a Comment
You must be logged in to comment.