From Bombed Out to Booming
If all of these projects are built and built properly, we will see our downtown become the people place it was originally meant to be.
By Jason Leach
Published March 01, 2006
Hamilton's Downtown Renewal Department announced 14 new projects in our city centre last week, much to the delight of everyone here at Raise the Hammer.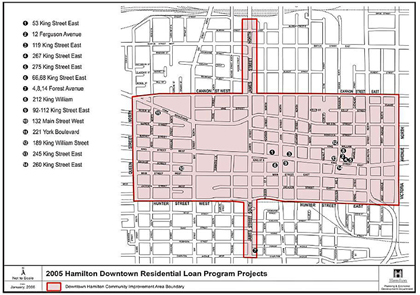 2005 Downtown Residential Loan Program Projects (click on the image to see a larger map in a new window)
From the humble beginnings of our online news site we have stated firmly and proudly that we believe in Hamilton and in the future of the downtown.
Cities all over the world have one thing in common: those with healthy downtowns are great. Those with neglected and weak downtowns tend to carry that same vibe and persona through the rest of the city.
Hamilton's future does not lie in paving over farmland on the outskirts of town. Our future starts at King and James and spreads out from there. Only with a healthy heart can the rest of the body function efficiently and properly.
There are a few points I want to highlight that I believe show the enormous significance of these proposals:
Gore Park and King East as the big winners
New towers being constructed from scratch
The abundance of 'mixed-use' elements – street retail with upper floor residential
The first time Hamilton had a batch of construction downtown thanks to the residential loan program, we saw much of the construction along the edges of downtown.
Among this current slew of projects, 12 of the 14 are along King Street or King William between James and Wellington. Heck, seven of them are in the immediate area of Ferguson Ave between King and King William.
Depending on what type of streetfront retail is developed along Ferguson and King William, this area could become Hamilton's new urban hotspot. Home to the Mustard Festival and a wonderful collection of shops, restaurants and historic sights, it appears as though the 'Aquarius District' as it has been dubbed by some is finally ready to take off.
You can read the city report (PDF) with all the details on each project.
In Gore Park, four projects are going to make a radical difference to the appearance and feel of our town square.
The most exciting by far, is the long-awaited redevelopment of the Victoria Hall and Foster-MacKay buildings on the south leg of the Gore.
These buildings are brilliant and Victoria Hall is a national historic site with its metal façade. With lofts and live/work units, this building will be a fast seller and a huge success.
Streetfront retail is also included, which will help to animate the Gore. We hope an eatery or two with patios will open in this space.
Across the street, 24 apartments are going into the empty upper three floors of the building that houses the Salvation Army store. Again, a prominent location in the heart of Hamilton will make a huge impact once redeveloped and occupied.
At 119 King East, four units will come into the upper three floors of this building. Some work has already begun and, with the massive windows overlooking King, I suspect these will be sharp units in a very cool, slender building. Again, mixed-use with streetfront retail.
Not to get lost in the mix is the very important project announced by Hamilton Housing a couple of months ago of a new five storey apartment building geared to Mac students to be built just east of John on the north side of King.
Things are definitely looking up in the Gore and along King East.
Of course, the biggest project taking place in the Gore is the redevelopment of the Royal Connaught. This grand old building will surely become a huge hit in the condo market with some very trendy designs being planned. Councillor Bob Bratina saw some drawings recently and told me that they blew him away.
Down at Ferguson Ave., a grand total of 336 units are being built. The city did a wonderful job bringing Ferguson to life with cobblestone, public art, trees and benches. Now there will be hundreds of new residents to call this neighbourhood home.
Mary Pocius and her board at the International Village BIA are some of the hardest working folks in our city. They deserve this building boom coming to their neighbourhood more than most.
The two big projects here are the old Spallacci building and a brand new, mixed-use project at the southeast corner of King William and Ferguson. This new building will have 20,000 sq. ft. of retail space at the street level with four floors of parking and then almost 200 condos above that.
I can't wait to see how this project shapes up. I'm sure places like Theatre Aquarius, the Junction Café and Black Forest Inn are salivating with anticipation.
As for the Spallacci Block, the neighbourhood is planning a demolition party with wine and cheese as soon as this baby starts coming down. This once proud building has become a physical blight on the landscape and has added thousands of dollars in extra insurance costs for surrounding buildings.
The new building design does a good job at honouring its past and will provide a visual reminder to all that downtown Hamilton is on the way up.
On the west side of the downtown core we see two brand new buildings planned. Again, this is a huge sign that we've turned a corner, and that we are running out of empty buildings to renovate.
Assuming the Lister project goes ahead, we will only have a few stragglers like Treble Hall and a couple of neighbouring buildings on John Street in need of full-scale renovation. I would suspect that we'll see some action there and on James North in the roughed-up block between Vine and Cannon in the near future.
The new 14 storey condo planned for York and Hess is remarkably timely. I've been working on a plan for York Blvd. that would see the 3rd lane (curb lane) replaced with a bike lane and street parking along the entire length of the street.
All the city-owned properties along York should be marketed and planned as mixed-use in the general height range of three to six stories except in the area from Queen to Bay where heights can gradually increase from 6-15 floors quite easily.
This project at Hess could be a catalyst to start transforming Hamilton's main downtown entrance into the vibrant, mixed-use neighbourhood it deserves to be instead of an extension of the 403.
Finally, over at the old HMP site, a new ten storey hotel will rise, another long-stay hotel similar to the new Staybridges Suites on Market St. This one will carry the Hilton banner and word is that this project will somehow tie into the loft project already announced for the old federal building next door.
I don't have details on that, but if could humbly make one suggestion it would be this: Give us patio space along Bay and George. Both streets are prime for outdoor dining, especially with the new sprucing up on Bay.
All in all, this has been quite a week for downtown Hamilton. If all of these projects are built and built properly, we will see our downtown become the people place it was originally meant to be.
Work is progressing behind the scenes on plans to move the busses off of Gore Park which would become a vibrant pedestrian piazza for the thousands of downtown residents who are just itching to get out and enjoy city life once again.
Kudos must go to City Council and the folks at the Downtown Renewal Department for initiating this program and promoting our downtown core after many years of neglect.
There isn't a city on earth that would balk at a program that sees 14 million dollars loaned out (all to be paid back in 10 years) and results in 117 million dollars worth of construction in the downtown core.
That is a brilliant return and in fact is a money-maker for City Hall as the property values will skyrocket along with the annual taxes paid to the city. No matter how you slice it, this is a win-win situation!
Post a Comment
You must be logged in to comment.