New Downtown Parking Lot is Illegal, Owner Issued Order to Comply
A new parking lot just north of the Pigott building seems to violate the bylaw against operating a parking lot on a building demolished after 1999.
By Ryan McGreal
Published May 04, 2015
this article has been updated
During my Jane's Walk guided walking tour along James Street South yesterday, I noticed cars parked on the vacant lot at 28-32 James Street South, on the west side of the street just north of the Pigott Building.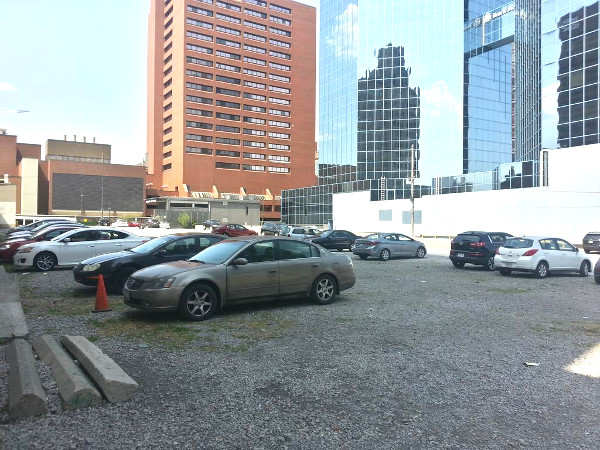 Cars parked at 28-32 James Street South
This caught my attention because one of the themes I was discussing during the tour was the changing face of downtown. In 1999, City Council passed a bylaw making it illegal to demolish a downtown building and turn the site into a surface parking lot.
The site immediately to the north at 18-24 James Street South (formerly Robinson's Department Store) was demolished before the bylaw and has since existed as a parking lot.
However, the site at 28-32 James Street South, formerly a Royal Bank, was demolished after the bylaw and has since sat empty - until now.
Ward 2 Councillor Jason Farr has been made aware of the situation and acknowledged on Twitter that it should not be a parking lot.
Similarly, Bylaw Enforcement confirmed via email that it would investigate the issue.
Al Fletcher, the City's Manager of Licencing Inspections and Enforcement, sent RTH the following email after the City investigated:
Officer attended 28-32 James Street South on Tuesday and issued operator given Notice of Non-Compliance with Zoning By-law during the visit. Operator has until May 8, 2015 midnight to comply.
According to Councillor Farr, Yale Properties owns the lot.
Through its wholly-owned joint-venture companies Real Properties Ltd, Yale Properties owns several properties on Lloyd D. Jackson Square, including: 1 James Street North, which will soon house the McMaster Continuing Education Centre; 100 King Street West, the former Stelco tower; 110 King Street West, the Robert Thomson building; 120 King Street West, the Standard Life building; and the Jackson Square indoor shopping mall.
Council originally passed the bylaw in 1999 after the the unfortunately-named Canada Permanent building was demolished on the east side of James South, across the street from the Pigott and immediately north of the Landed Bank building.
Update: updated to add response from Al Fletcher that the City investigated and issued an order to comply.
Post a Comment
You must be logged in to comment.