Hamilton Bike Share Review
The comfortable bikes and advanced electronics make it easy and convenient to use. Even although I have my own bicycle, I will continue to use SoBi so I can walk away from the bike worry-free.
By Kevin Love
Published March 24, 2015
On Saturday, March 21, I attended the Hamilton Bike Share Community Bike Ride. The premise was simple: Everyone shows up, takes a brand-new bike, and rides it to a bike share hub wherever they want in Hamilton. This enabled Hamilton Bike Share to distribute its new bikes throughout the service area.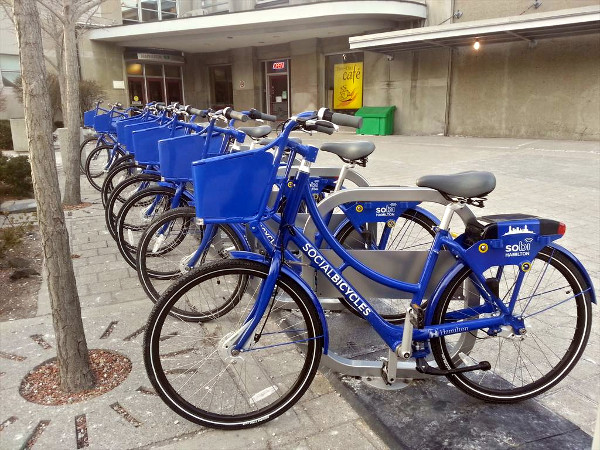 Hamilton Bike Share hub, Hunter GO Station (RTH file photo)
To get there, I rode my old CCM bike to the SoBi headquarters at the Seedworks offices on Catharine Street. There were about 50 people and 150 bikes, so there were enough bikes available for everyone.
First, it was photo time. A photographer made a video of everyone passing a bike around and then he used a flying drone to take a photo of us standing around spelling out "SoBi."
It was announced that for a limited time, the out-of-station fees would be waived for parking a SoBi bike somewhere else than at one of the SoBi stations. But it must still be in the overall Hamilton service area!
Then we took the bikes out. It was a great feeling riding along with lots of other people. It felt a lot less hostile and a lot more secure due to the safety in numbers effect. I was feeling that it would be great to bring Critical Mass back to Hamilton.
My ride ended at the Durand Park hub station. This is the station nearest to where I live. But there was a problem. My CCM bike was still at Seedworks.
So I hitched up my Pashley Roadster Sovereign bike to my Wike cargo trailer and went to Seedworks to get my CCM bike.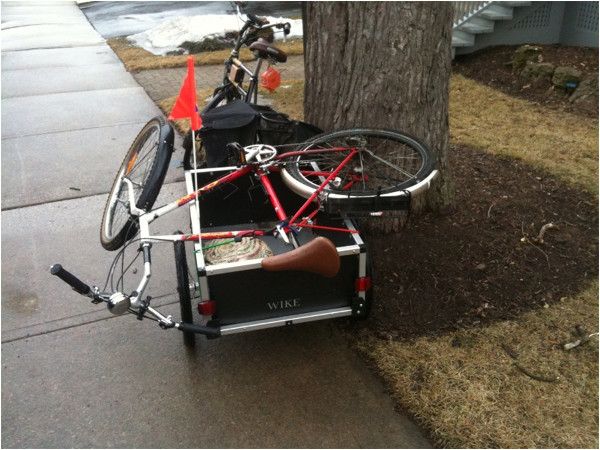 Bike carried on bike trailer
With several bungee cords to hold it on to the bike trailer, my CCM bike went home.
One SoBi bike successfully distributed.
My Impressions
Ryan has already published a review of the SoBi bike. Here are some additional observations of my own.
It fits!
I am a giant, standing a bit over two metres tall. And yet the SoBi bike fits me well. I am able to sit fully upright with my back straight in the best ergonomically correct posture. People who are quite short have also been able to use the bike.
This is a good design that accommodates a wide variety of people.
The Gears
The joke is that it has three gears, which are low, lower and lowest. This is a feature, not a bug. Bike share bikes must be usable by everyone, including the elderly and anyone else who is not the strongest of people.
The bike is not designed for speed. My typical use is to ride in third (top) gear on level ground and coast down hills.
The Basket
The basket is quite useful for a shopping bag, briefcase or purse. However, the steel grid in the bottom is quite wide, allowing smaller objects to fall through. Beware!
The Electronics
The older Bixi model as used in Toronto puts the electronic interface on a kiosk attached to a bike docking station. SoBi puts the electronic interface on the bike.
This prevents the phenomenon of "dock blocking." Dock blocking happens in Toronto when I go to return my Bixi bike but all the docks on the bike station are full.
With SoBi I can just lock it anywhere. If I let SoBi know that the station was full, they will not charge the usual out-of-station $3 fee.
Security
This is why I use SoBi. My workplace provides secure storage for my private bike. But if I am going anywhere that requires me to lock up my nice Pashley bike on the street I have just a little bit of worry.
Not with SoBi! With SoBi I can get anywhere in downtown Hamilton in less than ten minutes and walk away from it worry-free.
Overall evaluation
I like the SoBi system. The advanced electronics make it easy and convenient to use. Even although I have my own bicycle, I will continue to ride SoBi to downtown Hamilton destinations so I can walk away from the bike worry-free.
Post a Comment
You must be logged in to comment.