Council Needs a Transit Vision
My wish is for Council to come into 2015 ready to make decisions that will be talked and written about in 25 years as catalysts for tremendous growth and success.
By Jason Leach
Published December 19, 2014
This past Wednesday, Council decided to table two motions with respect to the contentious bus lane: Ward 5 Councillor Chad Collins' motion to stop enforcing the bus lane and remove the signage, and Mayor Fred Eisenberger's motion to ask staff to look into options to fix some of the lane's issues.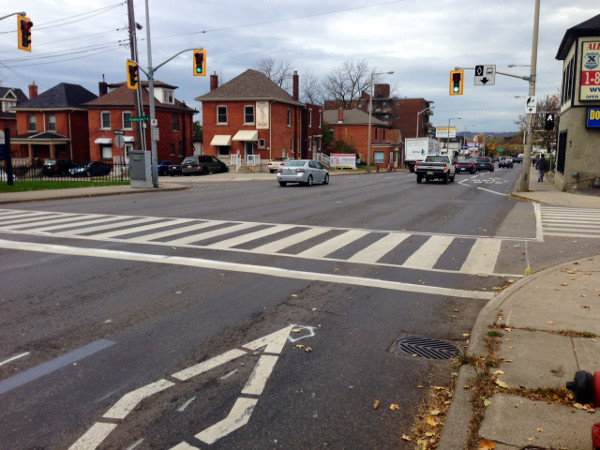 Bus lane on King West at Strathcona (RTH file photo)
No decision will be made on either motion until January, when the staff report on the bus lane will be complete. So at least Council is waiting to see the results of the pilot project before deciding whether to continue it.
It is imperative that Council keeps the big picture in mind when discussing transit. What kind of city are we planning for in 25 years? One that comes to a complete standstill if half of one highway is closed because people have no alternative to driving?
How will we add 100,000 new residents if nearly all of them rely on single-occupancy car trips to get around? Nobody will be able to move anywhere in this city.
Our transit ridership plummeted after the 1980s thanks to declining transit funding, and has stagnated for over a decade. Other, similarly-sized cities have much higher transit funding and much higher ridership.
Transit Spending by City

| City | Service Area Population | Square Kilometres | Gross Expenses | Active Fleet | Riders Per Capita | Service Hours Per Capita |
| --- | --- | --- | --- | --- | --- | --- |
| Winnipeg | 657,000 | 222 | $138M | 545 | 72 | 2.00 |
| Victoria | 360,000 | 614 | $92M | 280 | 69 | 2.21 |
| Quebec City | 563,000 | 548 | $181M | 597 | 79 | 2.02 |
| Hamilton | 480,000 | 235 | $72M | 217 | 45 | 1.43 |
Cities that invest in their transit system with bus lanes, transit signals, higher frequency, more shelters, rapid transit and so on see positive results.
Even Hamilton's under-funded, under-performing transit system was carrying 21 million passenger trips a year in 2008, or 70,000 passenger trips on an average weekday. Think of how many more car lanes we would need if all those transit riders had to drive instead.
Now think of what would happen if another 100,000 people move to Hamilton and they all have to drive?
Please read this insightful article about frigid, sprawled-out Calgary, a city that is often compared to cities in Texas.
Instead of making it easy to bomb through downtown in a car, Calgary has been committed to making its transit system faster, more convenient and more reliable:
Pro-transit policies have not produced a dramatic move of businesses away from Calgary's center city - the fear many politicians and business promoters point to when complaining about limitations on automobile access to downtown. In fact, Calgary's office market is doing quite well, with five office buildings over 500 feet completed downtown since 2010, compared to just one in Dallas, one in Houston, and none in Phoenix.

Calgary's downtown population has expanded rapidly to 16,000 people and now hosts 140,000 jobs and eight shopping centers. It should be noted that the Calgary municipal government has also played an important role in advocating for a compact city and directed local policies to support that goal.

In other words, restricting automobile use and encouraging transit ridership not only don't hurt business - they may be encouraging it.

...[W]hile Calgary may be an exception to the rule when compared to many major U.S. regions, its experience has been similar to several other Canadian regions that have prioritized transit use even as they have grown spectacularly.

Canadian cities from Calgary to Winnipeg, Ottawa, Vancouver, Montreal and Toronto each have significantly higher transit shares than you might imagine given their populations. Those cities each have also avoided the dominance of automobile use in their downtowns.
In other words, these cities have visions for their downtown core neighbourhoods that involve more than just serving as a high-speed car shortcut to somewhere else.
As a downtown resident, I am disheartened to hear talk from Hamilton civic leaders who see no value in our downtown other than as a highway.
King Street can flourish again, just like Locke Street, Ottawa Street and James Street. I believe we can see the same on Kenilworth, Parkdale and Concession as well.
Look at our suburban downtowns, which are thriving and healthy: none of them are highways. Do you think King Street in Dundas would be thriving if it was a four-lane one-way thoroughfare?

King Street West in Dundas (RTH file photo)
Main and King used to boom with business, finance and prosperity. My vision for Hamilton includes this scene being re-born. Does yours?
We should convert Wilson to a calm two-way street from Sherman to Bay, with one lane each way and parking on both sides. We should do the same with Wellington and Bay, and then drivers will have an easy option to and through downtown without needing to crowd King and Main.
We need dozens of kilometers of transit lanes and transit priority signals in our city if we hope to grow and prosper. It's sad that the article on Calgary mentions other mid-sized cities like Winnipeg and Ottawa, but Hamilton of course has no business being mentioned in such an article.
We are the outlier, the city still heading in the wrong direction decades after other cities figured things out.
My wish is for Council to come into 2015 ready to make decisions that will be talked and written about in 25 years as catalysts for tremendous growth and success. The status quo has not worked, and won't work in the future.
Post a Comment
You must be logged in to comment.