A 'No Broken Windows' Policy for Urban Revitalization
Raising minimum standards of external building quality in designated revitalization corridors will help to improve the appeal of the overall streetscape and reinforce the investments made by others.
By Chris Higgins
Published December 04, 2014
The 'Broken Windows Theory' comes from the work of Kelling and Wilson, two criminologists who in 1982 related incidences or the potential for crime to the quality of the built environment. They argued that:
Social psychologists and police officers tend to agree that if a window in a building is broken and is left unrepaired, all the rest of the windows will soon be broken. This is as true in nice neighborhoods as in run-down ones. Window-breaking does not necessarily occur on a large scale because some areas are inhabited by determined window-breakers whereas others are populated by window-lovers; rather, one unrepaired broken window is a signal that no one cares, and so breaking more windows costs nothing.
This theory has been adopted in many cities as a crime reduction strategy, most famously across New York City by Mayor Giuliani as part of the controversial 'stop-and-frisk' policy.
But while it is primarily focused on crime (several studies have shown that such policies have led to reductions in crime, while others are critical of these findings), the theory easily extends beyond preventing criminal activity to the notion of the overall quality of the built environment, our interactions with it, and neighbourhood investment and revitalization.
The basic idea is that one broken window leads to more broken windows, one graffito to more graffiti, and one piece of trash to a street littered with garbage. An unkempt street gives off negative perceptions.
On the other hand, an attractive street is one that tenants, homeowners and business owners can be proud of and can potentially foster greater economic growth and revitalization. Essentially, a street that looks cared for is cared for.
Inducements to Invest in Revitalization
To help ensure commercial properties have high-quality storefronts, the City of Hamilton has a façade improvement program for building owners within a Business Improvement Areas (BIA) that covers up to a maximum of $25,000 for renovations depending on the frontage of the building.
A further $10,000 is available for "Artfully designed façade improvements or art pieces placed on private property". Such programs are certainly important for inducing the type of high-visibility improvements that can improve not only a single property but overall perceptions of the street.
However, not all of the city's commercial corridors fall within a BIA, including much of James Street North for example, and even within a BIA there are many examples of building owners who show little interest in improving their properties.
Furthermore, the existing Property Standards By-law allows vacant buildings to have their windows and doors covered by plywood, though windows do have to be "painted matte black to resemble window glass" and doors have to match the building.
Larger Corridor Revitalization Program
In response, I am going to argue that the City should now embark on a larger corridor revitalization program, one in which a 'no broken windows' exterior improvements policy should be made mandatory within designated areas.
My focus for this article is James Street North, which has seen a great deal of reinvestment and revitalization over the previous decade. Still, there appear to be several examples that undermine overall area improvements made by others and persistently hold the street back from realizing its full potential.
To help make my case, we first turn to some theory (I am an academic after all!).
In economics, a first-mover advantage is one where the initial occupant in a segment of the economy sees an advantage by virtue of being first. The head-start against potential competitors can provide them more opportunities to control resources or gain customers and market share and earn large profits.
In contrast, a second-mover advantage is one where the large potential profits accrue to those who follow the lead of the first-mover and enter the market later.
This occurs when the first-mover faces high research and development, marketing, and education costs associated with bringing a new product to market. Rather than expend the capital do it themselves, the second-movers can simply 'piggyback' on these investments.
Gentrification Timeline
In many ways the economics of property development in an urban area that is undergoing gentrification through new reinvestment and revitalization such as James Street North are largely reflective of a second-mover advantage.
To see this at work, let's look at the timeline of gentrification according to David Ley, a noted gentrification scholar at the University of British Columbia:
Artists move to cheap and aesthetically-rich locations and produce cultural capital
Growth in peripheral occupations high in cultural capital occurs, such as new restaurants and bars
Growth in professionals with greater economic capital
Further growth in business people and capitalists
We can think of each of the four phases as loosely resembling the 'movers', with each building on the efforts of the last.
For property development, developers (and their lenders) are generally risk-averse, in that they will not risk entering a market and investing millions of dollars into a new project until demand is proven and potential profits exceed the cost of construction.
But as gentrification takes place, demand among individuals and businesses to locate in an area increases, which in turn drives up land values and makes projects more viable.
To put this in terms of the timeline of gentrification, phase one is largely concentrated on reinvestment in the existing housing stock.
In phase two, this can shift to redevelopment or small-scale new development where some developers with higher tolerances for risk will see the potential in a neighbourhood and hopefully see a small profit on their project.
Finally, phases three and four are marked by larger-scale redevelopment and new-build projects that become more profitable as demand and land values increase.
In this sense, the actions of early individuals make it more profitable for second- and third-movers down the line. Of course, first-movers who own property in the neighbourhood will also see an advantage through higher profits as the neighbourhood continues to evolve.
Extreme Second-Mover Advantage
But what I want to focus on is the most extreme case of a second-mover advantage in which individuals or businesses that do not directly participate in the gentrification process benefit from the investment of other individual's capital (whether it be the sweat-equity involved in fixing up a property or a new multi-million dollar condominium development) into a neighbourhood.
Take the example of James Street North. The street could be characterized as somewhere in the late second phase or early third phase of gentrification. A great deal of reinvestment in the existing building stock has occurred as evidenced in this row of buildings immediately north of Cannon: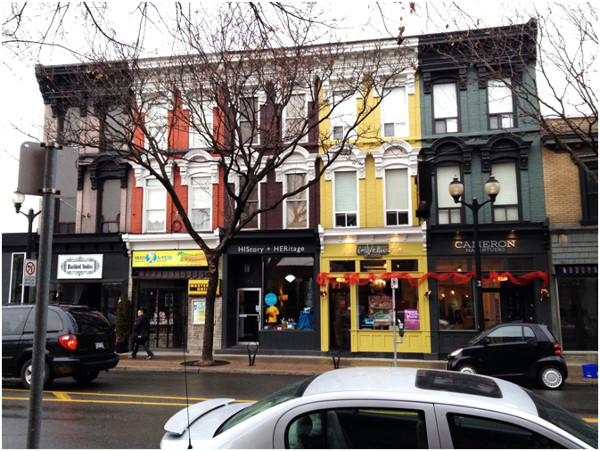 James North streetwall immediately north of Cannon
Just down the street, new investment is occurring on the corner of James North and Vine. Elsewhere, one can see advertisements for three new condominium projects along the street, signifying a turning point for new development.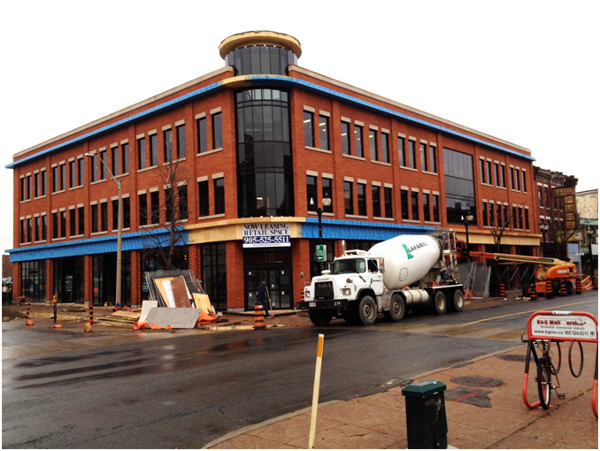 New development at James North and Vine
Even what I have come to (lovingly) refer to as 'Ca$h-4-U Corner' is seeing reinvestment by building owners: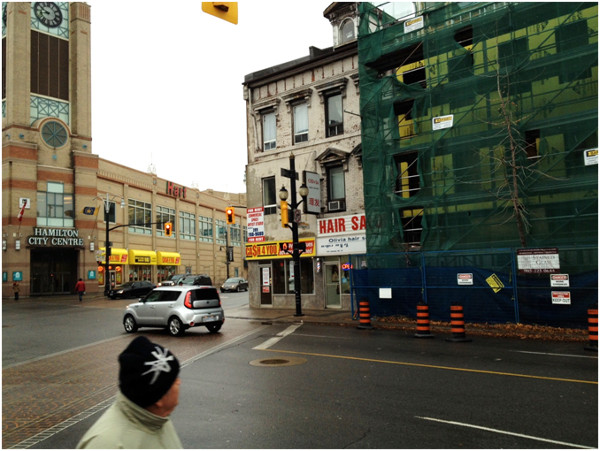 Renovations at James North and York
Yet in the middle of these examples stands the row of buildings at James North south of Cannon where much of the front façade consists of boarded up windows and doors.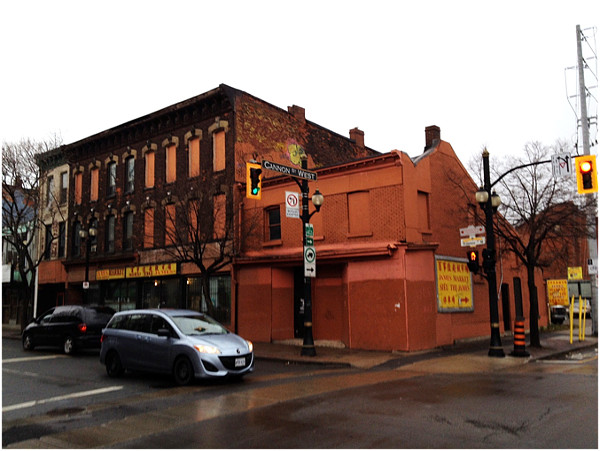 Boarded-up buildings south of Cannon
One can see similar examples at several locations along the street. On my walk today I encountered boarded up windows at James North and Colbourne: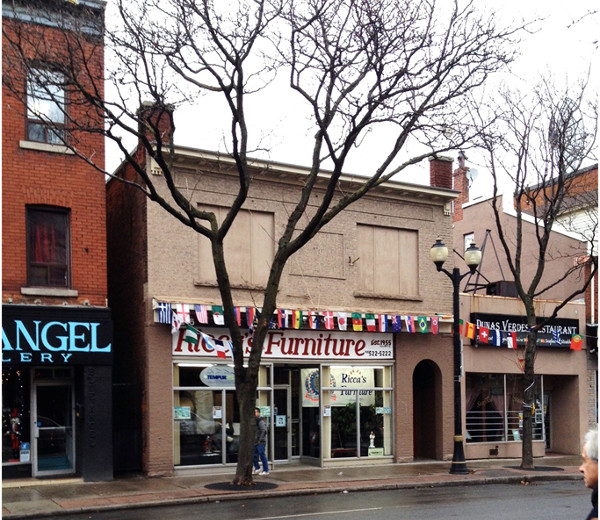 Boarded-up windows at James and Colbourne
Boarded windows at James North and King William: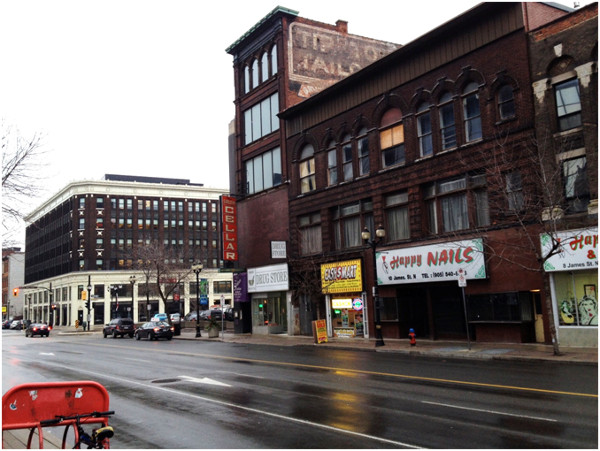 Boarded windws at James and King William
And boarded and broken windows at James North and Rebecca near the Lister Block and the future Artizen condominiums site: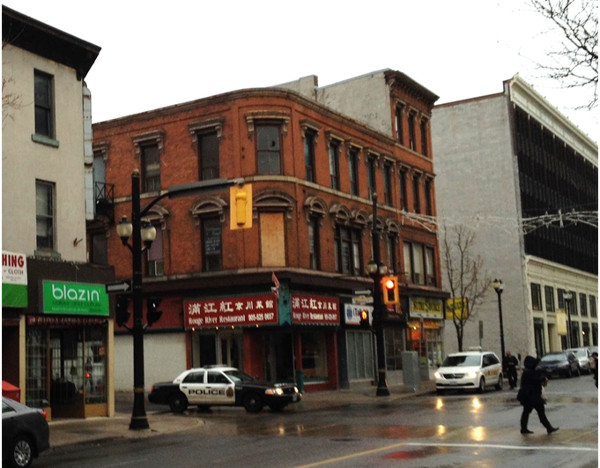 Boarded and broken windows at James and Rebecca
Assuming they are vacant, many of these examples appear to meet existing property standards by-laws. However, the issue is their larger effect on the quality of the overall built environment and the continued revitalization of the street.
Such examples present a situation in which their owners are benefitting from the reinvestment that has taken place in neighbouring properties while at the same time doing little to contribute to the larger changes occurring along the street, arguably even eroding the progress made by others.
'No Broken Windows' Policy
To begin to overcome this issue, a mandatory 'No Broken Windows' policy should be adopted. Even if vacant, all window openings should have a window in them. Matte dark paint should no longer suffice as the minimum standard in these important corridors.
Such a by-law can encourage property owners to engage in high-visibility improvements to their buildings that promote a more attractive built environment and contribute to the feedback loop of positive neighbourhood reinvestment and revitalization that has and continues occur along the street.
There will always be some degree of second- and third-mover advantage in neighbourhood redevelopment and gentrification and little we can do to control how someone uses the inside of a building.
However, even if it is superficial, enforcing new minimum standards of external building quality such as no broken or boarded windows in designated revitalization corridors such as James Street North will do much to improve the appeal of the overall streetscape and reinforce the investments made by others.
These actions may even induce property owners to make further reinvestments in their own buildings rather than doing little to maintain them while they speculate on the greater returns that may accrue from the efforts of larger neighbourhood revitalization.
When there was talk earlier this year about the seemingly imminent demolition of the row of buildings facing Gore Park, I remember reading a remark about how removing these buildings would put a gap in the smile of the city's downtown.
With the Juno Awards utilizing James North as the city's Juno Zone, there is no better time to ensure we put our best foot forward for the rest of Canada to see.
Post a Comment
You must be logged in to comment.