Substantial Changes to 220 Dundurn South Plan
Construction could begin as soon as late October for this controversial landmark on Dundurn Street South.
By Jason Allen
Published September 16, 2014
this article has been updated
The long awaited development of 220 Dundurn Street South, across from the Beer Store and LCBO, is one major step closer to being underway.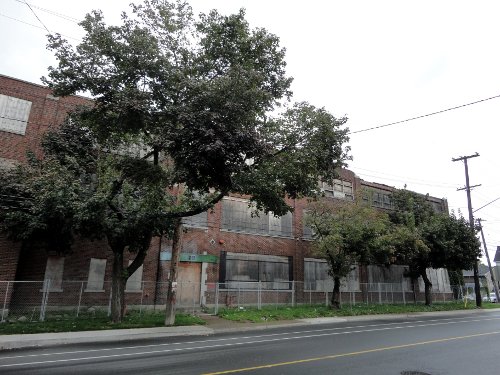 220 Dundurn Street South (RTH file photo)
During a presentation to the Development Review Committee of the Kirkendall Neighbourhood Association, construction manager Deni Jankovic explained that this week will see the submission of the final site plan to city staff, with a building permit soon to follow.
Substantial Changes
Changes made by the developer to accommodate neighbourhood residents have been substantial.

220 Dundurn Street South plan, overhead view
The building will still be composed entirely of rental apartments, mainly one-bedroom and bachelor suites geared towards young professionals. However, due to the reduction of the building from five to three stories, there will now be 124 units, instead of the original 160+.
Developer Denis Vranich has also stated he is still committed to LEED certification for the building, specifically "Gold, for now" leaving the door open to possible changes down the road.
The main accommodations were made to the secondary building which, when built, would back onto the yards on the north side of Charlton Avenue West, just past Dundurn.
There had been considerable opposition to the original plan, which had proposed a five story wall of windows that would have been built less than three metres from the property line of the Charlton homes.
This secondary building's footprint has now been reduced, so fewer lots on Charlton will be impacted by its presence, and the building has been lowered to three stories. Vranich says he accomplished this partly by moving many of the suites to another part of the building, but also by having fewer units.
The city also requested major revisions for storm water management, including a capture and flow control system on the roof, as well as the already-proposed permeable pavers in the sizable parking lot. "We are managing storm water for the whole neighbourhood," joked Jankovic.
As all heating and on-demand hot water in the building will be electric powered, Vranich also expressed an interest in rooftop solar power, but was doubtful it could be incorporated into storm water management system.

North elevation

East elevation

South elevation

West elevation
'Triple-A' Commercial
The real surprise, though, was Vranich's announcement that while he will be building the ground floor for rental accommodations for the time being, he is pursuing a 'triple-A' commercial tenant for the ground floor. The reduction in suites has freed up a number of parking spots, and he is tentatively setting aside sixty of those spots for this tenant.
While unable to disclose who the hoped-for tenant is, due to continuing negotiations, Vranich hinted at retail, and explained that should he secure such a tenant, he would then return to the city to have the property rezoned to permit it.
This would re-open the public process, with further public meetings and opportunities for input.
Residents Eager for Completion
Speaking with residents, including some who back onto what will soon be an eighteen month to two year construction site, many are eager to see the project begun, and completed as soon as possible.
They feel that while the proximity of the rental housing to their back fence is not ideal, it's better than a derelict building.
Once the site plan submission is made, the city has 21 days to respond with any desired changes. If none are requested, a building permit would be issued shortly afterwards. This could mean construction could begin as soon as late October for this controversial landmark on Dundurn Street South.
Related:
---
Update: updated to include plan renderings.
Post a Comment
You must be logged in to comment.