Possible Redevelopment of 220 Dundurn South
By Ryan McGreal
Published October 30, 2012
The office of Ward 1 Councillor Brian McHattie has issued an update on the vacant property at 220 Dundurn Street South.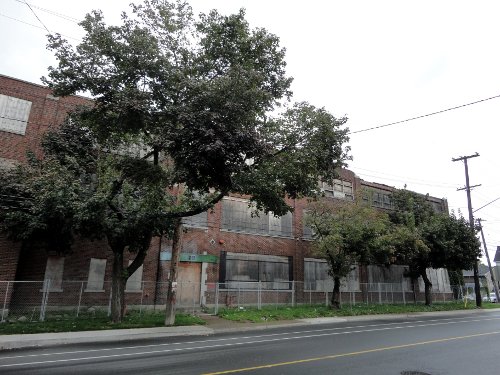 220 Dundurn Street South (RTH file photo)
The owner, Denis Vranich, approached the City in August 2012 under the City's Formal Consultation Process to discuss a proposal to convert the building into multi-residential luxury rental apartments with one or two added storeys, a use that is allowed under the building's current zoning with some variances.
The proposal still needs to go through a Site Plan application, followed by a building permit application. However, a demolition permit has already been issued to remove some smaller buildings from the rear of the site, and to remove the roof so that additional storeys can be added.
Councillor McHattie has asked Vranich to hold a public meeting to present his plan for the building, but a date has not been set.
Vacant and Derelict
The property, which sits at the southwest corner of Dundurn and Chatham across from the Dundurn Beer Store, started life as a National Hosiery silk stocking factory, but has been vacant and derelict for years. It has been subject to numerous fires and has at times been occupied by vagrants.
Vranich has occasionally proposed adaptive reuses for the building, including a seniors centre in March 2009, but so far nothing has come of it.
According to an October 2007 Spectator article, Vranich bought the property in January 2007 for $1.5 million from a numbered company in Thornhill.
He is the fifth owner since 1998, when Dundurn Street Loffts Inc planned to turn the building into loft apartments. Despite strong sales - over 50 of the 64 planned units sold - that plan fell apart after years of delays. The developer, Adam J Stelmaszynski, was convicted in 2004 of GST fraud.
Post a Comment
You must be logged in to comment.