Much-Needed Improvements Coming to Hunter Street
Hunter Street is becoming a little bit safer and more accommodating for pedestrians and cyclists, but there are still low-hanging opportunities for further improvement.
By Ryan McGreal
Published July 29, 2014
The Hunter Street bike lanes are a little bit safer, thanks to the installation of 11 knockdown sticks just east of the Park Street intersection, where Hunter goes up a rise and curves to the left.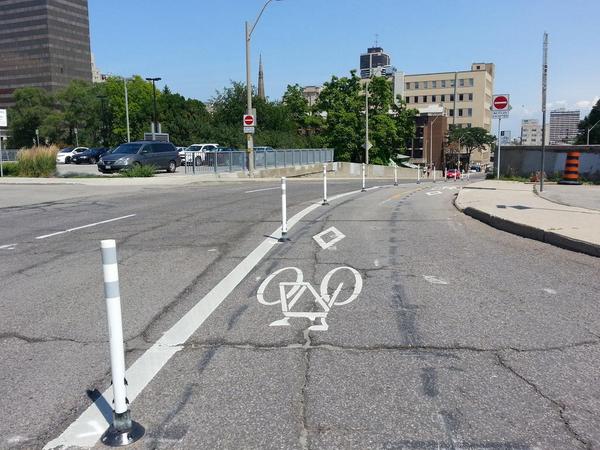 Knockdown sticks installed on Hunter Street bike lanes, looking east from Park Street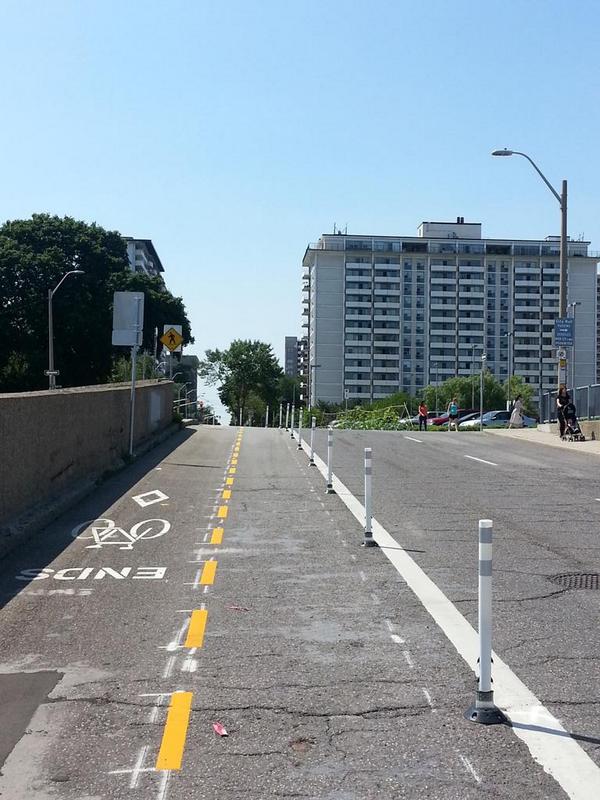 Knockdown sticks installed on Hunter Street, looking west toward Park Street
One of the major criticisms of the Hunter bike lanes has been that they are not physically separated from the adjacent automobile lane. The only barrier has been an "atypically wide pavement marking" - a white line that will do nothing to stop a car from drifting across it.
The bollards along a short, especially conflict-prone stretch of Hunter are an encouraging start, but the Public Works Department has said there are no current plans to install any more.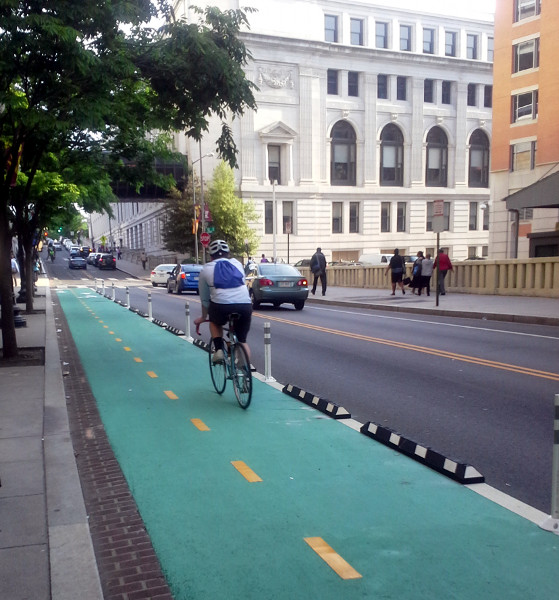 Cycle track protected by knockdown sticks and rubber curbs (Image Credit: District of Columbia Department of Transportation)
This is unfortunate. The research indicates that most people will not feel safe riding bikes on painted bike lanes. For those few who already cycle in mixed traffic, bike lanes are an improvement on nothing but they do not attract a significant number of new riders.
Most People Won't Ride Without Protected Bike Lanes
Research from Portland, OR finds that there are four broad catetories of people with respect to cycling:


Four types of transportation cyclists in Portland (Image Credit: City of Portland)
Strong and Fearless: risk-taking young men who are willing to ride in mixed traffic: less than 1 percent
Enthused and Confident: People who will ride if bike lanes are available: 7 percent
Interested but Concerned: People who are interested in cycling but afraid of perceived danger: 60 percent
No Way No How: People who cannot or will not ride under any circumstances: 33 percent
And that is in a city that already has a strong, idiosyncratic cycling culture.
Another benefit of physical protection is that it prevents automobiles from parking in the bike lane. This has already been an issue on Hunter Street. Anecdotally, I encounter a car parked in the bike lane at least one-fifth of the time I ride on Hunter.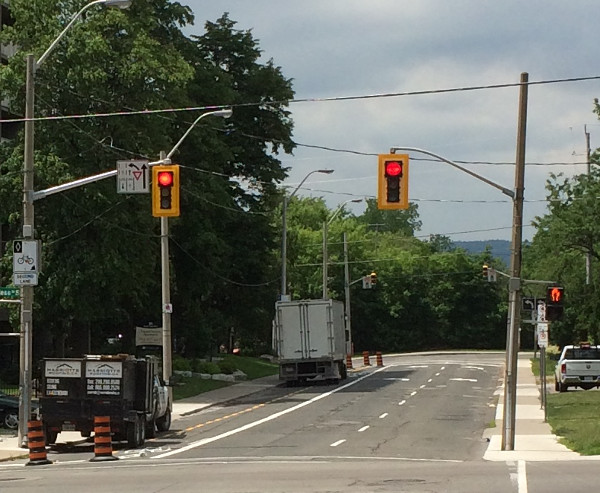 Trucks parked in Hunter Street bike lanes (Image Credit: Bob Berberick)
Painted Bike Boxes
Another improvement the City made to increase the visibility of the bike lanes was to mark the bike boxes with bright green paint and stencils.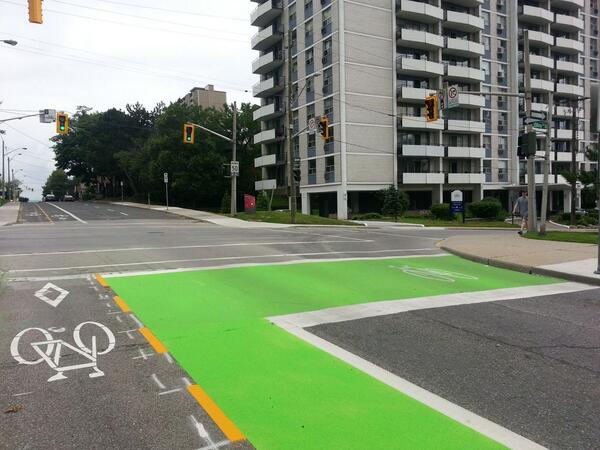 Green painted bike boxes
A bike box, or "advanced stop line", is a stop line for automobiles set back from an intersection with a marked area for cyclists in front of it. This allows cyclists to pull ahead of automobile traffic at a red light so they can turn safely when the light changes.
Anecdotally, the painted bike boxes on Hunter already seem to have significantly reduced the number of drivers who drive through the white stop line on a red light (a Highway Traffic Act violation) and block the bike box.
The City has also done some public communication to educate the public about what to do when encountering a bike box.
Pedestrian Activated Crosswalk at MacNab
There are no controlled intersections on Hunter Street between James Street South and Bay Street South, a distance of 400 metres.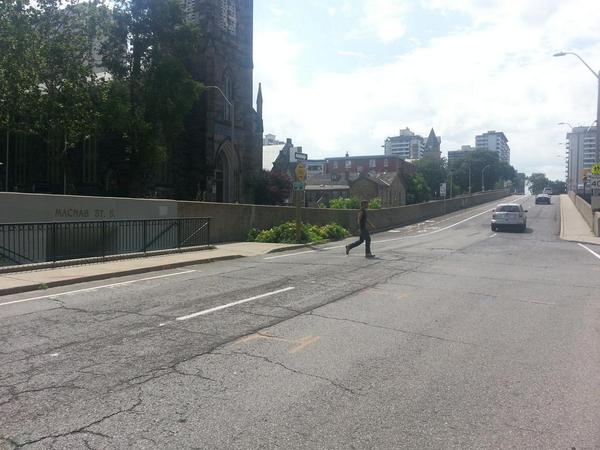 Uncontrolled crosswalk on Hunter at MacNab
The uncontrolled intersections at MacNab and Park see a lot of pedestrians who have to dash across the street between clumps of high-speed automobile traffic.
A high proportion of those pedestrians are children and senior citizens: Central School sits on Hunter between Park and Bay, and Park is home to several senior citizens' residences, including a high-rise managed by City Housing Hamilton.
The City is planning to install a pedestrian-activated crosswalk at MacNab, funded through the Ward 2 Area Rating fund. The Area Rating fund is a capital project fund made available to the old city wards 1 through 8 as part of a Council agreement to eliminate varying tax levy rates for some city services that had previously applied to different city wards.
Wards 1 and 2 allocate their area rating monies using participatory budget systems in which residents can propose projects for consideration, and then the projects to be completed are selected by popular vote.
Pavement markings have already been applied to the street in anticipation of the traffic controls that will be installed in the near future.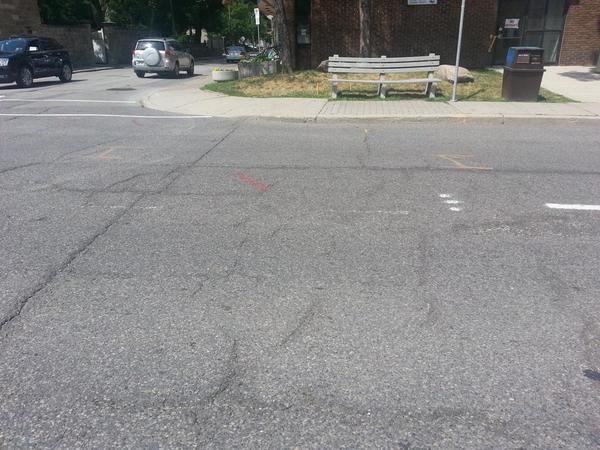 Pavement marking for pedestrian-activated crosswalk
This would also be a great place for the City to paint a zebra, or ladder-style crosswalk to further increase the visibility of this much-needed crosswalk.
Another Crosswalk Needed at Park
However, the crosswalk at MacNab will not be much help to many of the people who cross Hunter at Park. There is no sidewalk on the south side of Hunter between Park and MacNab, so people crossing northward will not be able to walk directly to that crosswalk. (I have already seen people walking in the bike lanes between Park and MacNab.)
A pedestrian hoping to cross northward from Park would have to loop back to Hurst Place, follow it around to the MacNab underpass, go down a flight of stairs, cross under the TH&B train tracks and go up a flight of stairs to get to the south side of the MacNab crosswalk.
Again, a high proportion of the people crossing there are seniors and children, the two vulnerable demographics most at risk of injury and death in a collision with an automobile.
Many seniors coming from Park Street cross Hunter and walk through City Hall on their way downtown. Because Hunter rises and bends left heading toward Park - the same reason the City installed bollards to protect the bike lanes - visibility for drivers is less than ideal.
I have not once seen a driver obey the law and yield to a pedestrian, and I have seen some terrifying near-misses involving seniors scampering to avoid being run over.
Pedestrian-Activated Crosswalk at Locke
Finally, though it's a couple of blocks west of the end of the Hunter Street bike lanes, another much-needed pedestrian activated crosswalk is already under construction on Locke at Hunter.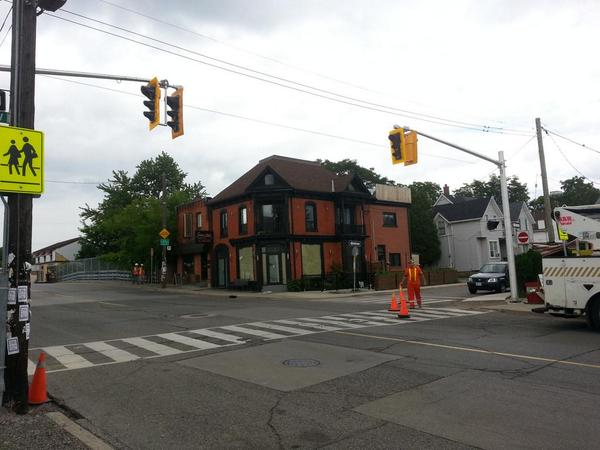 Pedestrian-activated crosswalk on Locke at Hunter
This is another intersection with significant pedestrian traffic, but poor visibility to drivers going south on Locke due to the rise of the bridge over the TH&B tracks. Locke Street has become a highly successful pedestrian centre over the past two decades, and already has a pedestrian-activated crosswalk at Tuckett.
This new crosswalk is being funded by the Ward 1 Area Rating capital projects fund.
It is noteworthy that, despite Council's deep reluctance to spend capital money on projects that make streets safer and more inclusive, lower city residents themselves are choosing to allocate their discretionary area rating money on such projects where they are given a choice.
Post a Comment
You must be logged in to comment.